Online Video Editing Course
Digital Video Editing I
Editing video is about movement, choreography, lighting, color, and psychology. In this online video editing course, you'll learn the art and craft of editing videos using Adobe Premier or equivalent program. Working with a pro digital artist, you'll explore how to apply time-honored principles of film editing using today's digital technology. Challenging projects including editing a commercial, an interview, a narrative scene, a music video, a video diary, and a text title sequence.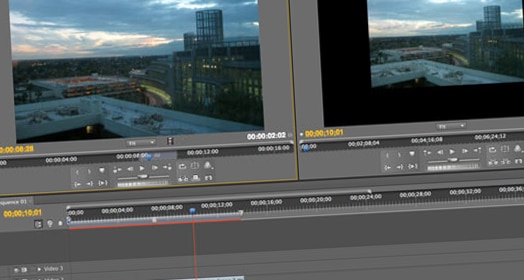 Learn the art of digital video editing
Instructor-Led Course
Feedback from design professionals
Creative Projects
Stretch your skills, grow your portfolio
Learn at Your Own Pace
Self-paced and scheduled programs available
Course Outline
1 - Understanding the Basics
Lecture One examines both the hows and the whys of digital video editing. You'll explore the main features in your NLE (non-linear editing) program and learn important foundation concepts every editor should know. The transition between analog and digital media is analyzed to give you a context for today's editing environment. Finally, you'll learn about the different stages in a digital editor's workflow.
Project - 30-second commercial
2 - Shooting and Editing Video
This lecture gives you a broader context for understanding how videos are produced (shot, captured, edited, and output). You'll learn the basics of how directors set up and frame shots, exploring the impact of framing and camera angle, height, and distance on the viewers' perception of the sequence. You'll learn key terms that video editors use as well as creative concepts for your projects.
Project - Video interview
3 - Editing Techniques
Lecture Three examines the finer points of video editing, exploring techniques that can make or break the continuity between one shot and the next. You'll explore classic techniques for connecting shots such as graphic match, rhythm, movement, and spatial relations. A secondary focus will be on different ways in which editors compress time. Finally, you'll examine experimental techniques that break the rules of continuity editing.
Project - Collaborative editing
4 - Rhythm, Motion, and Effects
Lecture Four focuses on different techniques for manipulating time through rhythm, motion, and effects. You'll explore how overrunning and underrunning time—slowing or speeding motion—can influence the viewers' perception of time. You'll learn how editing programs alter the frame rate through interpolation and how transition effects and other visual effects can be used to communicate the passage of time and other changes from shot to shot. In the exercise, you'll explore these concepts by editing a short music video, syncing visual images to a soundtrack of your choice.
5 - Titles and Output
Lecture Five provides pointers on polishing and publishing your work. You'll explore adding introductory titles and text graphics to your videos and animate them using keyframes. You'll also take a look at file compression and formats for output so you can start showing off your projects.
Project - Title sequence
6 - Editing Sound
This lecture discusses an all-important aspect of the moving image: the soundtrack that accompanies it. You'll explore the four elements that comprise any video soundtrack: the human voice, ambient sound, sound effects, and music, defining their impact on the viewer. The quantitative aspects of sound are discussed—volume, loudness, pitch, and timbre—and you'll examine how the syncing and fidelity of sound affects the viewing experience.
Project - Video diary
Course Outcomes
Students in this course can expect to learn to:
Apply foundation concepts in non-linear video modification, film direction, and digital sound editing.
Develop a basic proficiency with the tools and techniques available in standard digital video editing programs.
Shoot, capture, edit, and output short video projects, organizing footage and modifying it into a coherent sequence.
Set up short video projects and shoot them using a variety of appropriate camera angles, shots, and framing.
Apply techniques for establishing or breaking continuity in a video sequence.
Edit a video sequence to synchronize it to a musical soundtrack or dialog.
Apply a variety of techniques for expanding or compressing the perception of time in a video sequence.
Add title sequences to a digital video and animate the sequences using keyframes.
Perform basic production checks and output video in common formats including DVD and the Web.
Apply basic techniques for mixing a soundtrack incorporating the human voice, ambient noise, sound effects, and music.
Course Registration
Interested in this course? Scheduled and self-paced enrollment options are available. Ask Admissions about taking this course as part of a degree or certificate program.
Course Level
Classes start
Registration Fee
Tuition
Degree course
3 credits, 15 weeks
Jan, Apr, Aug
$200
$510/credit
Vocational course
60 clock hours, 3 months access
Enroll today, start tomorrow
$50
$949
* Registration fees are nonrefundable after 5 days from enrollment. All tuition includes a digital materials fee for updates to course or program content.
Software and Supplies
To take this course you'll need:
Computer with an Internet connection (broadband recommended).
Adobe Premier or equivalent program.
Access to a digital video camera and ability to connect it to a computer to capture footage.
Course developed by Mostra
Enrolling online is easy and convenient.

Chat with our knowledgeable admissions staff to select course and program options.

Complete your registration entirely online.
Did you know? You can take this course as part of an award-winning certificate or degree program.