The Joys of Exploring Art – Anytime, Anywhere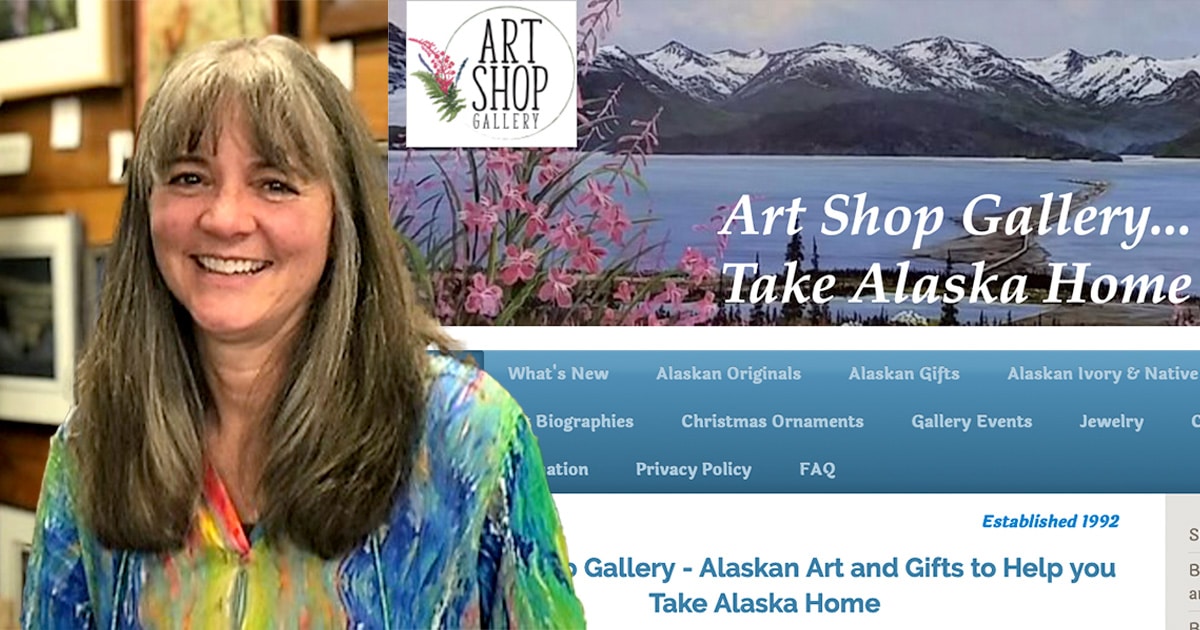 Sessions student Joell Restad is an art gallery owner from Alaska who is training to become an art appraiser. To develop a deeper knowledge of art, she wanted a place to study painting, drawing, photography, and art history, but going back to college wasn't exactly convenient, until she discovered Sessions College, where one of Joell's artists, the photographer and digital imaging expert Taz Tally, is actually on the Faculty. When we spoke to her Joell, was having fun, and learning a lot, digging into art making anytime, anywhere, in our Fine Arts Certificate program.
Q: Joell, can you tell us about your gallery. Why did you decide to pursue a Fine Arts Certificate at Sessions College?
I own an independent art gallery in Homer, Alaska called the Art Shop Gallery.  The gallery features dozens of original paintings by many Alaskan artists, including Barbara Lavallee, Bruce Nelson, Byron Birdsall, Ed Tussey, Guitta Corey, and Jon Van Zyle, as well as native crafts, jewelry, and other kinds of art. We represent more than 50 artists in many forms or mediums of art.
I am also working towards becoming a certified appraiser of Alaskan art. Since I do not have a background in art I wanted to expand my knowledge, creativity, and understanding of what it takes to create a piece of art. This will help me as both an appraiser and gallery owner.
Sessions College provided exactly what I was looking for to further educate myself and they were willing to help me even though I wasn't an "artist" with a portfolio. Without a portfolio, I could not get accepted into a college and take fine arts and art history classes. I kept being told no. The Fine Arts Certificate was exactly what I was looking for. I wanted to better education myself in the fine arts and learn the basics of drawing and painting. Sessions College is doing that for me.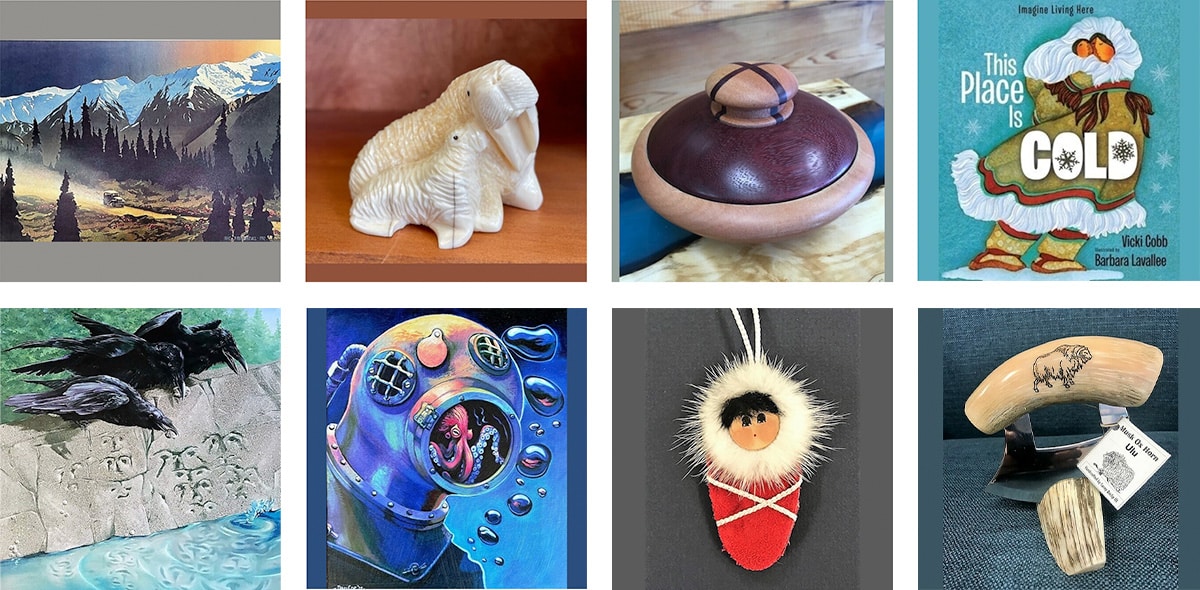 Art Shop Gallery features a wide range of art ranging from paintings to Alaskan jewelry and crafts.
Q: How has the flexibility of online study helped you pursue your education and fit into your life?
I have taken online college courses before, so I wasn't really surprised by anything at Sessions, I just appreciate that this is available. I have been able to do the classes at my own pace and fit them in between my work schedule and family life. This has helped a lot. I've had several things go awry or not as planned in my life since I started the program, but because it's online, I have been able to work within the craziness of my life.
I have also been able to travel and take my studies with me. I really like that I can go online anytime and work on one of my courses!
Q: How have the courses you have taken so far advanced your creative or professional goals?
When I began my courses, I had never taken an art class before…ever. Learning to draw was new territory for me—not something that comes naturally. I have always been on the side of supporting and promoting artists and their art. My creativity is slowly opening up and challenging me in new ways. My skills have always been on the merchandising side of displaying art. Making art and learning to talk about the ins and outs of how something came about is exactly what I was hoping to accomplish.
I am learning to look at a piece of art and analyze the work, the quality, and different styles. This helps me in my gallery to sell art and be able to talk about the mediums used. My vocabulary of art words is growing. As an appraiser, I need a knowledge of fine art, and these courses are helping with that.
Q: One really unique aspect of your story is that you are studying online with our Faculty member who lives in your home town. What's it like to work with Taz, and do you have any insights on the value of having  feedback on your artwork?
When I saw that Taz was my photography instructor, I thought it was pretty funny. What a small world we live in sometimes! As a photographer, Taz has been a featured artist in my gallery for many years. Taz has always been easy to work with and is an entrepreneur of sorts. He is always looking for better ways to do things and improve business. He likes to come up with new ideas to see what may or may not work. I appreciate when an artist understands the business side of things. Getting expert advice from Taz or any of my instructors on my artwork is so helpful. Like I said before, this is all new to me and expert advice improves my skills.
Q: Appearing in a gallery is an important goal for many students. What's your advice for students who are thinking about exhibiting their work?
Don't be afraid to be vulnerable and put yourself out there. Artists come into my gallery all the time asking for advice or how to show their work. We are in a day and age where social media is huge. If you have an Instagram or Facebook page, post your work. Your friends and followers will comment. It's great for encouragement and for ways to see what people are looking for. Approach gallery owners. Introduce yourself and send an email with samples of your work, and an open invitation that if they like what they see, contact you. I have found a few great additions to my gallery this way.
To learn more about the Art Shop Gallery, visit the  Art Shop Gallery site. To learn more about the Fine Arts Certificate program, visit the Fine Arts Certificate page.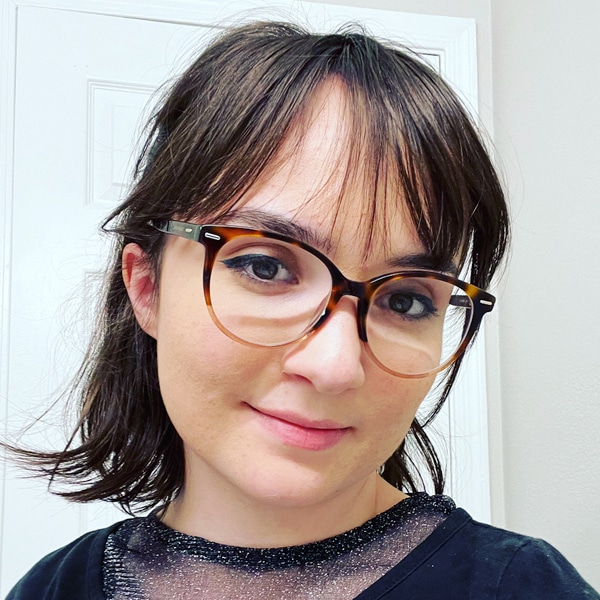 Lauren Hernandez is the Manager, Faculty and Curriculum Development at Sessions College. Lauren is an artist, educator, and former middle-school teacher with a passion for everything art-related. Outside of work, Lauren likes to take care of her plants and hang out with her bird.