Fall 2014 Designed for You Scholarships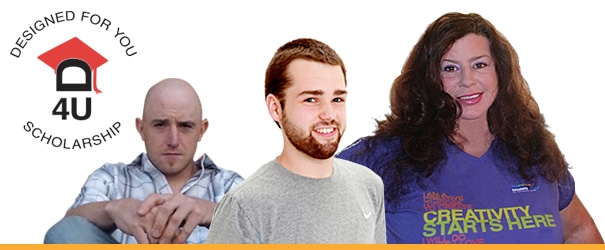 This fall, Sessions College is making school more affordable with its Designed for You scholarship program awards for students in multiple adult learner categories.
We are delighted to announce that on Friday September 19th, 2014, three scholarship winners were selected for our Fall 2014 class. Thank you for all who applied to the scholarship for making the acceptance committee's job a challenging one. We are excited to welcome these new creative class members into the  AOS program and to the online Sessions College student body.
Scott Warren – Associate Degree in Web Design, First in My Family
Alicia Hernandez – Associate Degree in Web Design, 24/7 Parent
Chris Telford – Associate Degree in Graphic Design, Career Changer
Here are some excerpts from their stories:
Scott Warren – First in My Family
Being the first in my family to head off to college in pursuit of a degree is not only an honor for me, but also for my family. I've always been told that I needed to go to college in order to be successful in life, and as I've gotten older I can see how true that statement is.
In today's technologically advanced world you truly do need to be a college graduate to make it in life. Yes, there are jobs out there for individuals who hold just a high school diploma; however they will not take you too far. I've gotten the opportunity to see exactly what it's like to live a life without a degree, and I must say it's gotten to be tough.
Alicia Hernandez – 24/7 Parent
My son Victor is my biggest and most rewarding challenge. Victor just turned 8 years old, and he's a funny, loving little boy most of the time, but at times the world becomes too much for him and he melts down in horrible tantrums. He has autism spectrum disorder (A.S.D.) and is non-verbal and has behavioral issues in the mild to moderate range. I carry around a 5-inch binder that's bursting at the seams, and filled with individual education plans, reports from his therapists, and papers from his doctor, dentist, and psychiatrist. Like the leader of a synchronized swim team, I need to keep everyone informed and on the same page.  For moms like me who need and want a career, online education is the only way.
Chris Telford – Career Changer
During my apprenticeship in plumbing, and during the years of carpentry/construction, I always found myself trying to blend different types of design to the things I was installing or building. When told to plumb a bathroom I was drawing out water line routes that were visually pleasing, even though they were soon to be buried inside a wall, and never seen. At night I would open up a computer program and design kitchens and bathrooms, and from that creative process I was excited for the work required.
As the trade work continued, I found myself always having a side project in art. I would finish work, and jump into Photoshop and design a logo, draw graffiti, edit photos, and always felt energized and inspired. My appetite for art and design began to grow from there, and I needed to experiment in as many genres as possible to keep my curiosity and fascination satisfied.
Think you might eligible to apply for a degree program scholarship? Visit the Designed for You scholarship program page to find out more and chat live with our knowledgeable admissions team.

Sessions Staff is a restless soul who loves to share Campus News stories with current and prospective students.

Request Information
We'll gladly send you info on our online programs.