Sessions Earns Most Valuable College Rating in The Knowledge Review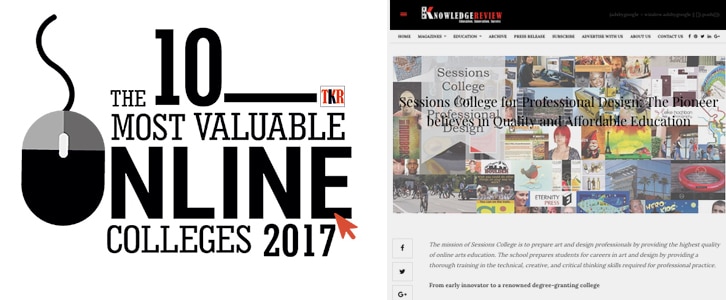 Founded in 1997, Sessions College (sessions.edu) has earned a honors from a wide range of sources over the years. Sessions College is not only accredited, licensed, and approved for participation in Federal and military student financial aid programs – it has also attracted the attention of organizations and websites who monitor and recognize quality and value in online education.
One recent recognition we are particularly proud of was our inclusion in Knowledge Review Magazine 10 Most Valuable Colleges in 2017.
The Knowledge Review Magazine is a global education magazine providing knowledge, news, blogs, articles for students, educators and universities, covering educational resources, courses and learning technologies.
The Magazine's Most Valuable Colleges feature is intended to highlight innovation in the next state of digital learning with the integration of technology solutions. As we enter our third decade as an online institution, we're excited to be in the spotlight for ongoing innovation. The Article is available at The Knowledge Review or here via download: The Pioneer Believes in Quality and Affordable Education.
"We're honored to be recognized by The Knowledge Review," said Sessions College PresideTt Gordon Drummond. "Sessions College has always focused on providing outstanding value to students with a high quality art education at an affordable tuition. It's a mission that continues to drive us."

Sessions Staff is a restless soul who loves to share Campus News stories with current and prospective students.