Sessions College President Elected to DEAC Board of Directors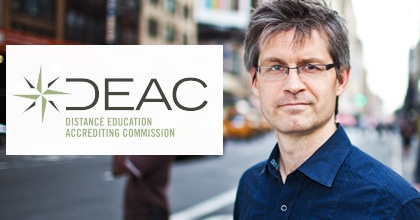 On April 27th, Sessions College President Gordon Drummond was elected to the Distance Education Accrediting Commission (DEAC) Board of Directors. Mr. Drummond was elected by a member vote at the 91st Annual DEAC Conference in San Antonio, Texas.
Who are DEAC? The Distance Education Accrediting Commission (DEAC) is a private, non-profit organization that operates as an accreditor of institutions that primarily offer distance education. Founded in 1926, the DEAC holds recognition by the U.S. Department of Education and the Council for Higher Education Accreditation.
Sessions College for Professional Design has been accredited by DEAC since 2001, and by the Middle States Commission on Secondary Schools since 2006.
What does the appointment means for Sessions College faculty, staff, and students? On one level, it shows that as an institution, Sessions College has a longstanding commitment to advancing the quality of online education, not only at Sessions College but also in online and higher education generally.
Mr Drummond's appointment to a voluntary DEAC Board role continues his long track record of service and leadership in accreditation. Since 2007, Drummond has been fortunate to serve on the Middle States Commission on Secondary Schools, where he was Commission Chair from 2013 to 2015 and served on the MSA Board of Trustees.
Accreditation is a process by which schools are regularly evaluated by teams of experienced educators to make sure they meet the highest educational and business standards. Accrediting organizations work with Federal and State agencies to provide consumer protection and a process through which schools can evolve and improve over time.
Sessions College has been accredited by DEAC three times since its initial accreditation approval in 2001. At each renewal of accreditation, we have passed the test and met the increasingly high standards of an education commission that is focused on ensuring quality in online education. Online institutions in the United States have led the way in pioneering new ways of delivering a rigorous education in a flexible and affordable online platform.
We are proud to be continuing this tradition with our new involvement at DEAC.

Sessions Staff is a restless soul who loves to share Campus News stories with current and prospective students.