Spring Design Competition: The Tibet Fund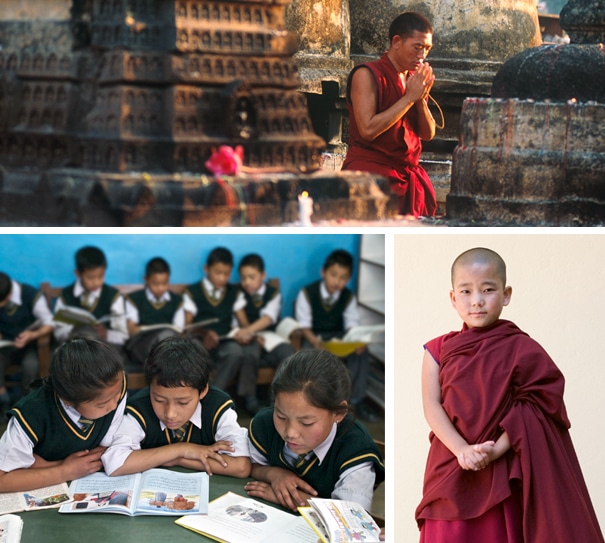 Sessions College is delighted to announce the March 7th launch of its spring design competition with competition client sponsor The Tibet Fund. The Tibet Fund, a non-profit organization, is the primary funding organization for healthcare, education, refugee rehabilitation, religious and cultural preservation, elder care and livelihood development programs serving over 120,000 Tibetan refugees living in India, Nepal, and Bhutan.
In Tibet, The Tibet Fund's efforts assist education, emergency relief, healthcare, and social enterprise programs that aid impoverished and marginalized Tibetans. The organization's aim is to promote self-reliance, help to sustain the cohesiveness of the Tibetan community in exile, and work to preserve the distinct cultural and national identity of the Tibetan people.
In the design competition, Sessions College students are being asked to design a marketing kit to help the organization attract donors. The main focus of the competition will be a brochure but students are being challenged to find creative solutions to the client's  marketing collateral. Students from many different programs have registered in the event, which will be facilitated by design faculty members Kristen Becker and Boris Margolin.
By getting the chance to work with design students at Sessions College, The Tibet Fund is hoping for a fresh look at their print marketing materials that will give them a more compelling print package.
As The Tibet Fund Program Associate Emily Volkmar says: "We hope to gain a dynamic brochure that can provide a comprehensive look at the organization's mission, the lives of our beneficiaries, and our programmatic focus areas, while still remaining digestible for a reader. We want to inform future donors and collaborators about our work, while providing additional insight to those who are already a part of our community."
One aspect of the competition that is exciting from a design perspective is the chance to work with materials that resonate with the rich visual history of the Tibetan culture. Included as part of the competition are many stunning images of Tibet and surrounding countries, providing a context for the organization's relief efforts.
"The Tibet Fund's programs serve our mission," adds Volkmar. "They help the Tibetan people to sustain their identity and way of life, which is what we hope to portray through our brochure. As an organization, we would like to thank the students participating in the competition for their time and resources. We hope that through this project you will gain a deeper understanding of the Tibetan people, their unique culture, and the programs that we carry out in an effort to sustain this community."
Our thanks to The Tibet Fund for providing an exciting print design contest for our students. And to all participants: we're looking forward to seeing your work!
Visit sessions.edu for more information on student design competitions and other events.

Sessions Staff is a restless soul who loves to share Campus News stories with current and prospective students.