Phoenix Method and Madness Conference Review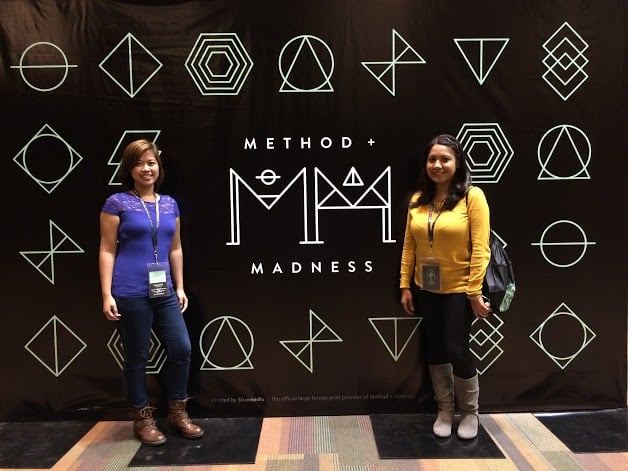 Can madness be inspiring? Sure it can, when it's used by designers to fuel their creative efforts.
Productive insanity was the theme of last weekend's Method and Madness Conference, which kicked off Phoenix Design Week. As a premier event sponsor, Sessions College sent a team of staff members to the two-day conference at the Phoenix convention center in the trendy downtown area.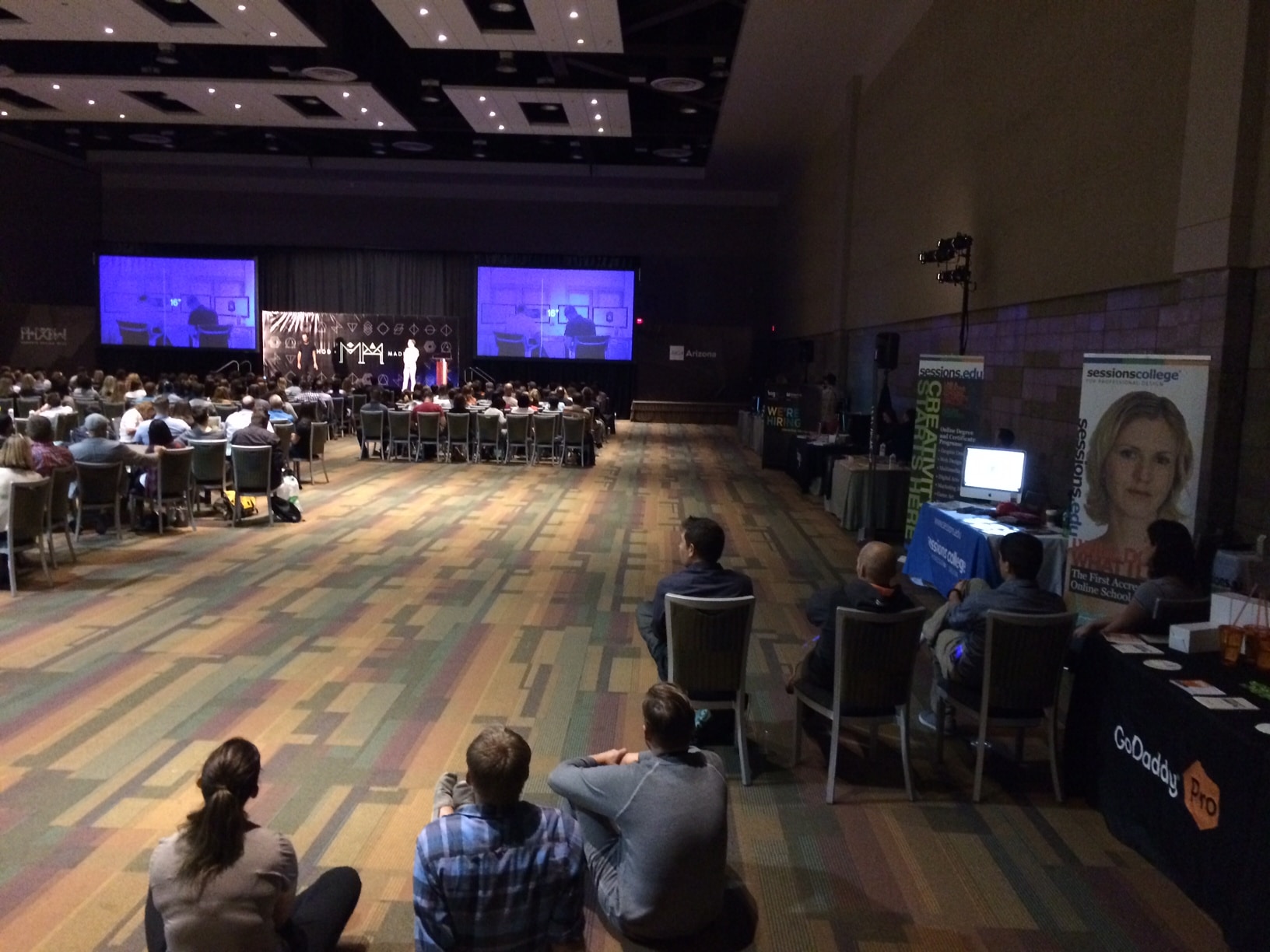 Along with 500 or so other Phoenix area creatives who attended the event, we were treated to a series of thought-provoking and inspiring presentations on the nature of creativity from senior designers and art directors from all around the United States. First run in 2009 as a grassroots festival pioneered by designer Mark Dudlik/Lost Creature, Phoenix Design Week is now run by AIGA AZ in collaboration with event founders.
Here's a breakdown of the eye-opening conference presentations you may have missed.
Wacky and engaging illustrator Becky Simpson entertained everyone on Saturday morning with a presentation about overcoming her creative fears and daring to dream with her career path. What could be crazier than believing in yourself when no-one else will? Instead of pursuing a more conventional path as an in-house illustrator when she graduated, Simpson took courage from her early entrepreneurial successes, authoring and illustrating the hit book  I'd Rather Be Short. Currently Simpson is an Adobe Creative Resident for a year, a position that allows here to do… oh, anything creative. And she is using that freedom to write her second title, The Roommate Book, which will be out in 2016.
Scotland-born CreativeLive Creative Director Stewart Scott-Curran demonstrated how mad he is by apparently scrapping his presentation moments before delivering it, and instead giving us all a heartfelt speech on the importance of designers connecting with their communities, with political causes, and with social issues.  It might be madness to say "As a designer, I can affect the world" but Stewart's presentation was a challenging counterpoint to the standard conference fare highlighting design process and beautiful work.
Attention to detail can be a sign of madness, too.  Canada-based Illustrator Jacqui Oakley proved as much in a gorgeous presentation about her work and her design process. Oakley does luscious, almost Art Nouveau style illustrations for books and magazines, and in her talk, Oakley showed us how her work evolves from concept to final artwork, a process that involves juggling multiple clients and many chocolate biscuit breaks. One thing that's clearly "mad" about Jacqui is her awesome detail work when it comes to hand lettering and drawing hair, evident on her Anne of Green Gables series of cover designs.
Up next were Colorado-based design team Berger & Föhr, a couple of creative mavericks who have tried throughout twenty years of working together to stay true to their principles. Dressed in black and white like a true yin/yang combo, Berger and Föhr tag-teamed a presentation that really explored how their design company has evolved through multiple iterations, to its current focus: Ello. That's right, these guys had the audacity to design Ello, the ad-free, truly private social network, and they are in the process of building it. The Berger and Föhr company mission is currently "Design – practiced with principle, intention, foresight & responsibility will shape the future," and it was impressive to see their commitment to those standards throughout their careers.
Scratch a great designer, and you'll find a typographer underneath. What madness lurks in letterforms? Art director Juan Carlos Pagan, now with ad agency 72 and Sunny, dazzled everyone with his  powerful graphic and typography designs. An engaging and modest guy, Pagan has been involved in many crazy collaborative projects that lead to industry awards. During the presentation, he showed us behind the scenes videos of how the "Yeah, that kind of rich" campaign was developed for the New York State Lottery. A team of designers staged, photographed, and Photoshopped immaculate typographical posters made with real money. Don't try this at home!
Where could you go from there? Conference organizers showed great skill in saving the best for last on Saturday, by allowing Stefan Bucher of 344 Design to show us that crazy + creative = compelling. Stefan Bucher is a one-man design studio who only takes on insane projects. This he illustrated by showing us various labors or love culminating with an exploration of his futurist-retrospective "Everything is Going Exactly As Planned." For the exhibition, Bucher time-traveled to the future, bringing back hilarious and meticulously designed insights on what's going to happen when we migrate to other planets.  Bucher showed tremendous skill in keeping the riff going in the Q&A (or, maybe he is for real?) but to me the takeaway was the idea that anything you can imagine, you can create, if you're that nutso.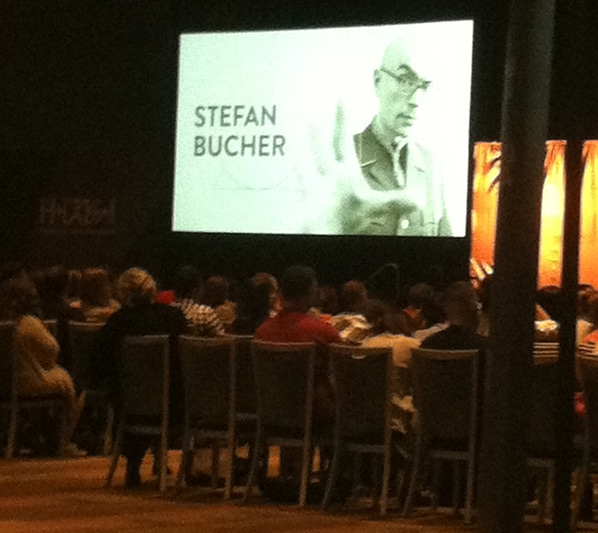 Stefan Bucher reaches out, from the future.
Sunday morning's conference brought a new set of crazies.  First up was Alex Medina, music producer and Creative Director of Reach Records. Like many outstanding creatives, Medina did not follow the standard art school path to becoming a designer. Medina grew up in the Washington Heights neighborhood of New York as the child of hard-working immigrant parents, and by his own account, had to combat self-doubt and conventional expectations to pursue a creative career. Nevertheless, he followed his heart and his faith and just started making music and producing artwork ("merch") to promote it to communities he cares about. Though largely self-taught, he showed us conceptually and visually strong work that showed why he's an influential art director today managing the brand for Christian hip hop artist Lacrae.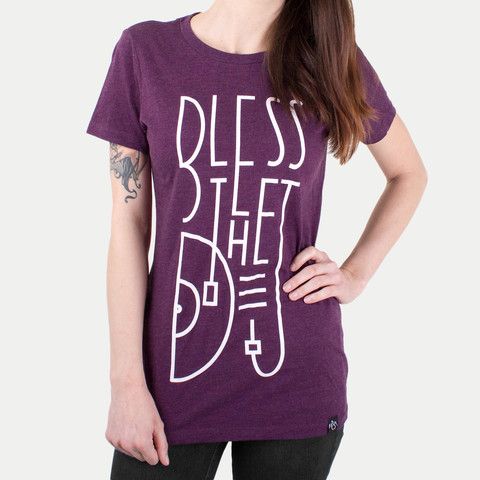 Photo credit: reachrecords.com
Next, Heidi Meredith and Renee Walker of Gold Collective explored their career arc from their early straight-outta-grad-school collaborations, to establishing their first office, to the tribulations of working with major clients, to managing a bi-coastal partnership, to continuing their careers while both having babies. If that all sounds like lunacy, it was thoroughly inspiring to see how the two designers maintained a healthy creative focus and collaboration, in spite of many life changes that could have derailed their studio.
The final presentation by Ashleigh Axios, Creative Director of the White House, might have taken the cake in terms of exploring how much a designer can take on. How would you like to be responsible for all visual communications for the White House, running all your projects through POTUS? A young, idealistic, charming, and energetic AD, Ashleigh Axios seems to like it just fine. Axios is part of a three-person team appointed by Obama to manage digital strategy and design for the White House, the first ever such staff with that role. In her presentation, Axios gave us the backstory behind various White House projects, including how they pioneered visual aids (160 slides) for the live online broadcast of the live state of the union address. No stress there! You can learn more about her hard-working design role in this AIGA interview.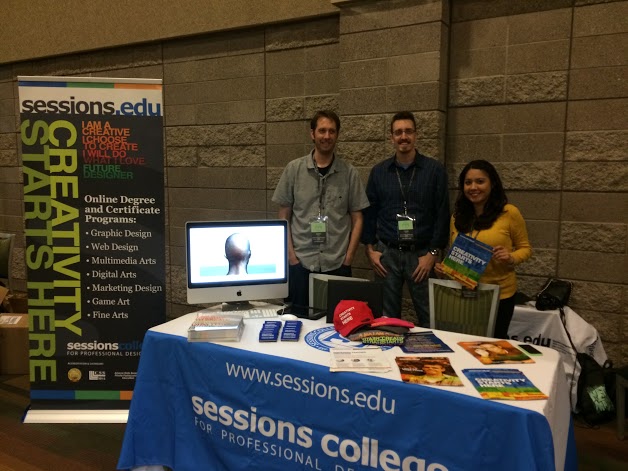 Phew! We'd like to thank Phoenix Design Week staff and AIGA for their excellent programming. The whole event was a shot in the arm for valley creatives, and certainly something we at Sessions College were proud to be involved with.

Sessions Staff is a restless soul who loves to share Campus News stories with current and prospective students.