Sessions College Student Chris Telford Honored in GDUSA Magazine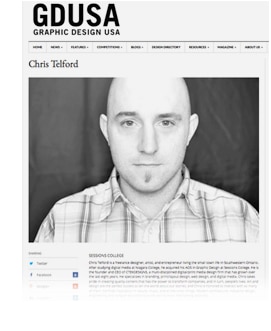 Tempe AZ - February 3, 2017
Online students and graduates can create waves too. Such was the mood among staff at Sessions College, an online school of visual arts, when recent graduate Chris Telford was featured in the Students to Watch issue of the February 2017 GDUSA magazine.
GDUSA is a graphic design industry print and Web magazine established in 1963 known for its contests and awards promoting achievement in design. The GD USA Students to Watch feature is an annual showcase of emerging design talent created in collaboration with the USA's top design schools.
In the 2017 student issue, over 70 students took part from more than 20 art and design schools including such well known colleges as MICA, SVA, CCA, RISD, and the Pratt Institute.
In spite of the massive growth of online education over the last fifteen years, Sessions College grad Chris Telford was the only student from an entirely online program. Mr. Telford, a Canadian who lives in Ontario, completed his Associate of Occupational Studies in Graphic Design program in two years, studying entirely at a distance.
For Sessions College staff, the GDUSA recognition is proof of both Mr. Telford's talent and of the increasing quality of online education. Sessions College President Gordon Drummond commented: "Chris Telford has what every art/design school wants in a student: native talent, a strong work ethic, good research skills, and an openness to feedback."
Faculty and staff were unanimous in nominating Mr. Telford for the GDUSA article. According to Andrew Shalat, Department Head of Graphic Design, "Chris consistently produced superior and comprehensive work. His branding, illustration, layout, and composition skills were outstanding." Chris was one of six students who received 2016 Outstanding Graduate Awards from Sessions College in January 2017.
Chris Telford is the fifth Sessions College student featured in the annual GDUSA magazine feature since 2012. Adds President Drummond, "We're just delighted that as an online school role, we could play a role in developing his talent. Any school would be proud to have him as a graduate, and we're excited to see what his future brings."
About Sessions College
Sessions College offers accredited arts online degree and certificate programs as well as individual courses. Its mission is to prepare art and design professionals for successful careers by providing the highest quality of online design education. Students gain a thorough training in the technical, creative, and critical-thinking skills that are required for a fast-changing industry.
Back to The Newsroom