New Bachelor's Degree Programs in Business and Technology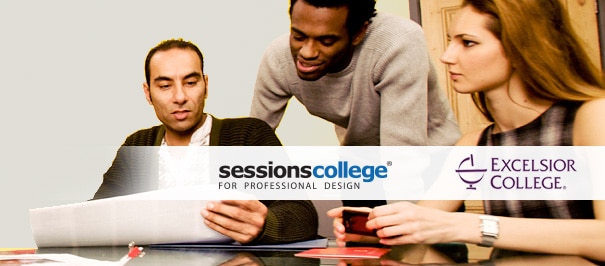 If the success of Apple shows us anything, it shows us that design, business, and technology go together. And just as today's companies understand they must embrace design to be successful, today's designers know they need business and technology skills to thrive as independent professionals in a fast-changing industry.
Where can you develop those skills? Effective April 24th, 2014, we're delighted to announce that you can integrate these disciplines through an academic partnership between Sessions College for Professional Design and Excelsior College. A new articulation agreement provides smooth credit transfer from selected Sessions programs to four-year degree programs at Excelsior College:
Bachelor's of Professional Studies (BPS) in Business and Management
Bachelor's of Professional Studies (BPS) in Technology Management (Information Technology)
About Excelsior College
Like Sessions College, Excelsior College is an online institution with a distinguished history in distance education. Excelsior College was founded in 1971 by the New York State Board of Regents and originally known as Regents College. In April 1998, the College was granted a charter to operate as a private, nonprofit, independent institution.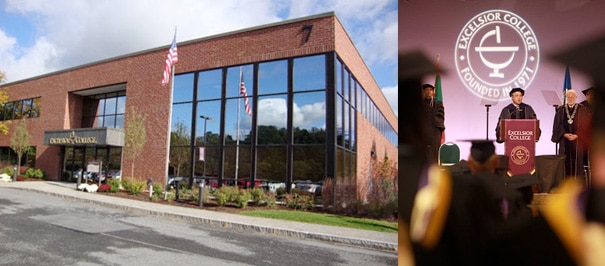 Today, under the guidance of its Board of Trustees, Excelsior College has a unique mission focused on providing educational opportunity to adult learners, with an emphasis on serving those historically underrepresented in higher education.
It achieves this mission by offering flexible, individualized programs, by providing exceptional prior learning assessment and credit transfer, and by collaborating with other schools and businesses to meet society's needs.
A Broader Perspective
Students who take advantage of the new programs at Sessions College and Excelsior College will enjoy the best of both worlds. Graduates can transfer up to 69 credits (depending on program) to eligible Bachelor's programs at Excelsior College from the following programs:
Associate of Occupational Studies in Graphic Design
Undergraduate Certificate in Graphic Design
Associate of Occupational Studies in Web Design
Undergraduate Certificate in Web Design
Associate of Occupational Studies in Digital Media
Undergraduate Certificate in Digital Media
At Sessions College, students will complete a rigorous creative program focused on providing the skills and portfolio of work they need for entry to a design career. Upon transfer to Excelsior College, students can earn a regionally accredited Bachelor's degree by completing upper-level courses in business or technology.
Program Benefits
Why consider extending your schooling to enter this program? Here are some benefits:
1. Complementary Programs.
Depending on your choice of program, the programs at Excelsior College offers courses in management, leadership, project management, accounting, finance, and/or technology management. This focus on understanding the bigger picture of running a business (or at least, keeping it running) is definitely a complementary skill set for any designer.
If you are thinking about going freelance or owning your own agency one day, here is a platform.
2. Credit Transfer and Prior Learning Assessment.
Excelsior College is known throughout the education field for its expertise in credit transfer and prior learning assessment. This means that adult learners are often able to have work experience and non-traditional academic achievements recognized through credit transfer. Not only does this cut down on any redundancy in your program–you could be a lot closer to a Bachelor's degree than you think.
3. Academic Partner Tuition and Fee Waivers.
Due to its mission to extend educational access, Excelsior College is already among the most affordable college programs online. Through this program agreement between Sessions College and Excelsior College, students can access significant tuition discounts and reductions in fees, making an already affordable program even more so.
Like Sessions College, Excelsior College is a participant in Federal Student Aid and has available scholarship programs.
4. Path to a Bachelor's Degree and Beyond.
If you are thinking about earning a Bachelor's or a Master's degree, this partnership provides a path to a regionally accredited four-year degree. This in turn becomes a wonderful path to lifelong learning opportunities.
Excelsior College is accredited by the Middle States Commission on Higher Education, one of the six regional accreditation organizations. Its programs are almost universally recognized by other higher education institutions in the United States. Thus beyond the immediate gain of a Bachelor's degree, program participants can gain a longer-term path to a Master's degree, professional degree, or other advanced program.
5. Be Trendy.
We're kidding, but only partly. Design business programs have become a hot trend in art education over the last several years. Fancy design schools such as MICA, Parsons, and Pratt offer advanced degrees in design management. Publications as diverse as US News, Business Week, and the Chronicle for Higher Education have written articles about them. Earning a Bachelor's could start you on the path to such desirable credentials.
If you're interested in this program, talk to our Admissions Team and ask for a transfer guide. Interested in an accelerated program? Ask about concurrent enrollment. Knowledgeable Admissions Advisors at each school are available to assist you.
Excelsior College is accredited by the Middle States Commission on Higher Education, 3624 Market Street, Philadelphia, PA 19104. (267-284-5000). The Middle States Commission on Higher Education is an institutional accrediting agency recognized by the U.S. Secretary of Education and the Council for Higher Education Accreditation.

Sessions Staff is a restless soul who loves to share Campus News stories with current and prospective students.