Color in the Virtual Office

Need more color in your day? The Morean Arts Center in St. Petersburg, Florida thought so, launching a three-month festival of exhibitions and activities called Colorpalooza! this summer. One of the participating artists was Sessions College instructor Margaret Penney. In her exhibit, Margaret set up a virtual office-within-an-office in arts center, decorating it with her digital artwork.
Q:  Margaret, your describe the artwork as a "projected office."  What was your concept for the office and how was it put together?
Originally the Morean program director and I discussed the idea of creating a space that was in essence both virtual and local. The exhibit was to be called INTERLOCAL, and we discussed a number of ideas for how this could be achieved.
I wanted to create a kind of immersive space with animation and sound that was also my workspace. I also wanted to create artwork that played with the idea of virtuality by pretending it existed in the actual office space—with projections of framed artwork on wall, a mantel, chairs along the edges of the space. The program director was interested in the idea that I work primarily online. She felt that many people may not be aware that "Internet workers" now exist, and they may be interested in talking to me about working online. (In addition to teaching at Sessions College, Margaret runs her own design studio Hello Media, many of whose clients and projects are online.)
The Morean had just remodeled its exhibition space and we found a good corner for me to show the projections that was dark enough. They furnished me with a rolling desk, a Mac, and two projectors that I could project onto different areas of the wall: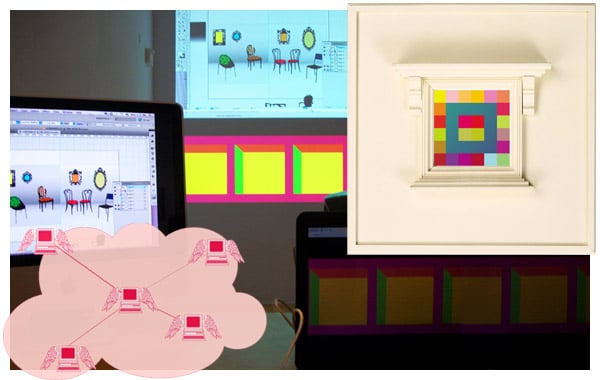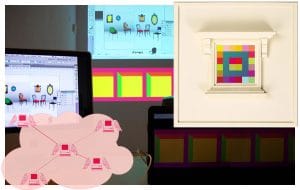 Q: How did your exhibit contribute to the exhibition's overall theme of color?
When I first discussed the project I had no idea that the overall theme was color, but I was starting on a bit of a color field and op-art kick looking at the work of Kenneth Noland, Richard Anuszkiewicz, and Martin Canin. I was enjoying the subtle resonance that occurs when certain colors are banded together in close proximity.
I wanted to see what would happen if you take the intensity and geometry of color op-art and add in some very slow color transitions in Flash. So I created a few works for the exhibit that played on this idea. The result was viscerally pleasant, to see the color resonate and almost imperceptibly change, op art affected by the changing condition of time.
I was happy to see that there was a color theory class right next to my office space at the opening and that the entire theme of the summer exhibits was color—it just worked out. The Morean houses the Chihuly Collection of glass sculpture, which is incredibly vibrant, so the exhibit was a celebration of that collection as well.
Q: Your exhibit also had an interactive component; you were available to talk to visitors about creating digital art using Adobe Flash and Illustrator. What was the goal of this outreach?
I had a small pedestal set up in front of me, with questionnaire forms to fill out, and a placard that read "Wonder what I am doing? Ask me a question." Luckily, only one person asked me where the bathroom was!
The Morean has a large educational component and they teach classes in traditional art making like painting, clay and glass. So, the program director also thought it might be interesting to bring someone who is a creative with the computer out of the shadows of her Mac "cave" and into the bright Morean exhibit space, to expose the visitors to a different method of art-making.
The exhibit allowed me to discuss using the computer creatively with the Morean visitor and educate and inspire others to consider using the computer to make art too. I was a bit like an animal in a zoo, working on the computer in real-time in front of people, and I was also there to answer any questions about what I was doing, what the Adobe Creative Suite was, on so on.
The goal of this outreach was to inform people about how to use the computer to create art or to create materials to promote their art (such as websites, brochures, postcards). To show them that using programs like Flash or Photoshop is not so difficult and to just make the whole process of working with the computer creatively more accessible to them.
Margaret Penney is the head of Multimedia Arts at Sessions College. Classes she teaches include Color Theory, Design Business, Fundamentals of Typography, and Web Accessibility Design.

Sessions Staff is a restless soul who loves to share Campus News stories with current and prospective students.