Alumni Profile: Mariela Abreu, Lead Production Designer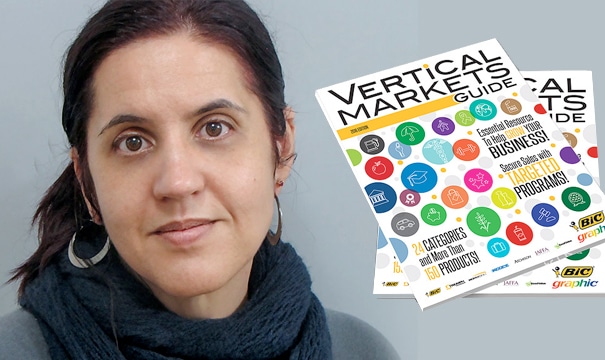 Recent Sessions College graduate Mariela Abreu likely attracted some attention when she earned recognition as a GDUSA Student to Watch this month. Born in Cuba, Mariela emigrated to the USA in 1999 and began working as a professional designer in 2001.
Looking to grow her skills and earn a credential, Mariela enrolled in the Associate in Graphic Design program in Spring 2013. We caught up with our talented graduate en route to a new design job.
Q: You're about to begin a new job—can you tell us about it?
I am very excited about my new position as the lead production designer at Masonite International. The role will allow me to combine my experience in printing and my skills in digital design. My responsibilities involve taking the lead role in creating, producing, and managing print ready creative material, as well as designing and deploying digital assets.
Q:  How did you get your start in graphic design, and how did your career evolve?
I started my career working for a small print shop while taking classes toward my first degree. I was just enrolled in my second design class when I got the job. 
I was applying and looking for a job in the industry even when co-students and friends told me it was impossible that someone would hire me without experience. One of my teachers heard me and offered me a job at the shop he worked.
My first job allowed me to understand the printing process from the beginning and helped shape my work as a designer. (I always tell this story to new students so they are not afraid to apply for a job as designer. There are always opportunities for those who really search.)
Later on, working as an in-house designer for corporations and design studios, I refined my creative process through brainstorming sessions with other talented designers.  Along the way I was always looking for freelancing opportunities because the projects are more diverse and give me more control through out the whole process. I am usually involved in the creative and the printing or digital publishing of projects, something that gives me great satisfaction.
Q: Why did you decide to enroll in an online program at Sessions College?
I wanted to complete my education as a designer for a long time. But with two kids and a full time job, that was hard to achieve at traditional institutions.
So I searched for online programs and found Sessions College. I was attracted by the fresh, modern, and clear presentation of the programs on the website, everybody I talked to on the phone was very helpful and really driven to look for a solution to any potential problem.
I also looked at the credentials of the instructors and was impressed by their experience. I especially liked the fact that the instructors were not just scholars but people who worked in their area of expertise in the real world. This added a unique perspective to their classes.
I thought studying online would be a lonely process but I found out that we do have opportunities to exchange ideas with other students and to learn from each others' experiences. I think in general, upgrading my understanding of the design programs and having the opportunity to learn the latest trends in design gave me an advantage: not only do I have many years of experience,  but I also have the fresh approach to design of a recent graduate.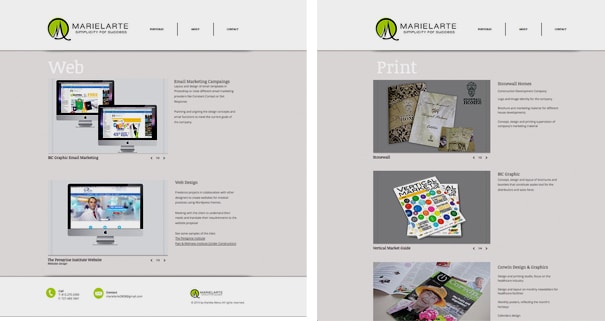 Q: Why was it important to you to complete your degree?
I was a few classes short of graduation at Miami Community College when I quit do to pursue my family. And while I always worked as a designer, I got to the point where I felt the lack of credential was holding me back. Completing the degree upgraded my skills, gave me a more solid foundation, and also gave me the confidence to push on and advance my career. I can say in the last two years I have really grown as a professional designer.
Q: Your mission statement is "simplicity for success." Can you describe how you try to achieve that in your work?
For me the best design, the really genius concept, is one that can transmit a message in such a simple way that anybody can instantly understand it.  I am constantly editing my own work and asking myself if there are any elements in the design that are not helping to clearly communicate the idea.
Simple, however, does not mean "minimalist." In my opinion, many minimalist designs leave the viewer with more questions than answers. It's a matter of fulfilling the design purpose in a balanced, clean, and precise way, and never forgetting that clear communication is the final goal.
Q: What are your goals for the next phase in your career?
I want to be the best designer I can be. This sounds a little like a "cliché", I know…but it's what I truly want. Learning is an ongoing process for me. I really enjoy learning new programs, new trends, especially in the digital design and marketing area, so I probably will continue enhancing my skills through Sessions College certificate programs.
For more information on Mariela Abreu's work, visit marielastudio.com. To learn more about Sessions College, view our degree programs or our Student Gallery. To learn more about the GDUSA recognition, visit the 2016 GDUSA Students to Watch feature.  

Sessions Staff is a restless soul who loves to share Campus News stories with current and prospective students.