New Bachelor's Program Options Through Excelsior College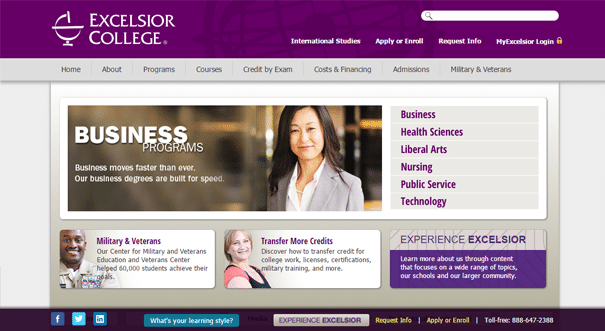 If you're enrolled in a degree level program at Sessions College, we have some exciting news for you. Working with our academic partner Excelsior College, a leading regionally accredited online college, we have expanded the credit transfer agreement between Sessions College and Excelsior College.
About Excelsior. Like Sessions College, Excelsior College is a fully online institution with a distinguished history in distance education. Excelsior College was founded as Regents College in 1971 by the New York State Board of Regents and granted a charter to operate as a private, nonprofit, independent institution in 1998. Excelsior College is widely recognized for its mission and its track record in helping adult learners complete their degrees and achieve their educational goals.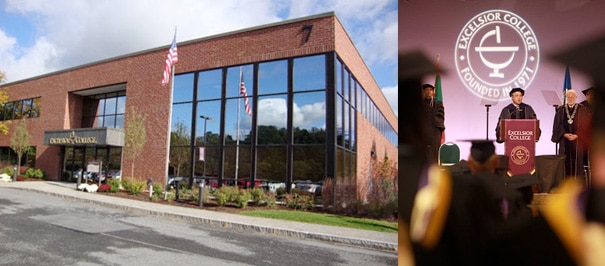 The expanded agreement just announced will allow students at Sessions College to transfer credits from all Associate Degree or Undergraduate Certificate programs to a wider range of bachelor's programs at Excelsior College.
For students whose career or educational goals may change or grow in the coming years, the new policy provides a guaranteed path from a Sessions College program to a regionally accredited Bachelor's degree and/or further education options beyond that.
What's New About the Agreement?
In the initial credit transfer agreement with Excelsior College created in May 2014, Sessions College students could transfer credits from Graphic Design, Web Design, and Digital Media programs to one of two Bachelor's in Professional Studies programs at Excelsior College.
In the new agreement, credits can be transferred from any of the 14 credit bearing programs at Sessions College to any of the more than 30 Bachelor's programs at Excelsior College, providing that equivalent courses exist. (See the All Programs page at Excelsior College.)
A further bonus is that the agreement will be retroactive, so that students who have already graduated from any Associate or Undergraduate Certificate programs will be eligible for the same level of credit transfer.
How Many Credits Will Transfer?
The new agreement creates a multitude of educational pathways from programs at Certificate and Associate Degree level to Bachelor's Degree and Master's Degree levels. Instead of creating transfer agreements for each path, Excelsior College will be creating sample transfer guides for interested students in the coming months.
In the meantime, we would encourage any student or graduate interested in continuing their education at via this articulation agreement to simply contact Admissions staff at Sessions College or Excelsior College. Both Sessions College and Excelsior College offer free credit transfer evaluation services.
For more information on the partner program at Excelsior College, visit our partner page and ask about attending a free Transfer Made Easy seminar. Graduates or interested students who want more information from Excelsior College regarding this updated  program  can  go  to  this web page specifically designed for them. Additionally, they can contact Joshua Shaffer  directly at 440-773-0595 or jshaffer@excelsior.edu.
For more information on credit transfer at Sessions College, please visit our Credit Transfer page and visit our Admissions area or chat live with one of our Admissions advisors. 

Sessions Staff is a restless soul who loves to share Campus News stories with current and prospective students.