Transferring Brooks Institute Credits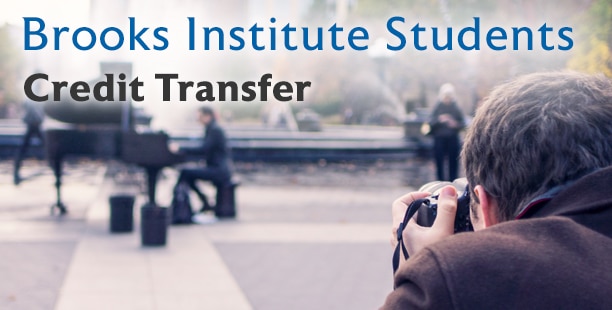 On August 15th, Brooks Institute announced that it will be closing on October 31st, 2016. The closing of the 70-year old, Ventura, California based school of photography was a sad day for arts education. Founded in 1945, the school had many famous graduates and alumni and was one of the few photography schools in the United States.
The closing of any school can be a period of stress and turmoil for students. Any student in mid-program is suddenly faced with decisions about where to continue his or her education. And as is usual, there has been some conjecture in the media that transfer credits earned at Brooks Institute would not be accepted by other schools.
As a fully online school of visual arts, we at Sessions College for Professional Design (sessions.edu) fully support the efforts to help Brooks Institute students continue and complete their programs by transferring their earned credits to relevant programs at Sessions College.
Brooks Institute is a nationally accredited school widely recognized in education and in the photography field. Therefore courses and programs taken at Brooks Institute should be transferable to equivalent courses at other schools.
Students looking to complete their undergraduate photography programs may be interested in the following programs available at Sessions College:
Sessions College for Professional Design (sessions.edu) is an accredited fully online school of visual arts founded in 1997. Students can complete all their coursework online, receiving detailed feedback on all assignments and discussions from a faculty of creative professionals.
Our wide range of photography courses includes digital and commercial photography courses, narrative photography, photo lighting and setup, Photoshop, Lightroom, color correction, photo retouching, and more.
Eligible students may access financial aid via a combination of Federal grants and loans in order to cover the costs of their programs. We are affordable – our tuition has been recognized as College Affordability and Transparency center as among the lowest in its category. Finally, our transfer policy can accept up to 50% of credits from other accredited institutions.
If you're interested in learning more, visit sessions.edu to find out about our Credit Transfer policy and ask our Admissions staff about a free transfer credit evaluation. Also stop by our student gallery and find out what our students say about their Sessions College experience.
Here are some further Web resources to find out more about transferring your Brooks Institute credits:

Sessions Staff is a restless soul who loves to share Campus News stories with current and prospective students.