Yulia Yushina Featured in GD USA Magazine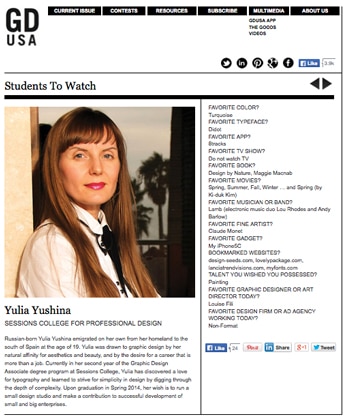 Sessions College proudly announces that Sessions College Associate Degree student Yulia Yushina was featured as a Student to Watch in the January 2014 edition of GD USA magazine. GD USA is a graphic design industry print and Web magazine established in 1963 known for its contests and awards promoting achievement in design.
The GD USA Students to Watch feature is an annual piece that showcases emerging design talent at America's leading design schools. Participating schools include a range of institutions, everyone from such traditional and august art schools as MICA, SVA, Pratt Institute, and RISD to innovative upstarts like School of Advertising Art, Full Sail University, and Sessions College.
We nominated Yulia as our student to watch not just because of her talent but also because of her perseverance in pursuing her education. When she was still a teenager, Yulia emigrated from Arkhangelsk in her native Russia to Costa Mijas in Spain, on her own. Now an adult and mom to a five-year old daughter, Yulia has worked hard to improve her design skills at every opportunity, completing a certificate program at Sessions in 2008, and returning in 2012 via our Bridge Program to polish her portfolio in the Associate Degree program.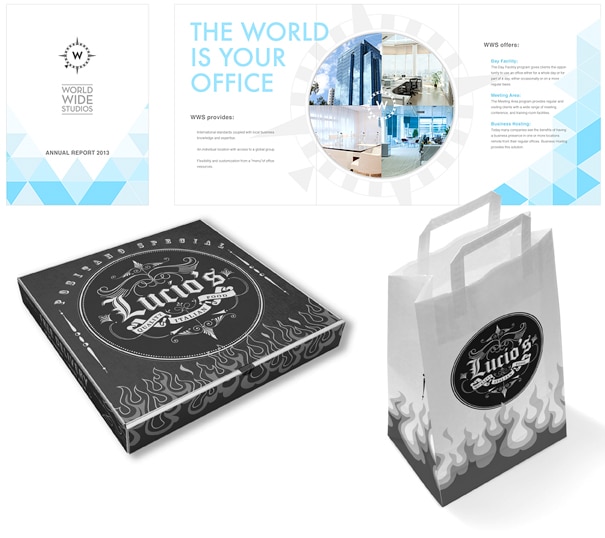 As she enters her final semester in the Associate Degree program, Yulia has really distinguished herself in creating a polished collection of work with a lovely sense of color and a lot of stylistic variety. She is well positioned to achieve her goal of becoming an independent designer with her own business. As Yulia commented in November 2012: "I want to be useful to the people and I wish to make a contribution to the successful development of small or big enterprises by creating brand identities that will stand out from competitors in the market."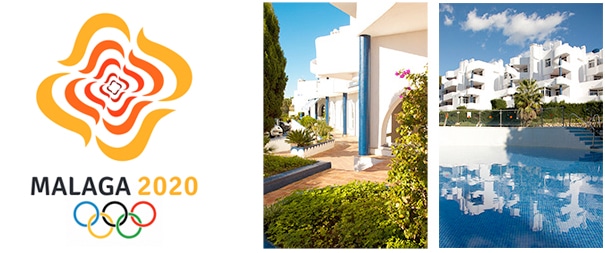 Visit Yulia's GD USA page and add a Like to show your support. We're looking forward to seeing what Yulia does next, as she is on track to graduate the AOS program this year.
Our thanks for GD USA for the honor and to Yulia for participating.
Visit sessions.edu for more information on Degree Programs and Undergraduate Certificates at Sessions College. Make sure you request our latest catalog and check out Degree and Undergraduate Certificate admissions.

Sessions Staff is a restless soul who loves to share Campus News stories with current and prospective students.