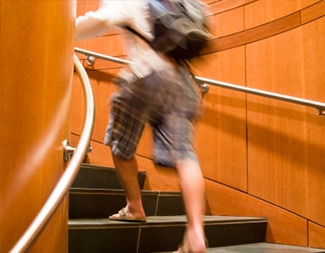 Degree Program Admissions
Bridge Program
Looking to turn your vocational certificate into a degree? The Sessions College bridge program enables graduates of Sessions College vocational programs (Professional and Advanced Certificate) to apply up to 24 credits towards an Associate Degree program, and up to 12 credits towards an Undergraduate Certificate program.
Students who have any credits earned from other colleges may apply to transfer these too, up to a maximum credit transfer of 50% of program credits. See Credit Transfer Policy.
Who Is Eligible?
In order to be eligible for the bridge program, you need to have graduated a Sessions College Professional or Advanced Certificate program. You need to have enrolled after January 1, 2014. Your grades and portfolio of work must be outstanding and meet the standards expected of degree level students. Applications will be evaluated on an individual basis.
What are the Program Benefits?
You can apply up to 24 credits from your Professional or Advanced Certificate to an Associate Degree, or up to 12 credits to an Undergraduate Certificate. Students with prior credits from other college studies (such as General Education courses) may only be 3-4 semesters from completing the Associate Degree program. With its rigorous discussions, projects, and critiques, the degree program rounds out your education. It's the perfect coda to your Sessions College studies.
How Do I Apply?
Being a bridge program applicant has many benefits:
Put together your 5-10 work samples from prior Sessions College work.
You may also be able to apply college credits from another institution for a maximum credit transfer of 36 credits.

Apply
Complete our convenient program application form online.

Chat
Submit your 500-word application essay. Tell us why you are interested in your chosen major. Assemble your 5-10 work samples, including your prior Sessions College work.

Transcripts
Provide transcripts from your high school and any colleges attended.