Kyle Gilbreath Featured in GD USA Magazine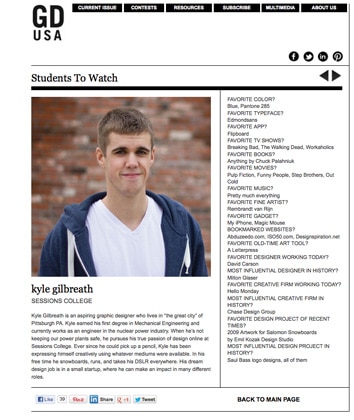 We're delighted to announce that Sessions College Associate Degree student Kyle Gilbreath was featured as a Student to Watch in the January 2013 edition of GD USA magazine. GD USA magazine is a print and Web industry magazine for professional designers well-known for its creative awards and "people to watch" features.
GD USA's Students to Watch feature is an annual feature that showcases young (or at least up-and-coming) design talent from a range of art schools. Who's in it this year? Oh, just a few students from such august institutions as SCAD, SVA, Pratt, Otis College of Art and Design, Portfolio Center, and yup, Sessions College.
We nominated Kyle as our student to watch because of his outstanding talent, attitude, and work rate—three attributes that any designer should have. Educated as a mechanical engineer, Kyle is a nuclear design/analysis engineer for Westinghouse Electric Company. A passion for art and design brought Kyle to Sessions College, where he has been busy expanding his creative horizons and building a strong portfolio of work.
Visit Kyle's GD USA page and add a Like to show your support. We're looking forward to seeing what Kyle does next, as he is on track to graduate the AOS program this year. Maybe the next hot design talent is coming outta Pittsburgh, PA!
Our thanks for GD USA for the honor and to Kyle for participating.
Visit sessions.edu for more information on Degree Programs and Undergraduate Certificates at Sessions College.

Sessions Staff is a restless soul who loves to share Campus News stories with current and prospective students.