CCME Design Competition Winner: Christina Bournias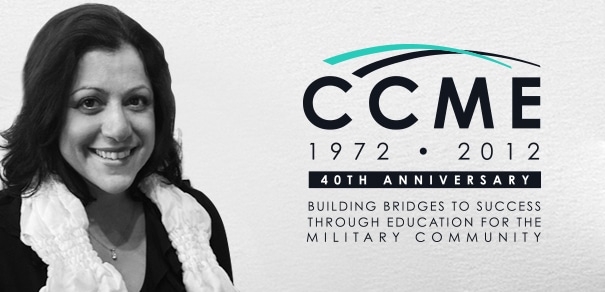 Sessions College is delighted to announce the winner of the fall 2012 CCME Logo Design competition. On November 5th, design competition sponsor Council of College Military Educators (CCME) selected Christina Bournias's "Bridge" design for their 40th Anniversary logo.
As the competition winner, Christina not only receives a $500 honorarium from the competition sponsor—she will also gain the chance to have her design published throughout the CCME's print, Web, and display materials throughout 2013.
The winner Christina Bournias is a professional designer and founder of the women-owned design business Brilliant Orange LLC, Christina is currently enrolled in the Sessions College Web Design Certificate Program. (Christina also holds a BFA from the College for Creative Studies in Detroit, Michigan.)
"Designing a logo for CCME was most exhilarating knowing that I could possibly be a part of something bigger," said Christina. "Applying my education to an organization for military educators allows me an opportunity to give back to the design industry."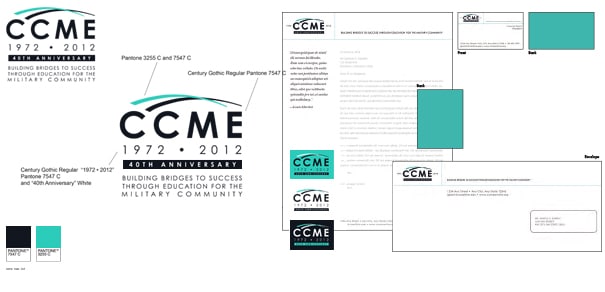 Asked about her design process, Christina commented that the "ideation process that is the most pivotal stage to any design presentation." Christina always spends a lot of time in research and development, using thumbnails, her "thinking" pen, and a busy page on her day planner to sketch ideas. In her words: "The concept stage never should be missed."
The winning design was the culmination of a three-month process. Twenty-three students participated in the competition to create an anniversary logo for the Council of College Military Educators, a non-profit organization dedicated to providing educational opportunity to U.S. military servicemembers. The students submitted more than 70 individual logo designs.
Experienced Sessions College faculty members Boris Margolin and Joanna Smith helped CCME select the best entries from the initial submission, and six student designers were chosen to be finalists: Amber Edgar, Christina Bournias, Courtney Shirley, Karl-Henry Sanon, Justin Niederkorn, and Niharika Jain.


Each student was provided a critique from the competition judges and given ten days to finalize their work. The process was then handed over to the CCME judges to select the winner. CCME administrators and Sessions College staff were delighted with the quality, creativity, and diversity of the work submitted in the competition.
We congratulate the winner Christina, the finalists, and everyone who took part, and thank the judges Boris and Joanna for their astute feedback. Stay tuned for more Sessions College competitions for spring!
Visit sessions.edu for more information on Online Certificate Programs at Sessions College. Make sure you request our latest catalog and check out Vocational Program Admissions. 

Sessions Staff is a restless soul who loves to share Campus News stories with current and prospective students.