Sessions College Outstanding Instructor Award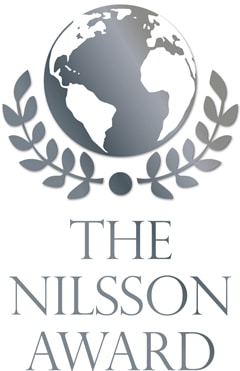 The Sessions College Education Department is delighted to announce the creation of a new outstanding instructor award. Entitled the Nilsson Award, the award recognizes excellence in online teaching. Its goal is to honor instructors who transform the quality of education at Sessions College.
Founded in 1997 as Sessions.edu, Sessions College has employed over 80 instructors in its 14-year existence, and currently has a faculty of 35 instructors. Faculty members come from all creative disciplines, and the average instructor at Sessions has taught more than three years at the school.
Few instructors (OK, none) have had as profound and lasting an impact on students as Piper Nilsson, Department Head of Web Design. Joining Sessions as an adjunct instructor in 2001, Piper has graduated many thousands of students in her ten years of teaching, consistently ranking in the top five in student evaluations and staff assessments of her teaching. An accomplished instructional designer, Piper has developed courses in color theory, composition, information design, and Adobe Dreamweaver, administered hundreds of portfolio reviews, and for several years provided strategic direction for the Web Design Certificate program.
When the Education staff decided to create an award to recognize major faculty achievements, there was no debate about what to call the award and who the first honoree should be. It had to be The Nilsson Award.
Chief Academic Officer Tara MacKay helped establish the award program. As Ms. MacKay commented: "Piper has been a remarkable instructor since day one, and in ten years has never wavered in her excellent teaching and her devotion to student success."
"Piper's focus is always on continuous improvement, and that shows in student work," Ms. MacKay continues. "Her design courses give Sessions students a great grounding in color and composition. Web design students get to see their Dreamweaver work grow from basic pages to large-scale, beautifully designed sites that students never thought they could create. The ongoing improvement in students' work is clear and speaks to both her fantastic course authorship and her impeccable teaching."
As a Web design instructor, Ms. Nilsson has overseen many changes over the last decade, as the school's curriculum evolved to embrace the latest Web standards, such as HTML5, CSS-based layouts, and JQuery. "Piper is always looking for ways to improve her courses, whether she is addressing new design concepts, upgrading software lessons, or adding cutting-edge Web design techniques," comments MacKay. Director of Training and Multimedia Ethan Herr adds: "It's easy to see why Piper is a student's dream, but working with her is an administrator's dream as well! Everything she does in her classes is carefully prepared and professionally executed."
Looking ahead, the Education team at the Sessions College plans to reserve the new award for cases of exceptional educational performance or leadership. "I'm excited to see this award created to honor the achievements of one of our most talented and longest serving instructors," says Sessions College President Gordon Drummond. "Piper has simply been a fabulous teacher at Sessions, a skilled communicator who knows how to get most out of her students. I hope this award inspires others to similar heights of excellence."
To show its appreciation for Piper's work, the school has put together the following sample of student testimonials:
Piper Nilsson is an excellent instructor, very professional in her attention to detail as well as her feedback, never restricting her comments to just the work but always providing further material/ links for research. One can feel that she has a genuine interest for the student to develop. She encouraged me, as a student, to develop my own style, which I think is wonderful. In the end, there is no right way to doing things, it is about contributing with your own style and ideas towards the field of graphic design. She reminded me of that.
– Karen, Quebec
Piper rocks! She's helpful, quick to grade, and gave TONS of helpful, interesting, and useful feedback. She should seriously be given a medal or something. She's really that good. Even if she didn't find anything wrong with a submission that could use improvement (which she usually did find), she would still go the extra mile and offer all kinds of useful advice that related to the project, and went above and beyond basic feedback and critique. A model instructor, who's qualities other instructors would do well to add to their own.
– Jonathan, WA
Piper was honestly amazing. Some of her lectures changed my views on fine art. I've never looked at fine art in terms of what it could/can teach me for design, but now… it really changed how I view things. And she personally opened the doors, via email, to many other art techniques that I simply overlooked or paid no attention to.
– Scott, IN
Piper was fantastic about answering questions, often with several URLs for more information or color tools. I also appreciated the way she provided a critique of my submitted exercises. She pointed out what she liked about certain parts, but also was helpful in pointing out in a non-judgmental way what to look for or try that might improve the work.
– Bryan, CA
I would actually like to give Piper a 6 out of 5. Every time I submit an assignment for grading, I know that it's going to be critiqued and evaluated fairly and with lots of comments and extra knowledge to investigate and continue to learn on your own. I value and work on everything that Piper has suggested and she's made me a better designer because of it, so I'd like to pass along my thanks to her, and I think you should do whatever you can to keep her as an instructor! Her consistency and thoroughness amazes me. Piper truly is the best I've had!
– Robyn, British Columbia

If I could rate Piper any higher, I would. She gave timely, detailed, positive comments and suggestions. I always felt supported by her. Her encouragement to try something in a different way and repost modeled what I assume is the collaborative design process and I really appreciated it. She would correct or suggest things I hadn't thought of in a really supportive way. She's terrific!
– Elizabeth, AK
I wish all instructors had the communications skill Piper has. I found her remarks and recommendations to be very helpful and relayed in such a way that I still felt that my work had been given an honest review. After identifying any area that I could use work in, she would make recommendations that if I were to implement them would improve my mark and at the same time leave me with a much better product.
– James, Alberta

Sessions Staff is a restless soul who loves to share Campus News stories with current and prospective students.