Creativity Reimagined at Adobe Max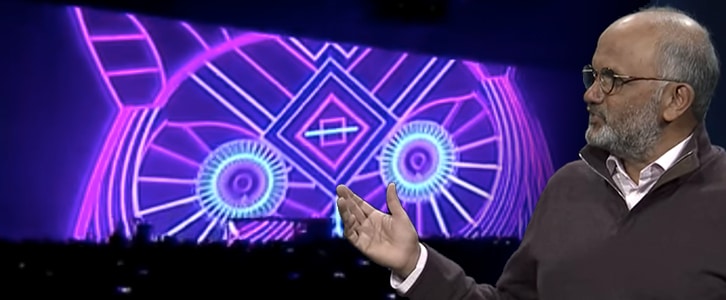 Unleashing the power of creativity to tell our stories was a major theme at this year's Adobe Max, the annual conference of the developer of all creative apps that began on October 15th, 2018 in Los Angeles.
Lofty phrases like "creativity reimagined" permeated a keynote speech delivered by Adobe CEO and focus on a message of extending access to creative tools. In Narayen's vision, everyone has a story to tell—and in today's technological environment, everyone should have the best applications with the most intuitive tools to tell those stories.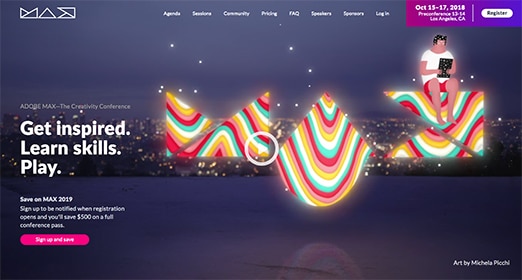 Adobe Max is an annual event held by San Jose-based Adobe Inc., in North America, Europe, and Japan. Since 2015, Adobe Max has been a showcase for innovations in the company's famous suite of creative arts software products— Photoshop, Illustrator, InDesign, and more—which are now available to subscribers in the Creative Cloud software package.
Each year, more than 10,000 people attend Adobe Max in person, and more than a hundred thousand join the event virtually, in real time or video replay. Adobe uses the conference to announce exciting new programs or features, many of which are available to subscribers by download the very same day.
What was new and different about Adobe Max 2018 was its focus not just on creativity but also on accessibility.
Whether your creative medium is photography, illustration, video, animation, or design, Adobe contends that all creators of digital narratives should have access to the best tools. In promoting this message, Adobe recognizes that while tools are used by professionals, their audience or user base can include not just professionals, but students, artists, hobbyists—anyone with a story to tell. "We live in a Golden Age of Creativity," claimed Narayen, adding "the capacity to create should know absolutely no boundaries."
The Concepts Behind a New Workflow
So, what are some ways that Adobe is delivering on this boundless creative future? As usual, it's through making timely and strategic innovations in software products old and new. Adobe chief product officer Scott Belsky led a presentation by a team of Adobe developers that touched on new features for old products, as well as new products for emerging markets.
Accelerating Your Work

Do you think Adobe programs are challenging to learn or use? Adobe's developers seemed to agree with you, as a big focus of this year's product updates was making things easier and faster to do. Simplifying the performance of Adobe's apps allows users to focus on the creative process and less on understanding the technology behind the applications.
Examples of changes for a faster workflow range from the flashy and cool to the simple but super useful. Flashy and cool? Live blend modes in Photoshop, allowing you to breeze through blending image options in real time. Or improvements in selecting subjects or using a dedicated content aware fill to more easily composite images.
Enhancements in Photoshop include being able to scale objects proportionally under Transform without having to hold the Shift Key and performing multiple undos, unlike previous versions. The Type tool now behaves more like it does in Illustrator and InDesign—you just double-click on an existing piece of text to edit it. A Frame Tool has been added to automatically scale and crop images.
Less flashy but apt to save you hours of time in Photoshop? Using a simple double click to edit text, or a simple click away to auto commit an action. That may not sound like rocket science but the Adobe Max crowd loudly cheered these changes.
Liberating Your Creativity


Do you want to spend less time at the office? Adobe wants to free you from those shackles, and one way they aim to do it is to make more tools and assets available through multiple applications and devices. Through the Creative Cloud, Max presenters explained, users should be able to create and share ideas anywhere with the same access to brushes, fonts, and presets.
More things will be mobile in the future – after all, what's more liberating than a mobile device? And so, while it's not available live yet, Adobe made a BIG deal about presenting a fully mobile version of Photoshop that will launch in 2019. Developed in collaboration with Apple, this new Photoshop will work on iPads, and developers demonstrated that it offered the full suite of features available in the desktop version of Photoshop.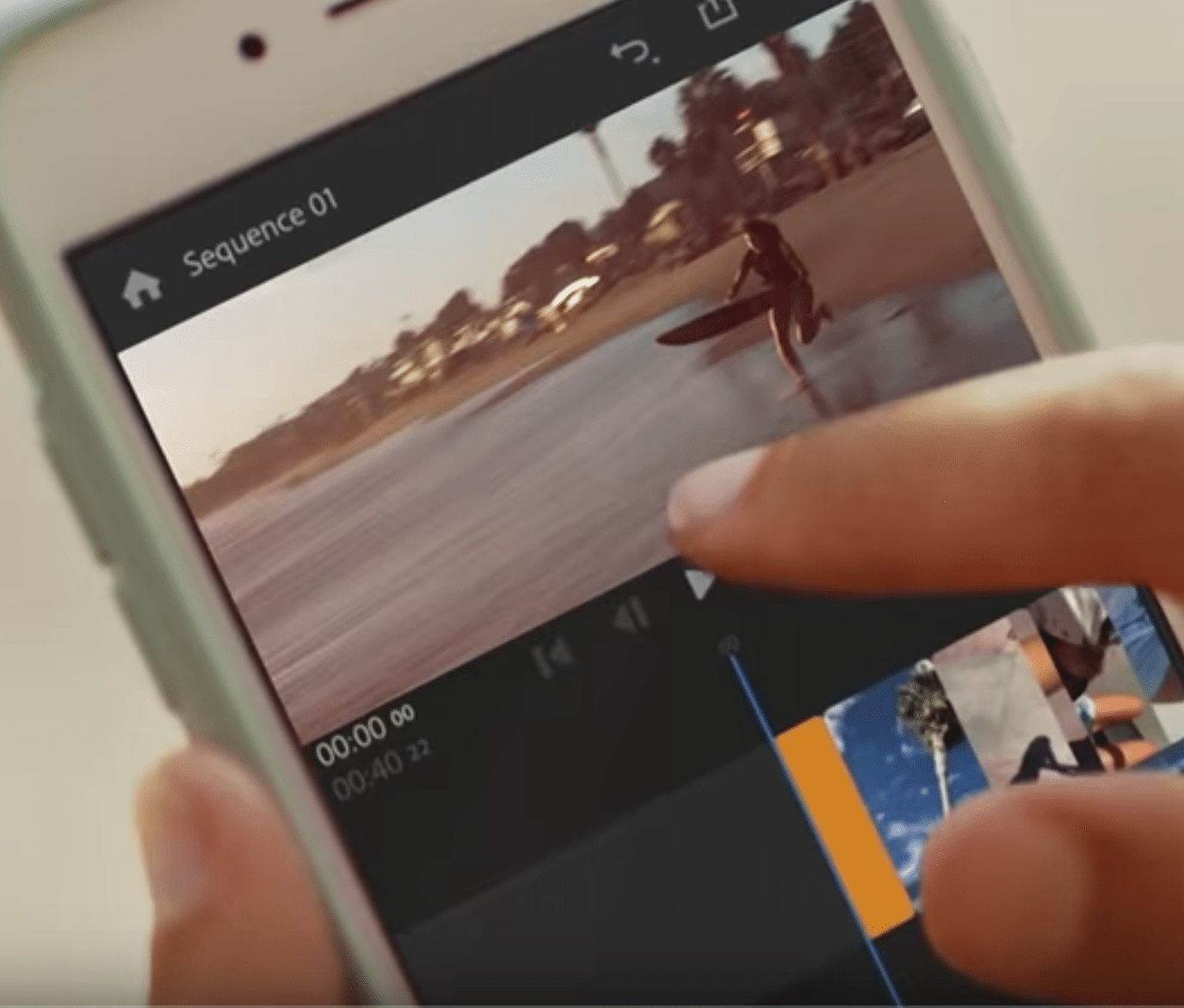 To set your video creativity free, Adobe has introduced a new video editing software called Premiere Rush that works on multiple devices. You can edit videos captured on mobile devices, add motion graphics and narration– in fact, everything you used to do using nonlinear editing software on your desktop can now be done on your iPhone.
Reading between the lines, we can expect more "responsive design" from Adobe apps – a world in which mobile versions of more and more apps work just the same on our devices as they do on our computers. Plus, Adobe is designing different applications (be they Photoshop, Illustrator, or InDesign) to be better integrated with each other and able to open the same project in various apps seamlessly.
Driving New Mediums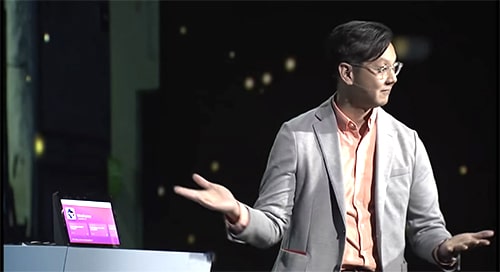 What's that you said? We hear you, Adobe. Thinking about designing the future includes using voice commands to liberate you from the keyboard or letting AI or other fancy algorithms do the work for you. Or designing for people using devices differently.
At one point in the opening presentation, Adobe XD developer Khoi Vinh demonstrated his method for prototyping a new app, and making it accessible via voice commands, in one easy and animated process. Adobe CPO Scott Belsky believes that "Adobe XD will some day be as big as Photoshop" partly because "more parts of life will be an interface."
In an intriguing demo that you can learn more about at his blog Subtraction, Khoi Vinh showcased how the prototyping tool XD can usher in a future in which designers are smoothly designing all of the ways in which users can interact with information or organizations – click, swipe, touch, voice.
Just as futuristic, the conference hinted at the ways in which the Adobe Sensei project continues to look for ways to use artificial intelligence (AI) and machine learning to make designing faster and less laborious. New features such as understanding audio types in Premiere Rush, or selecting subjects in Photoshop in a single click are powered by the ability of the programs to speed things up by magically finding what you need.
Limitless Fonts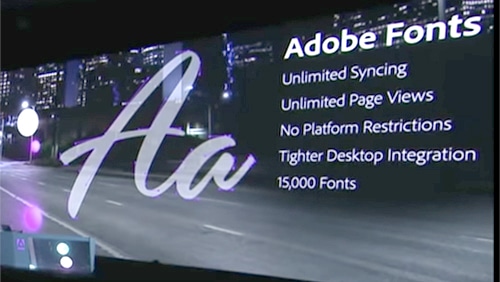 Finally, a really exciting piece of news came with the announcement that Adobe's font archive Typekit (which previously limited designers to syncing only 100 fonts) has been renamed Adobe Fonts, and reengineered as an expanded font library with no limitations. Adobe Fonts now provides designers 15,000 fonts available across multiple platforms! Lack of fonts need never sink a project again.
Overall, Adobe Max leaves creative pros with a lot to be excited about. Designers can accelerate their work with more intuitive tools that are easier to use and techniques that are easier to grasp. They have developed new software for mobile devices and improved the relationship between Creative Cloud applications while also putting designers in the driver's seat in the immersive platform with voice playback and augmented realities.
We invite you to check out the Adobe Max show, dig into Creative Cloud, explore the new features, and find out how much easier it is to tell your unique personal stories.
Sessions College offers a range of online graphic design courses and programs, including courses in Adobe Photoshop, Illustrator, and InDesign and other Creative Cloud applications. Visit sessions.edu to find out more. 

Sessions Staff is a restless soul who loves to share Campus News stories with current and prospective students.