InDesign, Electronic Publishing, and the Creative Cloud with Jose Ramos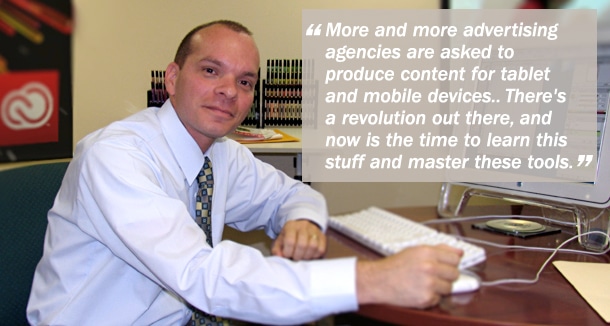 Print design's not dead; smart designers are simply adapting their layout design skills to the new opportunities presented by electronic publishing. New Sessions College faculty member José Ramos rides this wave with his excellent new Adobe InDesign Basics course released for Creative Cloud and CS6 users. In this course, students learn efficient, cutting edge techniques for mastering page and screen layouts from print brochures and catalogs to ePubs and interactive iPad magazines. We caught up with the veteran instructor at his studio in Puerto Rico.

Q: You're the founder of InDesign Training Puerto Rico. What does the company do and how did it come about?
InDesign Training PR (or IDTrain for short) is a consultancy/design agency that specializes in publishing or editorial workflows. We help traditional publishers (newspapers, magazines, textbook publishers) adapt to changes in the industry, specially those related to transitioning into digital publications. Because we understand that one size does not fit all, we try to look for solutions tailor-made for the publisher's specific needs. Recently, I designed a complete workflow for one of the major international publishers focusing on creating content and outputting to print and digital.
IDTrain also provides editorial design services for clients looking to publish content that's not only high quality, but that looks fresh and innovative as well. Finally we bring everything together by offering onsite training to companies that need to stay ahead of the curve on design and software trends.
Q: What attracted you to design, and what led you to specialize as a layout/InDesign expert?
Ever since I can remember, I was attracted to design. I love to draw and have been drawing since I was six or seven. I still keep a sketchbook filled with doodles of all kinds of craziness. From fashion to interior design to trying to get the right perspective on a building design I have stuck in my head, my sketchbook is my venting pad.
I'm not quite sure how I ended up in editorial design or as a layout/InDesign expert. But, now that I think of it, I'm guessing it was the natural evolution of my skill set and passions. For example, I was working as a freelance illustrator when I graduated from college and I did a lot of children's textbook illustrations. During some of these projects, I became very involved with my art directors in designing the layouts for my illustrations. I quickly learned about the importance of good layout design and decided that it was really an extension of my work. Not that I'm a control freak or anything, but why leave the layout design to someone else, when I can do it myself?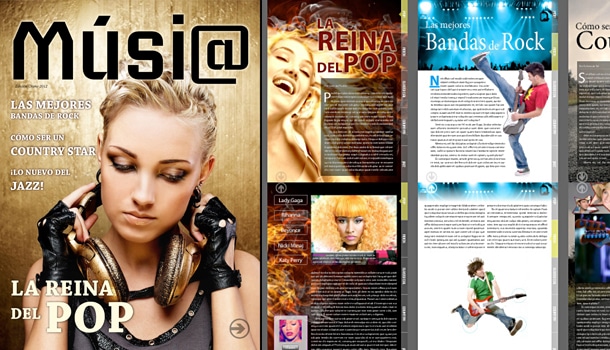 José Ramos design work
So I started learning QuarkXpress, which happened to be the standard application for page layout back then, and… I fell in love with it. I didn't want to just learn it, I wanted to be great at it. I wanted to execute my ideas without any technical restrictions, like the ones you have when you don't have full control or mastery of a tool.
Some time after, I was introduced to InDesign, and since I was already using Adobe applications, decided to switch over to the dark side of the force. Maybe not so dark, after all. In 1999 I became a member of NAPP, in 2007 I started the first Latin-American chapter of the InDesign User Group, which today is over 600 members strong, and in 2009 I caught Adobe's attention and became a consultant for Adobe in the Caribbean and Latin-American region. In 2012 I became an Adobe Evangelist for DPS, but I'm no longer at this position because it required more traveling than I cared for.
Back in 2007, I was asked to develop some online courses for video2brain, which is a Lynda.com brand and the largest European provider for online training content. I traveled to their studios in Graz, Austria and fell in love with the city, the country, and the people. Currently I'm a senior instructor for InDesign in their Spanish speaking department and have recorded over 20 courses on InDesign and other Adobe applications.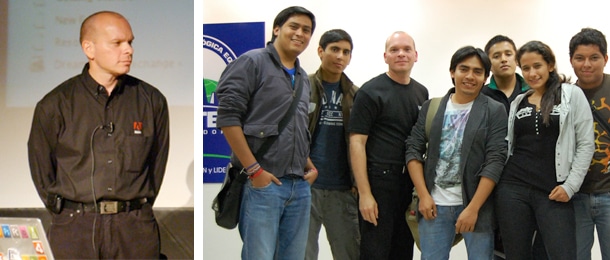 José Ramos as Adobe speaker and with students in Quito, Ecuador
Q: Your new InDesign course features a lot of what's new in the Creative Cloud version of the software. What new features should designers get excited about, and why?
There have been mixed emotions about Adobe's decision to switch everything to the cloud. I can tell you that I'm really excited about the possibilities this offers. It's really important that designers stay relevant and ahead of the curve. Creative Cloud (CC) does this by saying, "you can download and use ALL of our applications and we're going to support you with services also". These services include their Digital Publishing Suite, which means that designers can now create digital publications without having to pay extra for this technology.
By the way, if you'd like to try out Web design, animation, or even mobile app development, you have the tools to do this with CC. Really, nothing else compares to Adobe at this point in time.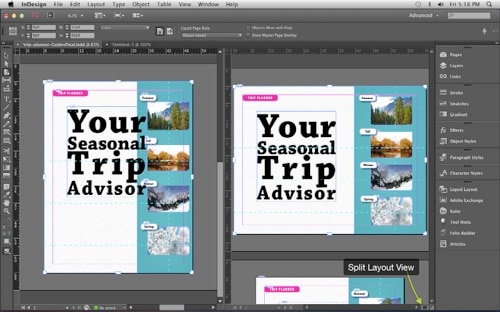 Liquid layout design for tablets
Q: The projects in your new course look exciting—students will be asked to design an ePub and an interactive folio for the iPad as well as brochures, books, and catalogs. What projects are you most excited about teaching?
The idea behind this course is to show that InDesign is not just a page layout application anymore, but rather, a design tool. You now have in InDesign a world class tool to design to just about any medium.
And I have to say, that no other medium is as hot as tablet publishing right now. This is why, although all of the projects in this course are essential and equally important, I have a soft spot for the course project that deals with creating your own eMag or digital magazine for the iPad.
Students will learn how to use InDesign's interactive features to create a fully functional digital magazine that they can showcase in their own portfolios. In my experience, there's nothing more attractive to a prospective employer or client than to see these kinds of exciting projects in a portfolio. This course truly is meant to prepare students for the real world market needs of today and the future.
Q: Do you see layout designers being asked to do a wider range of interactive projects these days?
If I had a quarter for every designer that comes up to me to say that their clients or employers are asking them to learn new skills or produce a wider range of digital projects, I would be a wealthy man. More and more, advertising agencies are asked to produce content for tablet and mobile devices, publishing houses are needing to transition from traditional print publishing to digital. There's a revolution out there, and now is the time to learn this stuff and master these tools.
Q: In your experience as a trainer, what are some of the biggest challenges students have when they are new to InDesign? How do you try to address these hurdles in your course?
The great thing about Adobe is that all of their software works together as a unit and feel very much alike. What that means for users is that if you already know how to use Photoshop for example or Illustrator, than you'll catch on to InDesign rather quickly.
That said, what seems to be the biggest challenge is getting a handle on the many many panels that the program has. It seems that there's a panel for everything and if you don't manage your workspace effectively, it can get pretty crowded in there and you can end up with a pretty clunky interface. So to address this we're going to tackle this head on in the first lesson and really get students comfortable with their workspace. Once you lose the fear, you're ready to go.
Q: What are some essential skills or attributes a layout designer must have?
A layout designer has to be an excellent communicator. Not just through his or her work but also be able to communicate effectively with the art directors, employers or clients. Being professional at all times is a key ingredient as well. Presenting your work in a professional manner goes a long way to selling an idea or a concept.
Technical skill is also an important part of the equation. When you know what you're doing you can execute clean designs as you focus on best practices. This is specially important if you work in a collaborative workflow where you're part of a production chain and your work will be seen and modified by other designers.
Finally, having a good understanding of design principles will help you come up with creative and yet bullet proof designs. Some people think that to be creative or to come up with something new you have to be unconventional or break every rule in the book. I'm sorry, but that's just not right. Great design at its core is still founded on sound principles.
Q: Creative Cloud seems to be an omen of change. In your crystal ball, where do you see layout design—or inDesign—heading in the next few years?
It's a great thing I neither have or believe in crystal balls, because really, who knows for sure? I can say this, print is not dead, but it isn't the only thing anymore. While there will still be a need for traditional print designers, designers that can go above and beyond that will be a more valuable commodity. Companies like Apple and Google will keep innovating ways for people to consume content, and this content will always need designers to make it look good.
Visit sessions.edu for more information on Online Certificate Programs at Sessions College. Make sure you request our latest catalog and check out Vocational Program Admissions.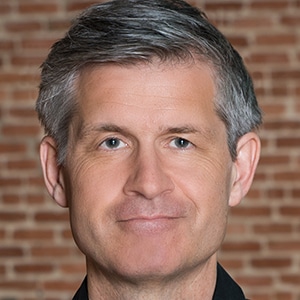 Gordon Drummond is the President of a Sessions College, where he is Director of Instructional Design, among many roles. He's passionate about education, technology, and the arts, and likes to surround himself with more talented people.