Fall 2018 Degree Program Scholarships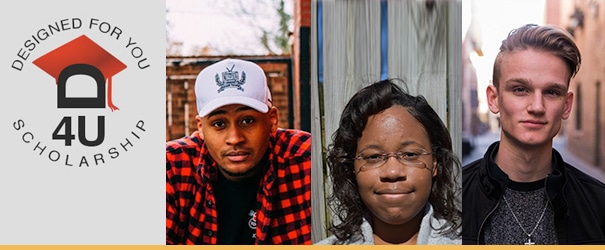 We are proud to announce three scholarship winners who entered the Sessions College degree program in Fall 2018. Our Degree Scholarship Program for new Associate Degree applicants offers awards up to $2,000 in six adult learner categories
The Acceptance Committee would like extend its thanks to all who applied, making its job a challenging one!  The winners are:
We're delighted to have these students in the AOS program. Many of our outstanding graduates have entered the program with a scholarship. Here are some highlights from scholarship recipient essays:
Creative Career Changer – Cedric Thompson
Through the years I've worked in various fields – retail, technical support, advertising sales, and most recently, property management. Success isn't always about the monetary rewards or the glamorous facade that society makes us believe in, but it is about doing something that you love doing every single day and not having any regrets about it. It took years for me to begin to gain true self-awareness to understand that I should stop holding myself back from doing the things that will truly make me happy.
Over the last year I began to take back my life: I started get back into drawing and picking back up on my hobbies; I began to research various careers in the art world so I could begin to seek out the education I need to put myself back into the creative field; and most importantly, I started my headwear company, Trill Oddities LLC, which allows me to create and design hats from concept to packaging.
I feel like the Thanos of life experiences because I've collected so many skills and life lessons that have better prepared me to really pursue my dreams with a purpose.
First in Family – Vashti Daniels
My parents desperately want me to obtain a higher education because it's something that would have changed their lives for the better. I believe this is the reason why they pushed me so hard to become the first in the family to have a college education.
I'll fulfill their dream for me by attending college and obtaining an illustration degree. Unlike my parents, I'll have a career where I can live the life of an artist through my work. Using my illustration skills, I want to tell fantastic stories to a wide ranged audience. I hope people will read my stories and observe my art for generations to come.
Entrepreneur – Seth Jones
Good design is especially important to me as a photographer and graphic designer. Design will increase the range of tools and skills I have as a photographer. With graphic design skills I will acquire in this program, I can expand my clientele outside of the realm of just pure photography. I can use graphic design independently, or mixed with my photography to create more fine-art style composite work.
My services can include everything from photographing a wedding to designing the wedding invitations themselves. Good design is good for business. It ensures that what the customer sees is really what your business is about.
To find out more about degree program scholarships at Sessions College, visit our Designed for You Scholarship page. Awards are available for eligible new program enrollees in a range of adult learner categories.  Scholarships may be combined with other forms of aid such as Federal Student Aid to make your program more affordable.

Sessions Staff is a restless soul who loves to share Campus News stories with current and prospective students.