Online Illustration Degree
Associate Degree in Illustration
The Associate of Occupational Studies (AOS) in Illustration degree is a canvas for your creativity. Working entirely online, you'll study illustration in traditional and digital media, learning how to represent what you see—and what you can imagine. Adobe Photoshop and Illustrator classes will give you confidence as a computer artist. Professionally oriented classes in technical illustration, commercial illustration, painting, and sequential art will help you realize your strengths and discover your style.
Our online illustration classes provide the training you need to prepare for a career in illustration. Start a path to enhance your career today.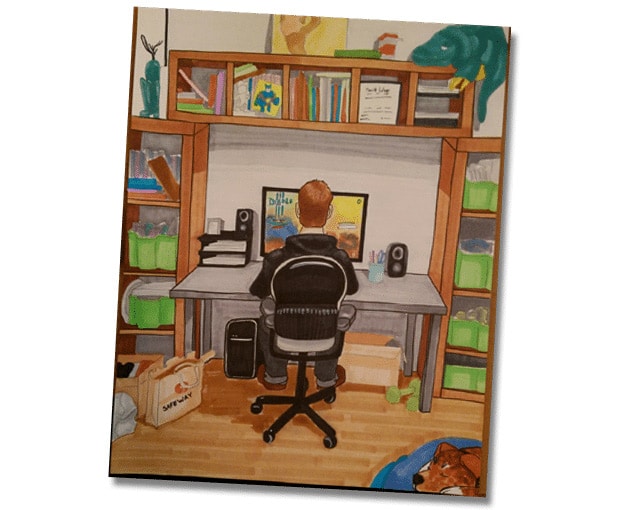 Student work by Eladia Laines, AOS in Illustration
Launch Your Career with a Degree in Illustration
NEXT CLASS STARTS:
APR 27TH

Creative Classes, Expert Instructors
Focus on Career Preparation
Build Professional Skills and a Portfolio
Program Overview
The Sessions College Associate of Occupational Studies (AOS) in Illustration is an intensive two-year degree program for students seeking to enter careers in traditional and digital illustration. Developed for high school graduates and adult learners, the program offers a strong foundation in traditional drawing and painting and vector illustration, as well as a working knowledge of software and production techniques used by contemporary illustrators.
Illustration students begin their program with first year studies focused on visual arts skills using traditional drawing and digital drawing media. Classes provide training in Adobe Photoshop and Adobe Illustrator. Second-year classes place an emphasis on storytelling and developing illustration concepts.
Curriculum
The Associate of Occupational Studies Degree in Illustration is a 72-credit program completed in two years. Part-time schedules are available.

Illustration Major - Year One
First Semester
Second Semester
Third Semester
Illustration Major - Year Two
Fourth Semester
Fifth Semester
Sixth Semester
* Elective course may be replaced by any other 3-credit course in the program, subject to availability and prerequisites.
Program Outcomes
By completing the program, Illustration majors develop the following competencies:
Drawing. Draw and paint utilizing traditional media and classic techniques, demonstrating a command of proportion, perspective, value contrast, and the human figure.
Software. Create high quality images and graphics utilizing software including Adobe Photoshop and Illustrator.
Illustration. Conceptualize and create illustrations for a range of commercial applications in traditional or digital media.
Design. Create polished, professional artwork demonstrating knowledge of color, typography, and composition.
Projects. Confidently tackle a variety of illustration projects including editorial illustration, sequential art, infographics, and portraits.
Critical Thinking and Writing. Develop ideas utilizing critical thinking skills and clearly communicate them through writing within academic or professional contexts.
Portfolio. Develop a high-quality portfolio of illustration work in preparation for marketing your illustration skills and services.
Course Descriptions
Program highlights for Illustration majors in the AOS in Illustration program.
DES 111 Drawing I - 3 credits
Learn how to analyze what you see in the world around you and communicate it on paper. Through hands-on projects, and guided by a professional artist, you will explore the critical concepts of line, mass, form, perspective, value, and composition, building a solid foundation for all your art and design work. And most importantly, you'll also discover that drawing can be fun. Did you know that spheres have inner edges? Or why artists measure with their thumbs? Grab your charcoal and chalk pastels... this course is your first step to developing your craft as an artist.
DES 141 Illustrator I - 3 credits
Build a working knowledge of Adobe Illustrator, the graphic designer's vector program of choice. Course projects explore selection tools, drawing tools, layers, the Pen tool, transformations/distortions, type tools, and modifying paths and shapes. Tapping the power of vector software allows you to produce detailed and scalable art for almost any application.
ILL 142 Illustrator II - 3 credits
Create photo-realistic illustrations, complex patterns, rich designs, and learn how to speed your efforts with helpful workflow features. You'll build on your existing Illustrator skills to tackle high-end projects with depth, dimension, and wow-power.
ILL 111 Life Drawing I - 3 credits
Follow traditional method to learn the standard measures and proportions artists use to achieve naturalistic and expressive figure drawings. Illustrations and activities guide students through the structure of the human skeleton and help them understand how the body's anatomy shapes its external form. The course builds progressively from the fundamentals to the challenges of portraiture, three-dimensional form, composition, and expression.
ILL 206 Cartooning and Sequential Art - 3 credits
Explore storytelling through cartoons and sequential art. Learn how to create a narrative by developing a story or character in a series of scenes. Fundamental concepts in comic art are used as the springboard for projects, which may be completed in traditional or digital media.
ILL 209 Commercial Illustration - 3 credits
Explore business applications for your illustration work, from editorial and commercial to advertising and marketing. In this survey course, you will explore different genres of project work, learning how contracts and copyright work and how to represent yourself professionally and effectively.
ILL 210 Technical Illustration and Infographics - 3 credits
This course explores approaches and concepts in technical illustration and infographics. Students learn methods for creating instructional illustrations that communicate clearly and effectively. Information design theories will be discussed and put into practice.
ILL 212 Life Drawing II - 1.5 credits
Tackle advanced techniques for life drawing. Learn how to observe and capture the clothed human figure and explore basic techniques for animal drawing. Form, structure, and motion will be essential concepts as you find ways to address subjects that interest and engage you.
ILL 208 Watercolor - 1.5 credits
Watercolor painting has a rich tradition dating back centuries, and is still enjoyed by today's artists for its unique color effects and wide range of techniques. Explore traditional watercolor techniques including washes, glazes, scumbles, resists, and more, and learn how to make the techniques part of your personal painting style.
Financial Aid
Did You Know? Eligible students entering Associate Degree programs may be entitled to Federal financial aid. Grants and loans can help you cover the cost of your education.
Sessions provided me with opportunities to learn so many things I always wanted to formally study, inspired me to make serious commitments to myself about goal, taught me to focus my energy, and offered valuable debate, interaction, and feedback from faculty and classmates.
Kim Schiavone, Associate Degree in Illustration
"We suggest through illustration new possibilities, new ways of thought. We tell our stories, we inform the masses, create detailed instruction, and entertain both for education and to escape."
Jordon Schranz
, Department Head of Illustration
Career Information
Careers in the illustration industry are numerous and varied. Do you like the sound of being your own boss? Many illustrators are self-employed or independent, though most are employed with existing organizations.
Our Illustration Associate Degree program helps our students build a strong foundation for careers across the media spectrum. Here are a few examples.
Marketing
Advertising
Print Media
Promotions
Publishing
Video
Animation
Visit our Illustrator Career Guide for more information, or browse the Federal Occupational Handbook or O*NET database.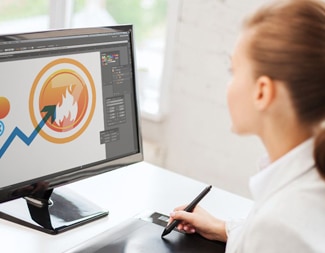 Job Facts
A degree in illustration can help you land a position in a growing field with a great outlook. Here are some statistics to consider:
Facts are sourced from the Bureau of Labor Statistics Occupational Outlook Handbook. For more information about photography careers and the community visit: ,Association of Illustrators, AIGA, or National Cartoonists Society.
31%
Median Income for Fine Artists, Including Painters, Sculptors, and Illustrators in Advertising, Public Relations, and Related Services in May 2017 was $49,520 a year, 31% higher than the median for all workers.
7 in 10
About 7 in 10 Fine Artists, Including Painters, Sculptors, and Illustrators were self-employed or independent artists in 2016.
Take advantage of our award-winning programs. They're accredited, affordable, and delivered 100% online.
Enrolling online is easy and convenient.

Apply
Complete your application with essay, work samples, and transcripts.

Chat
Ask us about program options and financial aid.

Register
Select your start date and preferred study schedule.
Classes start in January, May, and August, with early start options in February, June, and October.
To apply, you'll need to complete our convenient online application and provide an application essay, official transcripts from high school OR for any college degree completed, and 5-10 samples of your art/design work. (Transcripts must be provided for any course you wish evaluated for credit transfer.)
Students entering the program are expected to have earned a high school diploma, GED, or state-approved home school equivalent. Any students under 18 years of age will need to provide the signed permission of a parent or guardian.
To take this program, you'll need the following:
Mac or Windows computer with an Internet connection.
A digital camera that offers manual control over aperture, shutter speed, ISO and white balance .
Adobe Photoshop and Illustrator CC software.
Your computer must meet software manufacturer requirements.
Basic drawing and painting supplies including pencils, charcoal, newsprint, and sketch paper.
Webcam, headphones or speaker, VPN connection, and microphone connected to the computer for live proctored exams.
There are no textbook or course material costs to participate in this online program. Student discount on Adobe Creative Cloud software is available to enrolled students.
Effective July 1st, 2019, the tuition for full-time Associate Degree students is as follows:
Associate of Occupational Studies (AOS) Program
$365 per credit
$4,380 per semester
$13,140 per year
$26,280 total program tuition
Tuition for part-time students is $415/credit and paid by semester. Federal financial aid available for eligible students. Ask about our $500-$2,000 scholarships for exemplary applicants.
A $200 registration fee is required to process your enrollment in the program. Registration fees are nonrefundable after 5 days from the scheduled beginning of program orientation. See Associate Degree Tuition and Payment options.

Highlights
Comparing programs? Browse some other degree or certificate programs you might like: