Multimedia Man Paul Coca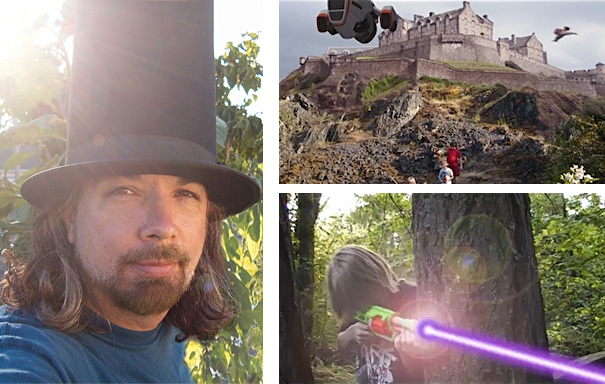 Paul Coca
St. Helens, Oregon
Multimedia Arts Certificate
Our featured student of the month for August is production artist Paul Coca, whose academic counselor recommended Sessions instead of a 60-mile drive to a local college. By cutting his commute, Paul got his creative gears moving, rediscovering a love for digital storytelling he's had since high school. We also liked Paul's solution to the competing interests of school and family: just incorporate your kids into your assignments!
Q: What motivated you to pursue a certificate in Multimedia Arts?
I've been working professionally as a production artist for almost 20 years. The tools available to artists now are amazing and liberating from a creative perspective. Having the skills to utilize them was one of the motivations for me to pursue a certificate in Multimedia Arts. I am fairly new to the digital world and was tired of being intimidated by it. After taking a couple of classes in Photoshop and Illustrator at my community college, I was hooked and inspired by the possibilities!
Q: Why did you choose to study online at Sessions College?
I work full time, which occasionally requires overtime to meet deadlines. I knew that I wanted to continue my education but travelling back and forth to the nearest community college that offers multimedia arts classes is a 60 mile round trip. My counselor at my community college actually suggested I consider Sessions as an alternative. I did some research into the school and read reviews from previous students and liked what I read. The convenience to study from home has been very helpful and allows me to spend more time with my family.
Q: What's the most fun or enjoyable project you've worked on?
This is a hard question to answer since I've enjoyed every phase of my education so far. I really enjoyed Advanced Photoshop, especially the designing a CD jacket assignment in which I used the Foo Fighters as my subject matter. Digital Video Production and Digital Video Editing has been so much fun. I've really enjoyed learning how to use Adobe Premiere and going out on location to shoot footage with friends and family. My video "Battle Bob Goes Bad" got my creative gears in motion as I incorporated live action footage with CGI and Photoshop. Since it was entirely new to me HTML and CSS was admittedly the most challenging course I have taken, but I learned a lot and did very well with it.
Q: How do you manage program deadlines alongside your work, family, or other commitments?
One of the ways I manage my program deadlines alongside with work and family is by referring to the milestone tracker we were given at the beginning of the program and trying to stay a little ahead of it. My job has been very accommodating with regards to overtime while I am in school knowing in part that my education will be an asset to the company in the near future. At home I have a set time for my schoolwork and my family is respectful of that time. On work nights I wait until later in the evening to start my studies having spent some time with them earlier. When possible I include my family in my assignments which is apparent in some of my videos.
Q: What is the biggest difference you've seen in your work so far?
My confidence with the digital arts has increased significantly. I feel inspired and motivated which has been noticed by my manager at work and with family and friends. They say my eyes light up and I get very excited when I talk about what I've learned so far. The instructors' input into my projects has been very helpful. Their suggestions on my assignments have encouraged me to do my best. They have helped me hone my skills and their advice has been priceless.
Q: Describe your goals on graduating from the program.
Upon finishing the program I will be using my skills at my work, possibly as part of the design team. I am also a freelance artist and illustrator and the skills I have acquired at Sessions have already made me more versatile in those fields. The Digital Video Production and Editing classes have revitalized my love for telling stories and I plan to continue using my skills and talents making short films, something I've wanted to do since high school. In many ways I feel like I will never be done learning. I plan to continue educating myself in the creative arts for the rest of my life. It's what I've been doing since I was in kindergarten.
Visit sessions.edu for more information on Online Certificate Programs at Sessions College. Make sure you request our latest catalog and check out Vocational Program Admissions. 

Sessions Staff is a restless soul who loves to share Campus News stories with current and prospective students.