Continuing Education
Professional and Advanced Certificate Programs
Designed for busy adult learners, our vocational certificate programs help you develop skills and build a portfolio of art/design work. You can complete a program studying entirely online, getting feedback from a faculty of professional working designers. It's the most flexible way to kick start to your career in the visual arts.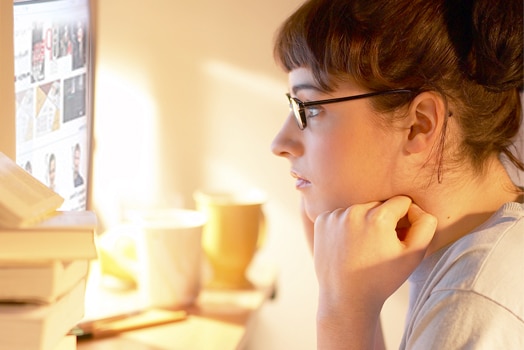 Professional and Advanced Certificates Available In:
Graphic Design
Web Design
Multimedia Arts
Digital Arts
Marketing Design
Fine Arts
Study At Your Own Pace
With 24/7 online access, you can study and post assignments on your schedule. Our Student Advisors will keep you on pace towards graduation.
Build Design Skills That Employers Want
Creative projects and instructor feedback give you the skills and experience to tackle real-world design projects.
Complete Your Program in 9 or 12 Months
Complete your program studying on a part-time basis. If you need more time, use our painless extension policy for an additional 6 months.
Before I started at Sessions, I felt unsure of where to even start with building a portfolio. What kind of graphic design work is most sought after these days? Posters? Online ads? Book covers? These are all questions that have been answered during my time in this program. I feel much more confident in continuing to pursue graphic design as my career.
Our Vocational Certificate programs have an open admissions policy. Applicants are expected to have graduated high school, or home school/GED equivalent and have a good command of the English language.
With classes starting every month, you can start learning right away. As soon as you complete registration, you'll get access to Orientation and your classes.
| Program Level | Time to Complete |
| --- | --- |
| Professional Certificate | 9 month program |
| Advanced Certificate | 12 month program (Professional Certificate + Concentration) |
Did you know? Customize your program based on your experience level. If you have experience or prior education in a specific course area, you may be able to take an alternate course of your choice. Talk to an Admissions Advisor.
Advanced Certificate Programs
Professional Certificate graduates can enter our Advanced Certificate program. The Advanced Certificate allows you to expand or diversify your skill set by adding concentrations in Graphic Design, Web Design, Digital Photography, Brand Identity—you name it. The Advanced Certificate is truly a program customized to your learning goals!
Available Concentrations
| | | |
| --- | --- | --- |
| Graphic Design | Design Business | Digital Video |
| Print Design | Advanced Software | Fine Arts |
| Brand Identity | Advanced Web Design | Illustration |
| Web Design | Digital Photography | Freelance |
Vocational Certificate Admissions: