Lesa Snider on Photoshop CS6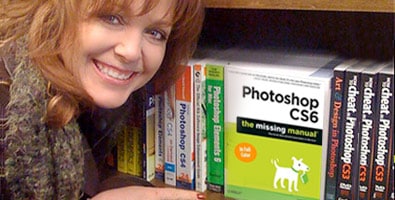 Photoshop has been captivating the creative minds of the world since its initial release in 1988. CS6, Photoshop's latest version, was released this March with a host of new features. To find out what's new, we talked to renowned Photoshop expert Lesa Snider, author of Photoshop CS6: The Missing Manual and instructor for the Sessions Photoshop Advanced course.
In your MacWorld review of CS6, you mentioned some exciting new tools, including the adaptive wide angle tool, which lets you reverse the distortion effect of a fisheye or wide-angle lens, and the content-aware move tool, which allows you to move items and the background automatically fills in. In your experience, what's the most useful and interesting new tool in CS6?
The new Blur filters are incredibly useful and allow folks to create beautiful yet realistic shallow depth of field effects after the shot. That said, the new Content-Aware Move tool is handy for scooting objects around in your photos. I say "scoot" because it works best with small movements.
Happily, most new tools work as advertised and are impressive on a wide range of photos in testing. That said, the Extend mode of the new Content-Aware Move tool is a bit of a miss and I've yet to spot the difference between using the Patch tool to remove an object in normal mode and its new Content-Aware mode.
However, if you use the Patch tool in Content-Aware mode, you can finally perform the patch on an empty layer thanks to a new "Sample All Layers" checkbox in the Options bar (which helps keep you from having to duplicate the entire image layer and bloat your document's file size).

Photoshop CS6 has unveiled new tools to edit video, strokes, and 3d images. What do you think of these tools and their abilities to do tasks that Photoshop may not have been originally created for? What kinds of tasks are these functions best suited for?
The more Photoshop can do for you, the less you have to switch to another program, which is a time/money/memory saver. Staying in Photoshop also keeps you from having to learn a slew of new tools in a different piece of software, which is a big advantage. For example, now that video editing is in the standard edition [of Photoshop], folks can experiment with it without committing to the purchase of another program.
This, in particular, is useful as more folks (including pro photographers) are shooting movies with their cameras. And since all the tools work the same on video as they do static images, you can create some amazing movies fast. In fact, you can see an example of a video I made with Photoshop at this link: lesa.in/pscs6videofun.
That said, I hope Photoshop doesn't completely absorb InDesign and Illustrator, or it'll be as big, ungainly and slow as MS Word!
Photoshop has also changed on a cosmetic level. The interface is now light type on a dark background, instead of the familiar dark on light. Do you find that a darker interface is easier to work with?
I really do! This is its first new paint job in many years, and the darker interface is much easier on eyes, so I don't feel as exhausted after several hours of editing. Plus, you can use Photoshop's preferences to switch between four interface colors (one of which is the CS5 theme) so everyone can find a color they like. That said, some text labels are a little tough to read, but I'm so used to using keyboard shortcuts for nearly everything so even that doesn't bother me.
Will users with older hardware have to upgrade sooner to use this Photoshop version?
This particular release of Photoshop relies heavily on your computer's graphics processor (or GPU)—much more than ever before—so sure, some folks will find that they need to upgrade their hardware sooner than later. While this is certainly costly and frustrating, it's understandable. These days, I'm upgrading hardware every 2 years as the memory requirements of operating systems and software upgrades are getting bigger and bigger.
What are your thoughts on the Photoshop version for the iPad? Do you think graphic design and photography work will be seriously edited on mobile devices in the future, or will the iPod and iPad versions of Photoshop remain a fun gadget?
If you need to edit images on the go, Photoshop Touch is a fabulous way to do it. That said, making a complex selection is next to impossible, so for designers, it's definitely a gadget. However, professional photographers who are offloading images to the iPad during a shoot could quickly correct a few images and then show the client. That'd be handy, indeed!
Writing and editing an entire book on Photoshop (The Missing Manual series) must be daunting. What is your writing process for each version release?
Boy howdy, I'm here to tell you it's an extremely time-consuming and stressful process, though it's very rewarding at the end.
First of all, believe it or not, there is no master list of all the changes Adobe makes so I start by downloading the beta program (which Adobe grants authors access to) and then I compare every dialog box, every panel, and every menu item to the old program to see what's changed. I'm then treated to some online demos of proposed new features by the software engineers and I take voluminous notes (not every proposed feature makes it in).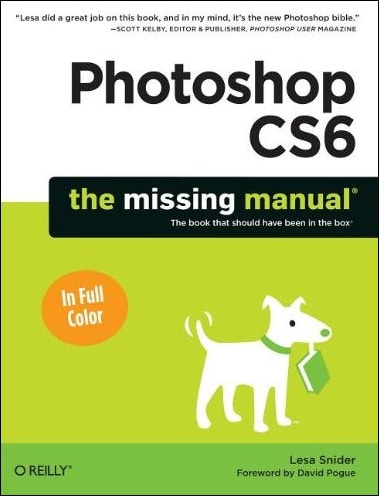 Then I begin testing the new tools to see how they work as there is very little, if any, supporting documentation at this point. From there, it's a chapter-by-chapter process of me making changes in a heavily scripted MS Word document and creating screenshots (which is always frightening because something could change down the line that renders them moot—like an interface color shift!).
Since I insist on doing all of the artwork myself, I'm able to shrink the dialog boxes and maneuver each item in the screenshot so each figure is visually pleasing and informative, yet as small as possible for page count purposes (I'm limited to around 900 pages in print). Once the figures are finished in Photoshop, I take some into Illustrator for callouts (text labels) and lines/circles/arrows.
It's an incredibly arduous process and this time [writing and editing] took nearly five months due to all the new features and all the new screenshots (because of the darker interface). Plus this time, I wrote a brand new chapter on editing video, since it's included in the standard edition. My publisher, O'Reilly, and I understand how important it is to get our book on the shelves by the time the software ships so we burn buckets of midnight oil making that happen! But no matter how exhausted I am at the end of the project, holding a new book in my hands is a feeling like no other. And thankfully, I have a supportive husband who keeps the household running while I'm chained to my pretty purple Aeron chair!
Photoshop has changed in so many ways over the years. How does the CS6 update compare to major changes to Photoshop in the past?
The text tools have improved dramatically over the years, which has made setting pro-level text in Photoshop possible. Not that you should be setting buckets of text in the program, but for designing flyers and advertisements, controls for kerning, tracking, leading, and baseline shift are super handy.
Layers were a big game changer when they came along, and the inclusion of Adjustment layers and Smart Objects have also helped folks work more efficiently and without harming the original image. For example, you can color correct an image layer with an Adjustment layer, use another layer for blemish-zapping, use another Adjustment layer to turn the photo into a black and white, and then use the included layer mask to hide the black and white from parts of the image to create a partial color effect, then turn the whole mess—or rather, all those layers—into a Smart Object that you can fun filters on, such as sharpening (or adding a darkened edge vignette via the Lens Correction filter). If the client requests a change, you can tweak or delete the appropriate layers without having to start over.
Also, we're beginning to see an evolution of clever on-image tools—found in the new Blur filters and newly designed Lighting Effects filter—and, of course, the content-aware technology for scaling, moving, and deleting objects is pure magic and is improving in each version (wherein Photoshop analyzes each image and prioritizes parts of it based on content and color).
If you could choose the next big change to Photoshop, what would it be?
That's a tough question, as so many feature requests were incorporated into CS6 that's it's hard to imagine what the program is missing. I tend to wish for production enhancements, like the ability to add a Fill layer below the currently active layer (a trick you can perform with image layers by Ctrl /Command-clicking the new layer icon at the bottom of the Layers panel). I'd also like to delete extra channels I've added by pressing the delete or backspace key, and a Clarity adjustment layer might be nice for a quick contrast boost!
We just can't have an entire interview about software without asking: What is your favorite aspect of the Photoshop CS6 upgrade?
For big stuff, that's an easy one: auto save! It's heartbreaking to work on a document and then lose it to a software crash. Now that Photoshop automatically saves my documents every 5-30 minutes and then reopens it upon relaunch, I sleep a little better at night (you control the time interval via preferences). For little stuff, it's more difficult, as there are a million production helpers in this release such as seeing the blend mode, fill, and opacity of hidden layers, layer filtering, duplicating several layers at once with Ctrl/Command-J, and so on.
If you'd like to get up to speed on all the new features of Photoshop CS6 and Camera Raw 7, check out Lesa's online video workshops at lesa.in/clvideos. You can also connect with her online at PhotoLesa.com, on Twitter (@PhotoLesa), or on her Facebook Fan page (Facebook.com/photolesa) where you can click "like" to download a free 2-page Photoshop cheat sheet.
Visit sessions.edu for more information on Online Certificate Programs at Sessions College. Make sure you request our latest catalog and check out Vocational Program Admissions. 

Sessions Staff is a restless soul who loves to share Campus News stories with current and prospective students.