Online Advanced Photoshop Course
Photoshop II
How well do you know Adobe Photoshop, the industry-standard imaging app? In this advanced online Photoshop course you'll transcend your current skill set with vector illustration techniques, photo-realistic painting, high-impact typography, and professional editing methods that preserve the editability of your original images. Working with a Photoshop pro, you'll build proficiency with the Pen tool, Adobe Color, Smart Objects and Filters, and more.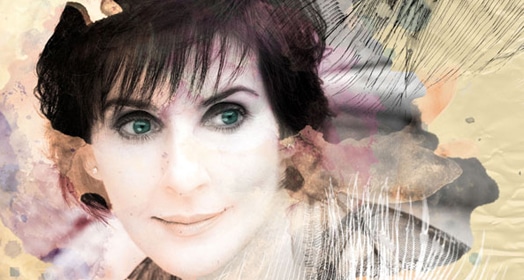 Photoshop work by student Wendy Blubaugh
Expand your Photoshop skills with advanced techniques
Instructor-Led Course
Feedback from design professionals
Creative Projects
Stretch your skills, grow your portfolio
Learn at Your Own Pace
Self-paced and scheduled programs available
Course Outline
1 - Drawing with Vector Tools
Vectors allow you to create intricate and beautiful work that is also infinitely scalable. Lecture One explores how to manipulate paths and shapes to create complex and editable art. Also discussed is using vector paths to create precise selections from low-contrast images, as well as using vector masks to blend images.
Project - Backstage pass
2 - Working with Smart Objects
This course focuses on creating and editing images in Photoshop non-destructively, and one way to accomplish this is by using Smart Objects. Lecture Two introduces Smart Objects and discusses linking Smart Objects for ultimate flexibility. Smart Filters also open up a world of non-destructive image editing that you'll explore.
Project - Ad design
3 - Creating Professional Text
Creating professional, polished typography requires an attentive eye. Lecture Three presents advanced type layout techniques including leading, kerning, tracking, baseline shift, and ligatures. Popping photographs through text and hiding portions of text with masks are also covered as creative ways to handle type in Photoshop.
Project - Book cover design
4 - Combining Images
Blending images to create unique composites is a hallmark of Photoshop. Lecture Four discusses layer mask gradients and blending sliders as techniques to meld images. Blend modes are also introduced and defined by how each one affects the image. You will wrap up this lecture with a discussion of the Select and Mask tool to create extremely precise selections.
Project - Poster design
5 - Advanced Photo Editing Techniques
Have portraits that need retouching? Lecture Five lays out methods of retouching and healing to make a photo picture-perfect (non-destructively!). You'll use faux burning and dodging to soften wrinkles and remove blemishes and use Content-Aware Fill to remove an entire area from an image. Finally, use shadow, highlight, blending, grayscale, and duotone controls are examined to create elegant imagery.
Project - Promotional photos
6 - Color and Painting in Photoshop
The flexibility and forgiveness of Photoshop is perfect for painting! You'll examine color theory as it applies to Photoshop tools such as Kuler, Swatches, and Color Libraries. The Mixer Brush is introduced as a method of painting a photograph or painting from scratch, and you'll learn how to customize special brushes to create unique effects and freehand art.
Project - CD cover
Course Outcomes
Students in this course can expect to learn to:
Draw and manipulate custom vector shapes using the Pen tool and shape tools.
Create precise selections in low-contrast images using vector masks and paths.
Use Smart Objects in Photoshop to non-destructively edit, link, update images.
Sharpen, blur, and vignette images using customizable and editable Smart Filters.
Apply professional-quality typography in Photoshop, considering leading, kerning, tracking, baseline shift, and ligatures.
Handle type creatively by applying textures to text, pushing photographs through text and other shapes, and hiding portions of text.
Combine multiple photographs using gradient masks, blending sliders, and displacement maps.
Utilize blend modes, gradients, and the Select and Mask tool to combine images seamlessly.
Retouch and alter photographs non-destructively, using faux dodging and burning, Content-Aware tools, and adjustment layers.
Create attractive grayscale, partial grayscale, and duotone images.
Use Adobe Color, the Swatches panel, and Color Libraries to effectively select and manage color schemes.
Create custom brushes, use the Mixer Brush for freehand painting in Photoshop, and turn images into paintings.
Course Registration
Interested in this course? Scheduled and self-paced enrollment options are available. Ask Admissions about taking this course as part of a degree or certificate program.
Course Level
Classes start
Registration Fee
Tuition
Degree course
3 credits, 15 weeks
Jan, Apr, Aug
$200
$510/credit
Vocational course
60 clock hours, 3 months access
Enroll today, start tomorrow
$50
$949
* Registration fees are nonrefundable after 5 days from enrollment. All tuition includes a digital materials fee for updates to course or program content.
Software and Supplies
To take this course you'll need:
Computer with Internet connection.
Adobe Photoshop CC.
Basic experience in the above software.
Course developed by Lisa Snider
Enrolling online is easy and convenient.

Chat with our knowledgeable admissions staff to select course and program options.

Complete your registration entirely online.
Did you know? You can take this course as part of an award-winning certificate or degree program.