Spring 2018 Scholarships for Degree Students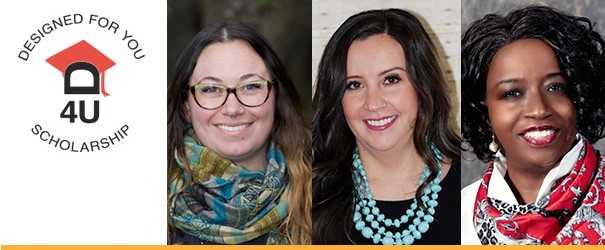 It's almost spring in Arizona, and we are proud to announce three scholarship winners who entered the Sessions College degree program in 2017-18. Our  Degree Scholarship Program for new Associate Degree applicants offers awards up to $2,000 in six adult learner categories.
Our thanks to all who applied, making the acceptance committee's job a challenging one.
We're delighted to have these students in the AOS program. Several of our outstanding graduates have entered the program with a scholarship. Here are some excerpts from 2018 scholarship recipient essays:
Creative Career Changer – Nicole Porata
"You can be anything you want," my parents used to say, "a doctor, computer programmer, or an engineer." I have been working as a Certified Energy Analyst for two years. As an Energy Analyst I work in the planning process of construction verifying all new building plans comply with our state's Energy Code. A career in sustainable building provides the necessities I need to live out a content and successful life.
I love to paint, I love to inspire people in making their visions become a reality, and I enjoy freedom. I have been a creator, a wanderer, trying to fit unto a Type A mold.
By entering the Web Design program I am seeking a fulfilling career where the left and right side of my brain can work together every day. A career that involves design where I can use my creativity and problem solving skills to help people's ideas and visions come to life. I believe a career in web design will open opportunities that will help me gain a more fulfilled life.
24/7 Parent – Tina Nguyen
Being a single mother isn't easy – I have had to deal with my share of obstacles. Then, I found Sessions College! An online college that allows me to earn a degree in illustration around my family's schedule. Now, I don't have to worry about losing precious moments with my kids.
I will learn everything there is to know about digital design. I will also gain the experience needed to, not only get a job, but a career. Because I am pursuing a degree that is truly special to me and allows me to express myself, I won't need to go back to school a second or third time like my peers.
Entrepreneur – Veverly Byrd-David
At at age 60 I have had to re-event myself to remain an active participant in America's workforce. According to the Bureau of Labor Statistics, 33 million Americans aged 55+ were employed, and 1.3 million were actively seeking work In 2015.
I aim to combine my exceptional skills as an administrative assistant with the skills learned from the graphic design program to take on new responsibilities and become a qualified graphic designer, able to work in the creative industry and make ideas come to life.
Entrepreneurship is definitely one of the ways in which seniors can be successful. It certainly increases my desire to increase my skills in graphic design and later prompted my decision to join Sessions College Graphic Design Certificate Program. Starting a design business allows one to become an opportunity creator instead of an opportunity seeker. Learning more about design changes my life one skill at a time, thus changing my financial future.
To find out more about degree program scholarships at Sessions College, visit our Designed for You Scholarship page. Awards are available for eligible new program enrollees in a range of adult learner categories.  Scholarships may be combined with other forms of aid such as Federal Student Aid to make your program more affordable.

Sessions Staff is a restless soul who loves to share Campus News stories with current and prospective students.