A Returning International Student Rediscovers her Passion for Design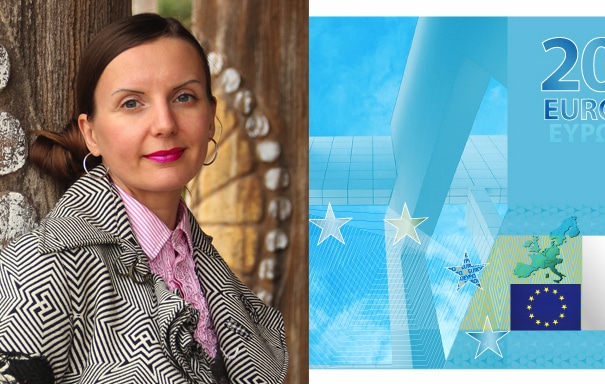 Yulia Yushina
Mijas Costa, Spain
Associate in Graphic Design Degree
Our featured student for November is Associate Degree program student Yulia Yushina. Yulia lives in lovely Mijas Costa on Spain's Costa Del Sol. Yulia is a Bridge student who entered the Associate program after completing a certificate program several years ago. A mom with a four-year-old daughter, Yulia completes her projects after work or draws while her daughter draws—a practical solution to childcare! Yulia has rediscovered her passion for design in the Associate program, and hopes to take her new skills far in her professional career.

What motivated you to pursue a degree in graphic design?
I completed the Graphic Design Certificate Program at Sessions College in 2008. However, I had some fears that I didn't have enough creative ability and at the age of 32, I wondered if it was too late to pursue a new career. All this negative energy got me down, so I placed my diploma on the top shelf and carried on with my usual life.
All these years, the passion for graphic design didn't vanish from my heart and I was planning to continue my design study one day. Early this summer, I found in my mailbox a message from Sessions College with an opportunity to continue the design education through the Bridge Program. I knew that I couldn't disregard it if I wanted to fulfill my life dream and become a graphic designer.
Why did you choose to study online at Sessions College?
I work full time and studying online is the best option for me. I was completely satisfied with the learning process, the course material, and the instructor feedback in the certificate program. During my study I discovered my passion for the Illustrator and pen tool. I learned that good, thorough research and hand sketches are fundamental to the outcome of any project. I explored many works of the greatest graphic designers. I wouldn't have considered any other college than Sessions to continue my design education.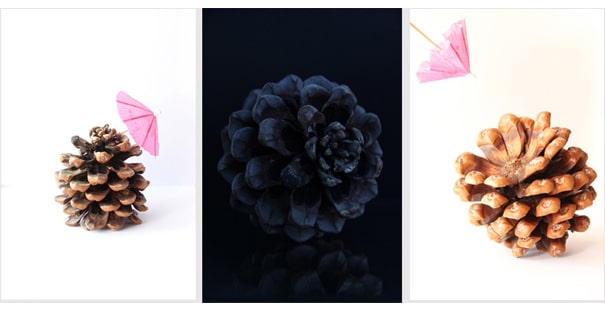 What's the most fun or enjoyable project you've worked on?
I would point out my first project in the Digital Photography course (above). We were expected to take three photographs of an object, each utilizing a different white balance, ISO, and perspective. While searching for the appropriate object in my house, I have spotted an old pine cone in the storage room. I had an unforgettable experience in exploring this beautiful piece of nature in so many ways, learning about natural lighting and technical features of my camera in Manual Mode. The idea to add a pink umbrella into the composition appeared after a few hours of shooting. Since then, I treated my pine cone as a real model. So it was fun, plenty of learning, and undoubtedly, I will remember my pine cone for many years!
How do you manage program deadlines alongside your work or other commitments?
At my current job I have some time during my working hours that I can dedicate to the study. Whenever I have a gap at work or free time at home, I go into research, which can be endless! The more I learn, the more I understand that I know nothing. With a 4-year-old child at home it can be hard to concentrate on anything, so I tend to spend 2-3 hours in a quiet office after the working day to prepare my assignments. I encourage my child to paint or draw and this is the perfect time for me to improve my drawing skills. The time I spent in front of the computer is augmented significantly now, so I trying to squeeze into my busy schedule at least 4 hours in the gym on a weekly basis.
What is the biggest difference you've seen in your work so far?
What I have learned so far: I wouldn't go into the creative part of any project until I've done some profound research on the topic. I try to avoid making quick assumptions and keep the mind open until I fully understand the exercise. I learned that the first idea will never be the most effective idea.
Describe your goals on graduating from the program.
After completing the Associate in Graphic Design degree program I want to start my professional career as a graphic designer. I would like to begin with running my own small business: create projects for small companies, gain the experience, and polish my skills. From my study at Sessions I wish to acquire firm knowledge of the business side of design that is crucial in the real world: how to interact with the real client, how to approach the client with professional, polished pitch, how to handle any sort of client alteration and suggestion. I want to be useful to the people and I wish to make a contribution to the successful development of small or big enterprises by creating brand identities that will stand out from competitors in the market.
Visit sessions.edu for more information on Degree Programs and international student programs at Sessions College.

Sessions Staff is a restless soul who loves to share Campus News stories with current and prospective students.