Girls Rule Competition Winner: Julie Finch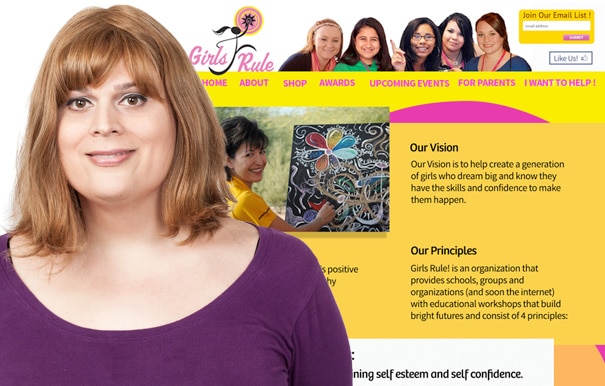 Our Summer/Fall Girls Rule! Web Design competition has a winner: Web Design degree student Julie Finch.
After six weeks of designing, a round of faculty feedback, and some intense client deliberation, the Girls Rule Foundation choose Julie Finch's vivacious design as the best solution among five worthy finalists to their Web site revamp project.
The Girls Rule Foundation is an Arizona non-profit organization devoted to empowering teenage girls. Girls Rule! founder and director Dena Patton was delighted with Julie's design: "We were looking for a fresh, creative, fun website that communicated our mission, attracted people to join our movement and that would take our organization to the next level."
One interesting aspect of the competition is that the site design needed to appeal to a distinctively youthful and feminine audience—teenage girls and their moms—as well as present a polished, professional face to donors and other companies and organizations.
To address the core audience, Julie's design combined images of the girls with a teen magazine aesthetic in its layout and color choices. "We loved that the design was clean, but yet fun, vibrant and different, oh… and BOLD!" commented Julie Finch. "We wanted someone who took risks and could help us spread our brilliant, beautiful and bold campaign!"
Dena also felt that the site would establish a firm foundation for the organization's future: "The new site will open all kinds of possibilities for Girls Rule Foundation. Because of the fresh look, and bold colors and cleaner functionality we are able to really step into this new (and kind of scary) next level of getting our organization out to the world."
Competition winner Julie Finch is a multimedia specialist who grew up in Park Forest, Illinois, and lives in Chicago. Julie holds a B.A. in Film/Video from Columbia College, Chicago and two Professional Certificates in Graphic and Web Design from Sessions College. This year, Julie enrolled in the Associate Degree program in Web Design to bring her design skills to the next level.
Comments Julie: "The Sessions College competitions are a wonderful opportunity to do some real world designing for a great cause. Winning the Girls Rule competition is an incredible honor that has given me a great boost of confidence personally and professionally and I am grateful and excited to be involved."
Please join us in congratulating Julie on her achievement. We also want to thank the finalists and all students who made this such a strong competition. Finally, our thanks to the faculty judges Piper Nilsson and Margaret Penney who helped select the finalists and whose feedback helped hone the finalist work.
Stay tuned for information on our next Design Competition client, coming soon!
Visit sessions.edu for more information on Degree Programs and Undergraduate Certificates at Sessions College.

Sessions Staff is a restless soul who loves to share Campus News stories with current and prospective students.