Sessions Student Honored in Adobe Competition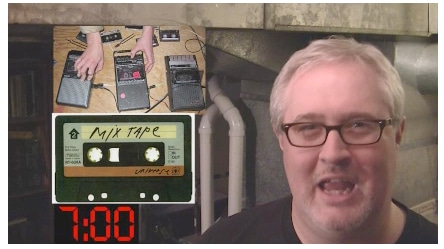 In August 2011, Sessions College Multimedia Arts student Matthew Brink was recognized as a Semifinalist in the Live Action category of the Adobe Design Achievement Awards.
Mat's competition entry was a simple and moving piece called "Elegy for Brandy" that he created in the Digital Video Production course. The Semifinalist honor put him in the top 20% of a competition established by Adobe to "celebrate student and faculty achievement reflecting the powerful convergence of technology and the creative arts." To celebrate this achievement, we interviewed Mat to discover how he approached the project and learn about his ADAA experience.
Q: Mat, the video tells a quiet story of loss in the family. Why did you choose this story for your video project?
I wasn't going for melancholy, just a good story, and "Elegy for Brandy" was a piece I'd done that had a good backstory. I liked it for the assignment because it could fit the short form constraints, and had a dramatic hook that could stay with you, like a good song.
Q: What made you decide to enter the piece in the ADAA competition? What was your competition experience like?
I discovered the ADAA competition online when I was researching tutorials online while doing another Sessions project. Since it was free to enter, I was really excited about submitting a couple of pieces and just seeing what happened, if anything stuck. I entered the Elegy project and a couple of other projects.
After Elegy made Semifinalist, that's when I stepped back and understood more of the scope of the competition, and it kind of blew me away. The waiting was the hardest part, being at peace while wanting closure. But as they say, "it builds character." It was a great experience, very affirming as I'm moving into a creative career, and of course Sessions played a big part in that process.
Q: The course project is mostly about exploring different kinds of shots and yet it is the story, told by voiceover narrative and the music, that makes it all hang together. What was your process for developing the piece?
To me, for a project like this, and maybe in general, the soundtrack is the thing. The soundtrack is the skeleton I lay out on the timeline, and for me the visuals tend to serve the sound. Even when a project starts with visuals, once I begin sound design, it tends to take over and drive the visuals.
I'm fascinated by great sound design. If I've got a good sound design in place, it fuels my creativity. Visuals start popping in my mind, and the shots and the form just start to fall into place naturally. I get geeked in the truest sense and completely lose track of time.
Q: The overlap of voice and music is so skillful, the piece reminds me of an NPR segment. There is just the right amount of space for the impression of the words or the music to sink in.
Thanks. Whatever one may think of their ethos or content, NPR has incredible audial cinematography in their reporting: great soundscapes with great editing and timing.
Q: Can you talk about your approach to pacing?
For this project, the music was the heart. For me it's evocative of Van Gogh's Starry Night, very nocturnal, and full of melancholy. I edited it to fit the assigned project length, to kind of mark off my borders. That really helps me focus on the details without worrying about the bigger picture getting out of hand. Next I scripted and recorded the narrative. Then I chopped up and spliced in the narrative track to the points in the music that best fit.
With the soundtrack planted in the timeline, amped on adrenaline, filming the visuals just fell into place, then I dove right into working in the visuals. (Post is my favorite part of video production, would be my dream job, though I still have a lot to learn.) Finally I sculpted the volume levels and applied modest visual effects for a warm color scheme and the titling.
Q: You mentioned that you studied music composition before starting Sessions. Tell me more about how that background influences your video work.
Absolutely. I've been hugely influenced by soundtrack and foley in film. Many influences, but John Williams has had the most impact on me, because he represents the confluence of excellent visuals set to great music. He's a pop culture icon, bringing the stylings of masters like Debussy, Stravinsky, and Brahms into modern film and culture. Having composed, arranged, and written songs, I've always had visual associations with my work, down to whatever I've got spinning on Spotify.
Classical scholarship has wrestled for centuries with the concept of 'program music' vs. 'absolute' music. Was this Beethoven symphony program music or absolute music? To which I say, "yes!" If anything, our modern screen-oriented culture has demonstrated that that's a false dichotomy.
I believe everything in life has a pattern, a program, a subtext, a presupposition, and especially in something as intentional as the creative arts; and the beauty of great art is its ability to weave those elements together in a way that elevates the senses, provokes thought, and I think, even inspires one to live better.
Q: In the soundtrack, you used a different piece of music than the music for Elegy, though the effect was still powerful. Why did you choose an alternate track?
Great question. To be honest, I wondered about that at first, too; I didn't understand why I did that at that moment. But I didn't analyze it, I just knew what I was looking for for the soundtrack. What I later realized was that "Elegy: the project" was really more of a meditation or remembrance of a life event that resulted from "Elegy: the piece." In other words, the music I selected is the voice of this narrative, not of that original life event—'s what that piece was for.
And once that piece was in place, the project totally inspired my creative muse, and made the rest of the work just fall into place, like cooking a great meal. That's when I knew I'd made the right creative decision. I also like that the piece adds a layer of separation, kind of like looking at the Elegy through a glass case; it can make the viewer curious about the original piece.
I wouldn't be surprised if someone watched it, saw the end titles and thought, "I wonder what the Elegy sounds like?" It's that elusive aspect that adds to the hook to me. You see the piece being played, but what you hear swirling around and interplaying the narrative is the remembrance years later. And I didn't realize this until later, but putting the original Elegy piece as the soundtrack, while that certainly could work, would be the predictable template for a project like this, and in this case, I found the twist of an alternate musical choice to be fascinating and inspiring.
Q: In contrast to the Elegy piece, your Lo-Fi Trombone Effects video nominated for our student gallery is fall-out-of-your-chair funny. What skills do you think you have developed in digital video editing and production over the last year? And what do you still need to work on?
[Laughing] Thanks. I actually got Hal David to write me a letter permitting me to use it, too, but I don't know what he'd think if he heard what I did with it.
To your question, though, this year has really gotten me much more comfortable with the tools, and with professional techniques that will help take me to the next level. I feel like I still have a ton to work on— lot of technical know-how in making clean, clear clips that really sing. I watched the Finalists in the Adobe competition, and it was really instructive to me, gave me something to reach for, as if to say, the professionals who judged the works are also making a statement about what the industry considers top-tier work, and it challenges me to keep chasing my muse.
Q: Any exciting creative projects on the horizon that you can tell us about? And, do you think you'll enter the ADAA competition next year?
I will definitely enter ADAA next year, my attitude is, what have I got to lose? I plan to enter my final project from digital video production course that I completed after last year's deadline. Right now I've also got a few irons in the fire, the main one being an internship gig with the chamber of commerce downtown, a Web site redesign that I'm hoping will result in more open doors, or at least some quality networking. My thinking is hey, while I'm seeking to land creative employment, to continue building my freelance portfolio via BRINKwerks.com, keep networking, and see what takes off. My MO is to stay positive: onward and upward!
Visit sessions.edu for more information on Online Certificate Programs at Sessions College. Make sure you request our latest catalog and check out Vocational Program Admissions. 

Sessions Staff is a restless soul who loves to share Campus News stories with current and prospective students.