Sharon Capps Honored in GDUSA Magazine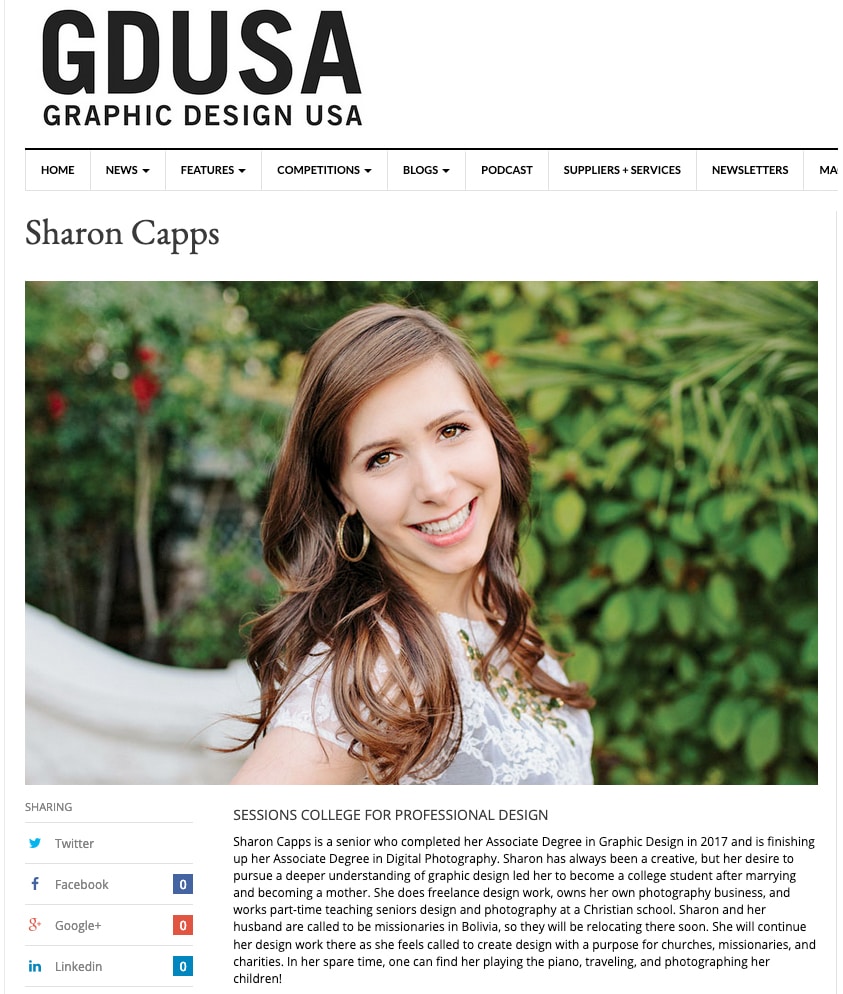 Sessions College is excited to announce our GDUSA Magazine Student to Watch of 2019: Sharon Capps. Sharon is an AOS in Graphic Design program graduate. Multi-talented and not content with earning just one degree, Sharon enrolled in the AOS in Digital Photography last year and is due to graduate at the end of summer.
You can visit Sharon's GDUSA profile here: http://gdusa.com/studentstowatch2019/sharon-capps.
GDUSA is a graphic design industry print and Web magazine established in 1963 widely celebrated for its annual design contests and awards promoting achievement in design. The GDUSA Students to Watch feature is an annual showcase of student talent that brings together rising stars at America's leading design schools. Design schools ranging from RISD, SCAD, MICA, SVA, to CCA (and more) participate in the talent showcase.  Sessions College is proud to be one of the few online art/design programs featured.
Earning a place in the annual GDUSA article is another wonderful feather in the cap for a talented student. One of our Student Ambassadors for 2018-19, Sharon Capps has been featured many times in the Sessions Student Gallery, and is recognized by our faculty for her creative talent and work rate.
We congratulate Sharon on her success, and look forward to following the creative exploits we anticipate in her career.
For more information on GDUSA Magazine's Students to Watch feature, visit the GDUSA site. Or visit sessions.edu to learn more about the Sessions College Outstanding Graduate Program.

Sessions Staff is a restless soul who loves to share Campus News stories with current and prospective students.