Online InDesign Course
InDesign I
Layout designers today need the skills to move seamlessly between print and digital projects. Luckily, Adobe InDesign can handle it all. In this online InDesign course, you'll explore a host of essential InDesign techniques and focus on developing efficient workflows. The course will impart a working knowledge of InDesign's main capabilities, everything from basic features to using master pages, importing and manipulating objects, controlling text flow and style, and organizing content with tables, layers, links, and conveyor tools. Projects give you training in a range of real world print/digital publishing projects, from brochures to catalogs, magazines to ePubs, and even an interactive folio for the iPad.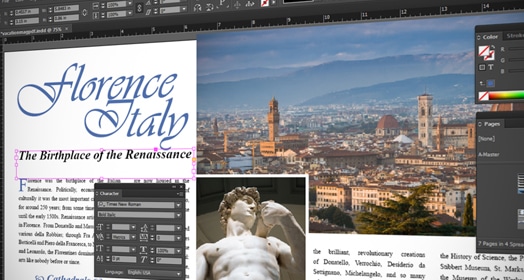 Make it all happen in InDesign with Jose Ramos
Learn the ins and outs of the industry-standard page layout program
Instructor-Led Course
Feedback from design professionals
Creative Projects
Stretch your skills, grow your portfolio
Learn at Your Own Pace
Self-paced and scheduled programs available
Course Outline
1 - Kickstarting Document Design
The term "publishing" is no longer reserved for printed matter. The scope of publishing has transcended the printed page and now spills over to digital media. In this lesson you'll get your first introduction to InDesign and learn how the basics of a workflow that integrates both print and digital publishing. You'll begin with a comprehensive tour of InDesign's workspace, and learn how to prepare your first document and load it with text and graphics.
Project - Create the structure for a two-fold brochure.
2 - Polishing the Document Design
Pages are fun, but without style, they're pretty bland. In Lecture Two you'll learn how to enhance your documents (and your workflow) with character, paragraph, and object styles. You'll also explore the basic principles of text formatting and learn how to use the Swatches panel to create color schemes.
Project - Refine and complete your brochure.
3 - Managing Page Elements
Once you get beyond the basics, you'll discover that InDesign is brimming with esoteric tools, commands, and features. How do you make sense of them all? This lesson tackles the many complex panels and tools in the program so you can learn to flow text between frames, manipulate objects, manage layers, and organize using tables. You'll also learn about some crucial content tools: the conveyor tools and the Links panel, which help you select, convey and keep track of content.
Project - Design a multi-page catalog.
4 - Managing Multi-Page and Liquid Layouts
What happens when you want the same design to adapt to different outputs? That's where liquid and alternative layouts come in. In Lecture Four, you'll explore the ins and outs of page management tools—including master pages—as well as liquid and object rules to help your designs gracefully jump between platforms.
Project - Design a magazine cover and department page.
5 -  Book Layout and Design
Today, we can fit a thousand pages in a wafer-thin device. Lecture Five introduces the big world of book design with an eye firmly focused on ePubs. You'll learn basic rules for book design and how and when they apply to ePub design. From there, you'll explore InDesign's robust features—including continuous text frames, object anchors, GREP searches, and automated tables of contents (TOCs)—that help ease the burden of book design.
Project - Create your own ePub in the exercise, including a cover and a fully navigable TOC.
6 - Adding Interactivity to Your Publications
As you enter the final lecture, you're ready to get a glimpse at the powerful reaches of the InDesign feature set. You'll learn how to add interactivity to your page layouts, both for a PDF and for the iPad-specific folio format. From movies to hyperlinks, you'll see how InDesign makes incorporating user-friendly interaction a smooth process.
Project - Test your hard-earned skills, as you design the first six pages of an interactive eMagazine.
Course Outcomes
Students in this course can expect to learn to:
Properly set up and structure documents, including importing and placing text, working with the Story Editor, and using frames for the placement of images and graphics.
Format text using character and paragraph styles, and build color themes, including gradients.
Create a brochure with a two-fold configuration that incorporates properly formatted text and graphics.
Use swatches and styles to streamline a workflow and prepare documents for collaboration.
Manage page elements, including flowing text between frames, using the Links panel to keep track of linked and embedded images, aligning and arranging objects, using layers to manage page content, and incorporating tables to organize data.
Create a full-color catalog that features a design with clear visual hierarchy.
Manage multiple pages with a variety of techniques, including master pages, content duplication using text linking and conveyor tools, and paragraph rules.
Plan for alternate layouts using liquid and object rules.
Produce an attractive cover and interior of a magazine for both print and tablet output.
Develop an understanding of technical and aesthetic book design fundamentals for both print and ePub workflows, including an automated table of contents.
Add interactivity to documents, including hyperlinks, videos, and navigation controls.
Produce an interactive magazine and use the Digital Publishing Suite to export iPad-ready folios.
Course Registration
Interested in this course? Scheduled and self-paced enrollment options are available. Ask Admissions about taking this course as part of a degree or certificate program.
Course Level
Classes start
Registration Fee
Tuition
Degree course
3 credits, 15 weeks
Jan, Apr, Aug
$200
$510/credit
Vocational course
60 clock hours, 3 months access
Enroll today, start tomorrow
$50
$949
* Registration fees are nonrefundable after 5 days from enrollment. All tuition includes a digital materials fee for updates to course or program content.
Software and Supplies
To take this course you'll need:
Computer with Internet connection.
Adobe InDesign CC.
Adobe Photoshop or equivalent digital imaging program.
Course developed by Jose Ramos
Enrolling online is easy and convenient.

Chat with our knowledgeable admissions staff to select course and program options.

Complete your registration entirely online.
Did you know? You can take this course as part of an award-winning certificate or degree program.