We deliver to more than 90 countries
Accredited 100% online design programs, wherever you are
Design is an international language; it accepts no borders. You can take your design skills to the next level at Sessions College. We are an accredited, internationally recognized, 100% online school of design.
Wherever you are, you can choose from a wide range of degree and certificate programs, develop skills for today's design workplace, and hone your work with feedback from our expert faculty. You'll join thousands of students we have graduated from all over the world.
Available programs at degree and certificate level:
Graphic Design
Web Design
Digital Media
Digital Photography
Illustration
Advertising Design
Fine Arts
Ask about our International Student Scholarship for degree students.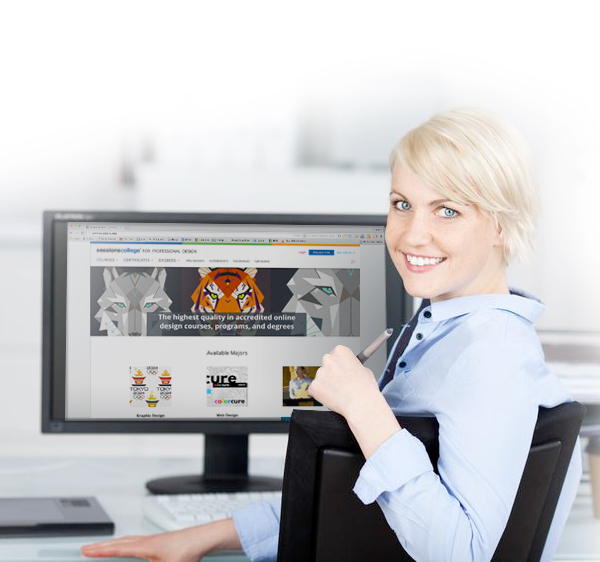 Earn a degree or certificate in Graphic Design, Web Design, Digital Media, or Photography, and more–from wherever you are.
Join an international campus of design students and faculty
Focus on Career Preparation
Up to date software and coding training grooms you for real-world client and employer scenarios.
Creative Classes, Expert Instructors
Get expert instructor feedback on creative, real world design projects.
Build Professional Skills and a Portfolio
Graduate with a portfolio of work you can showcase to potential clients and employers.
"I was able to work full time and still meet the deadlines of the assignments. The professional feedback of the instructors helped me a lot to be a better, more confident designers."
"There's a eureka moment you get when you discover a design principle that you know is going to improve your work!"
"I was completely satisfied with the learning process, the course material, and the instructor feedback in the program. I wouldn't have considered any other college than Sessions to complete my design education."
"I have achieved my goals. I am shooting for a German professional basketball team, Brose Bamberg, and also Bundesliga Soccer when it fits into my schedule."
Countries served: Canada, Mexico, UK, Germany, Finland, Japan, South Africa, Norway, France, Spain, Saudi Arabia, Egypt, Hong Kong, Singapore, Belize, Brazil, New Zealand, Israel, Nigeria, Azerbaijan, Norway, Australia, Ireland, Kenya, Iceland, Italy, Russia, Sweden, Ecuador, UAE, Iran, Ethiopia, and more!
Request Information
Got questions? Complete the form to request information or set up an appointment with an Advisor. Or call us at 480-212-1704.

An Admissions Advisor will contact you to discuss program options. We will never share your information and you may choose to opt out at any time. Privacy Policy.