Have you ever spent more time working on a photo shoot at your desk than you did taking the pictures? If so, consider managing, developing, printing, and presenting your shots efficiently with Adobe Photoshop Lightroom. In this online Lightroom course, working with a photography pro, you'll learn how to collect and catalog your images with ease, use basic and advanced development and retouching tools to create stellar shots, and present your work in slideshows, on the Web, and in print.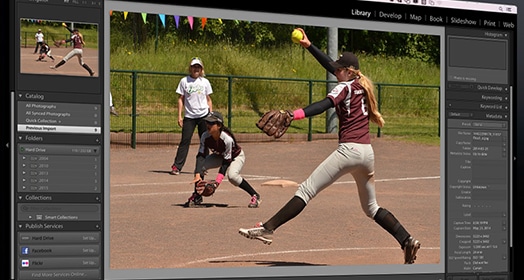 Make light work of image management with Lightroom
100% online
Project-based
Instructor-led
Credit-bearing: 3 Credits
Classes start January, April, and August
Instructor(s)
The course is taught by the following instructor(s):
Course developed by: Ken Milburn
Take this course as a standalone or as part of the following program(s):
Introduction to Lightroom

If you're an established Photoshop user, you may wonder where Lightroom fits in your photography workflow. In this lesson, you'll explore the many facets of Lightroom and how it can be a one-stop shop for most of your cataloging, developing, and presenting needs. Lightroom is like five programs in one, with "modules" called Library, Develop, Print, Slideshow, and Web, and this lesson will give you a taste of the basic features of each.

Digital Asset Management

If you've ever come home from a shoot with hundreds or thousands of photos, you know how tricky it can be to sort through and find the ones you want to use. The Lightroom Library provides all the digital asset management (DAM) tools you'll need to cut down your sorting and cataloging, big time. You'll go on a shoot, then import your images, rank and keyword them, add metadata, filter them based in different criteria, and catalog them into useful groups. This lesson also explores some quick image enhancements that you can apply to the entire shoot without ever leaving the Library.

Develop Module Basics

The Develop module is arguably Lightroom's most powerful, and even the basics of it are mighty powerful. You'll start your look at basic Develop module features with histograms: those little graphs that contain tons of data about your image. You'll learn to interpret a histogram and make toning changes accordingly. You'll examine a wide range of adjustments that correct and improve your images, from white balance to fill light to vibrance.

Develop Module Advanced

How many times have you taken the perfect shot… that just isn't quite perfect? Noise, chromic aberrations, spots, color casts, and toning problems are no match for Lightroom's advanced Develop features. You'll learn to use special tools for making local image adjustments like spot correction and graduated corrections, as well as apply detailed global fixes for exposure problems, colors, vignettes, and more. You'll also learn to employ these features creatively for amazing black-and-whites and elegant photo vignettes.

The Slideshow and Web Modules

The purpose of slideshows and Web galleries to photographers is two-fold. These presentation methods let you or clients evaluate your work, but also let you showcase your work as a portfolio. In Lightroom, these are simple to create for any purpose. You'll explore the basic templates and settings that make slideshows and Web galleries work, and how to customize them with your logo, special layouts, and even sound and motion.

The Print Module

Whether you're printing glossy shots to hang in a gallery or contact sheets for client evaluation, printing is an important final step in your Lightroom experience. In this lesson, you'll explore how to print single shots, contact sheets or different images, and multi-sized picture packages of the same image. You'll customize your contact sheets and picture packages, and look at key printer and color settings to get just the right printed result.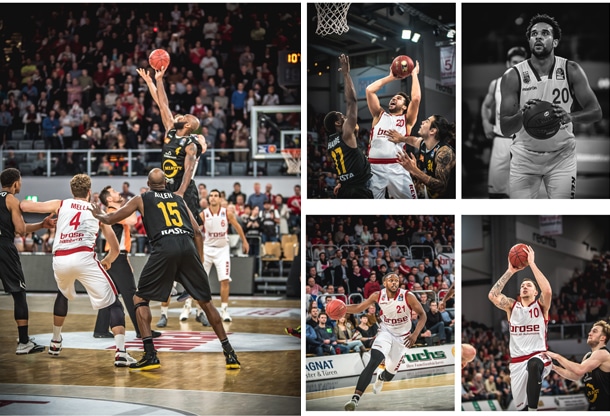 by Ryan Evans
What Are The Course Projects?
Photography and imaging projects include using modules, exporting images, developing a workflow, creating a photo collection, creating a slideshow and Web gallery, and managing a photoshoot.
What Software or Supplies Do I Need?
Computer with Internet connection.
Adobe Photoshop Lightroom 4 or 5.
Digital camera with zoom, and manual settings. RAW shooting capability recommended.
Basic experience in digital photography and Photoshop.
An account with an ad-free Web hosting service (free services are available).
What Will I Learn?
Students in this course can expect to learn to:
Create a digital photography workflow using Lightroom.
Apply each of the five Lightroom modules to a single photograph or to many photographs simultaneously.
Import images from a photo shoot to the library and export to different file formats.
Catalog and find images using metadata, keywords, ratings, and other properties.
Adjust basic qualities of a photograph including white balance, brightness, and contrast.
Evaluate and adjust a photograph using a histogram.
Apply localized image adjustments including spot retouching, cropping, and graded corrections.
Make detailed corrections to toning, color, sharpening, noise and chromatic aberration, and vignettes.
Use black and white, corrections, and vignetting as creative devices.
Create PDF slideshows and Web galleries using Lightroom templates and custom layout features.
Print single images, custom contact sheets, and picture packages.
Use slideshows, Web galleries, and contact sheets as evaluative pieces or client presentations.
Classes start January, April, and August
3 Credit Course
Project-Based: Exercises, Discussions, and Critiques
| Course Tuition and Fees | |
| --- | --- |
| Tuition | $510/credit |
| Registration Fee* | $200 |
| Total Course Price | $1730 |
Registration fees are nonrefundable after 5 days from enrollment. All tuition includes a digital materials fee for course content.
Click Register Now to enter your information and desired start date. An Admissions Advisor will contact you to arrange payment and provide you with an Enrollment Agreement.
Frequently Asked Questions (FAQ)
What Are The Courses Like?
Our courses are project-based. In each course you'll enjoy a series of lectures, projects, discussions, and critiques designed to stretch your creative skills, earning college credit for your completed course.
How Much Time Do I Need?
Classes start January, April, and August, and this course can be completed in a 15-week term. College credit from this course can be applied to a range of degree and certificate level programs at Sessions College.
Who Are The Instructors?
Our courses are developed and taught by our faculty of professional artists, designers, and photographers. This means that you'll learn in-demand skills, get feedback on your work, and build a portfolio of creative work.
Is Sessions College accredited?