Sessions College/Academy of Learning Career College
Graphic Designer Diploma
In the Graphic Designer Diploma program, students will learn the software programs that every professional designer needs to know: Adobe Photoshop, Illustrator, and InDesign. Learning from online instructor feedback, students will learn techniques for creating digital images, illustrations, and layouts, and build a foundation in color, typography, and composition.
Students will gain exposure to a wide range of graphic design branding and print design projects, ranging from photo editing and logo design, to poster design, magazine layout, and more. Graduates will understand how to manage print production jobs and prepare themselves for entry into the job market.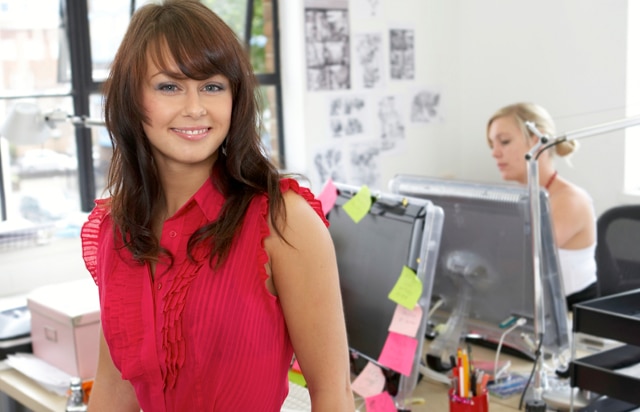 The program is available through a partnership between Sessions College and Academy of Learning Career College through direct enrollment at an Academy of Learning Career College center.
Program Outline
Level I
4218CC Photoshop Basics
4017CC Color Theory
4226CC Illustrator Basics
4221CC Fundamentals of Typography
Level II
4020CC Design and Composition
4228CC InDesign Basics
4211CC Fundamentals of Logo Design
4019CC The Study of Graphic Design
Level III
4013CC Graphic Design I
4301CC Print Production
4303CC Design Business
Program Courses
4218CC Photoshop Basics
Adobe Photoshop is the premiere image manipulation tool for print design, Web design, and photography. You can learn to tame this creative powerhouse of a program in this online Photoshop course. Working with a design pro, you'll learn the best techniques for common Photoshop jobs including selecting and isolating objects, creating image composites, masking and vignetting images, setting typography, and improving images with retouching and effects.
4017CC Color Theory
Color is an essential tool for any designer. Though each color has its own specific hue and value, the expression and perception of a color changes in different contexts. In this online color theory course, you'll learn how to work with color, discovering how to develop color schemes for your design projects. The course will range from fundamental color concepts and terminology to the practical application of color in typography and using color effectively on-screen.
4226CC Illustrator Basics
Adobe Illustrator is a powerful and versatile tool for creating illustrations, logos, and graphics for print and the Web. You can learn to produce detailed and scalable art in this online Illustrator course. Working with an expert instructor, you'll build a strong foundation, exploring selection tools, drawing tools, layers, the Pen tool (a lesson unto itself) as well as transformations/distortions, type tools, and modifying paths and shapes. Hands-on illustration projects include a robot, a CD cover, photo tracing, a postcard, a bus ad, and visual identity.
4221CC Fundamentals of Typography
Typography is what sets designers apart from other artists. In visual communication, typography must be integrated (every last loop, bowl, and descender) into a total design. In this online basic typography course, you'll explore the anatomy of the letterform. Working with a design pro, you'll learn how to classify typefaces and use them creatively. Understanding the fundamentals of typography will give your work power, eloquence, and beauty.
4020CC Design and Composition
What makes any image work, in graphic design or photography? Composition, literally the assembly or construction of elements, is the artful arrangement that guides the viewer's eye and unifies your work. In this online 2D design course, you'll develop your compositional skills by analyzing everything from Grand Masters to Madison Avenue ads to tubes of toothpaste. Through a series of artistic projects, you'll learn the principles of effective composition.
4228CC InDesign Basics
Layout designers today need the skills to move seamlessly between print and digital projects. Luckily, Adobe InDesign can handle it all. In this online InDesign course, you'll explore a host of essential InDesign techniques and focus on developing efficient workflows. The course will impart a working knowledge of InDesign's main capabilities, everything from basic features to using master pages, importing and manipulating objects, controlling text flow and style, and organizing content with tables, layers, links, and conveyor tools. Projects give you training in a range of real world print/digital publishing projects, from brochures to catalogs, magazines to ePubs, and even an interactive folio for the iPad.
4211CC Fundamentals of Logo Design
Logos are the front line—the identity of a company. They are ubiquitous, and they are vital. In this introductory online logo design course, you'll learn how to design logos that will strengthen the visual image of your own or your client's company. Working with a design pro, you'll explore the development of logos through a series of case studies. Each exercise combines a written, conceptual component with hands-on projects for creating an effective logo.
4019CC The Study of Graphic Design
Professional designers make choices informed by the present and the past. In this online design history course, you'll explore design movements from the early 20th century through today and gain experience in research, idea-building, and production of creative concepts. Working with an experienced art director, you'll learn how to use historical knowledge and cultural awareness as a springboard for your contemporary design projects.
4013CC Graphic Design I
Graphic designers today must be ready to tackle a wide range of projects from identity design to editorial design to product and packaging design. In this online graphic design course, you'll establish a firm foundation for professional design work. Gain insights from industry veterans and explore the challenges of designing posters, logos, magazine covers, book layouts, 3D designs, and brand identities. Hone your design process, as you research each project, develop concepts, work with expert instructor feedback, and begin to develop pieces for your portfolio.
4303CC Print Production
For any designer, sending a job to the printer can be a mysterious (and expensive) process of trial and error. To manage a print job effectively, you must understand how print shops work, how to communicate with them, and how to identify the best design solution for your budget. In this online print production course, you can learn the fundamentals of producing professional-looking print publications. Working with an expert instructor, you'll learn to choose papers and Pantone inks, modify your materials and processes based on a budget, use Adobe InDesign to prepare designs for print, manage the phases of the production workflow, and most importantly produce high-quality work.
4303CC Design Business
You've spent years building a portfolio brimming with beautiful work. You can have all the talent in the world, but you also need to know how to position yourself for successful career. In this online design business course, you'll learn the essentials of finding work as a designer, whether in a design firm, in-house design department, or freelance. You'll gain feedback from a design pro on everything from how to present your portfolio and resume, find work opportunities, and market yourself, to building a professional persona and networking with your peers.
Program Objectives
In the graphic design program, students will learn to:
Use Photoshop to edit images, enhancing and preparing them for professional publication by retouching, correction, compositing, or collage.
Use Illustrator to create simple, stylized vector artwork such as logos, icons, and illustrations for effective visual communication.
Use InDesign to create consistent, engaging, and readable layouts for print publications such as newsletters and brochures.
Research and apply effective color choices for different clients and projects, based on a fundamental understanding of how to use and combine color.
Research and select typefaces to support the branding and goals of a client or project, organizing text into a clear, readable hierarchy in a page layout.
Use compositional techniques to create engaging and readable designs that combine text and imagery.
Research and apply the inspiration of historical design styles and movements in your own work, using an effective workflow for research, conceptualization, and design.
Tackle commonly assigned graphic design projects with confidence, ranging from poster design and logo design, to magazine layouts, cover design, to packaging.
Navigate basic print production scenarios typically encountered by designers as they work with printers to complete a print job within a budget.
Prepare a portfolio of work and resume, research design jobs, and market their services to potential clients and employers.
Founded in 1997, Sessions College provides online art/design programs that are award-winning, accredited, affordable, and 100% online.