April 2021 Student Gallery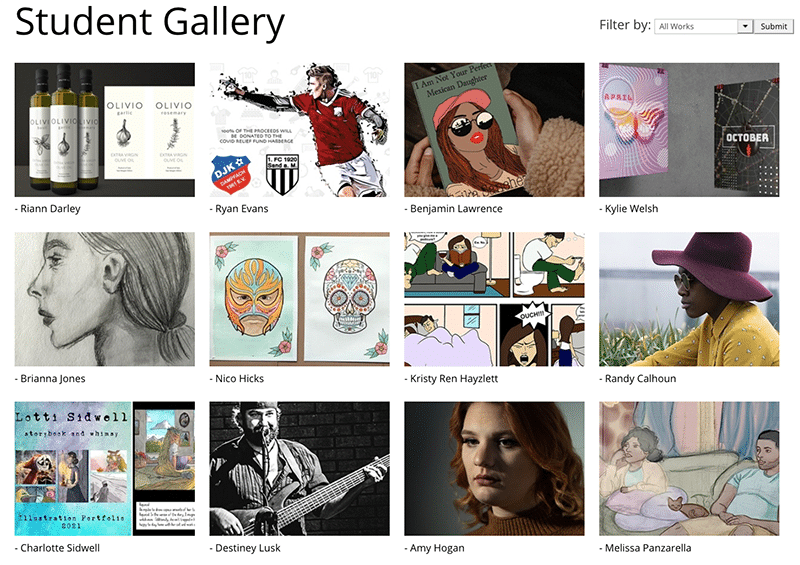 Happy spring, all! The Sessions College Student Gallery was updated this week with creative work from all majors submitted during the Winter 2021 term.
It's great to see such a range of excellent work in art, design, photography this term, as communities around the country begin to emerge from the pandemic. #CreativityduringCOVID!
Below are some of the outstanding students whose work was selected. (If you are among this list, congratulations, you must be proud!)
Adrienne Schaumann
Alejandra Villagra
Amy Hogan
Benjamin Lawrence
Brianna Jones
Cedric Thompson
Charlotte Sidwell
Debra Reiss
Destiney Lusk
Jennifer Maybloom
John Olson
Joshua Hannah
Kristy Ren Hayzlett (2)
Kylie Welsh
Laura Hayden
Maeghan Driedger
Melissa Panzarella
Nico Hicks (2)
Randy Calhoun
Riann Darley
Rina Hatano Deanda
Ryan Evans
Samantha Nelson
To learn more, visit the Student Gallery page. Our thanks all faculty members who nominated student work to the gallery, and to our Creative Director Patricio Sarzosa for curating and production.
Please continue to help us celebrate excellence and creativity!!!

Sessions Staff is a restless soul who loves to share Campus News stories with current and prospective students.