August 2021 Student Gallery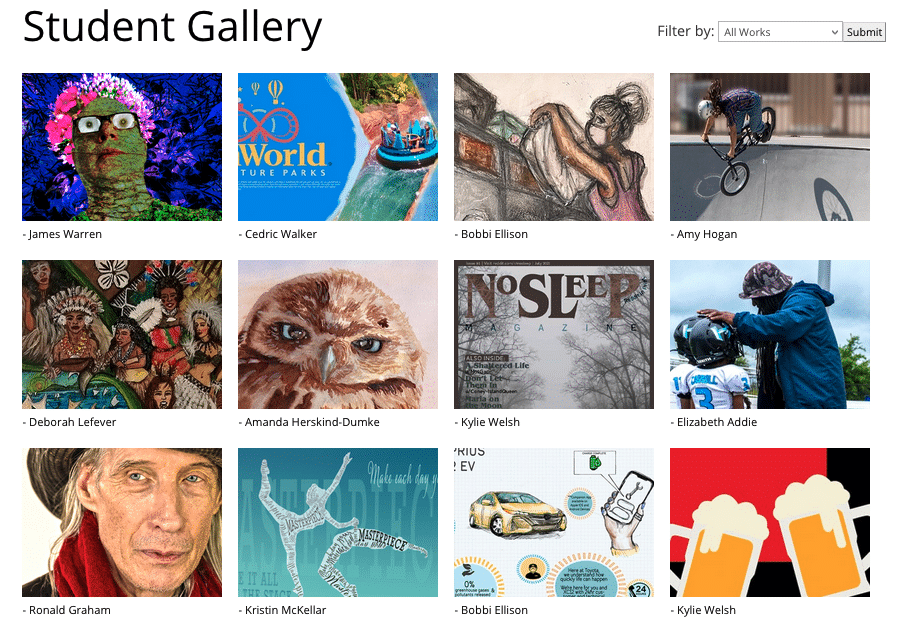 Happy last of days of summer, y'all! The Sessions College Student Gallery was updated during our August break with creative work from all majors submitted during the Summer 2021 term.
It's great to see such a range of excellent work in art, design, photography this term, as communities around the country begin to emerge from the pandemic.
Below are some of the outstanding students whose work was selected. (If you are among this list, KUDOS to you, you must be proud!)
Adrienne Schaumann
Amanda Herskind-Dumke
Amy Hogan
Bobbi Ellison (2)
Brad Newman
Carla Lacy
Cedric Walker
Chris Dipasquale
Deborah Lefever
Deborah Sylva
Elizabeth Addie
Elizabeth Eyre
Hannah Daltorio
James Warren
Janie Elder
Jennifer Maybloom
John Olson
Karen Sorano
Kristin McKellar
Kristy Ren-Hayzlett
Kylie Welsh (2)
Laura Carvajal
Lauren Steiner
Maria Jose Nunez Bonequi
Nico Hicks
Paige Cavender
Renn Herrera
Ronald Graham
Sarrelly Torres
Timothy Michlig
To learn more, visit the Student Gallery page. Our thanks all faculty members who nominated student work to the gallery, and to our Creative Director Patricio Sarzosa for curation and production.
Please continue to help us celebrate excellence and creativity!!!

Sessions Staff is a restless soul who loves to share Campus News stories with current and prospective students.