August 2022 Student Gallery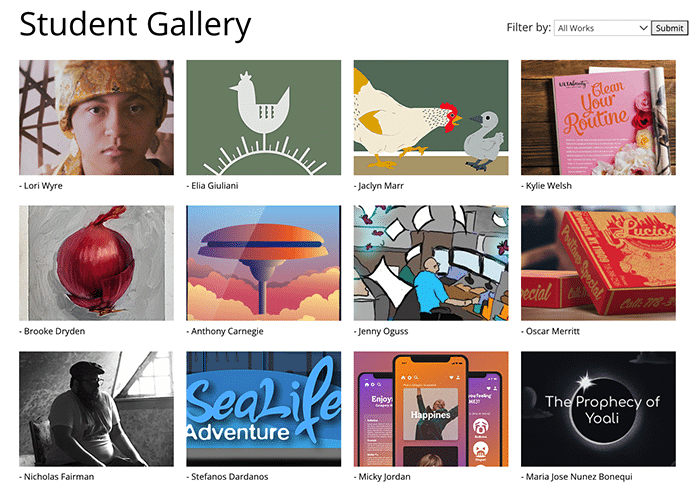 Happy Friday, Sessions family! Summer may be sadly (or mercifully) winding down, but our students continue to bring the creative heat.
For proof, cast your eyes on our latest student gallery, updated each term with stellar art, design, photography, and illustration work nominated by Sessions College faculty.
AND… here it is, the August 2022 Student Gallery updated with creative work from our Summer 2022 term.
Below are some of the outstanding students whose work was selected. Kudos to you, and keep up the great work!
Adriaan Schiltkamp
Angelique Shipley
Anthony Carnegie
Artie Proulx Santana
Bobbie Villarruel
Brandon Bailey
Brooke Dryden (2)
Chloe Koster
Daniel Sampson
Elia Giuliani
Haley Delgiacco
Haley Stoufer
Imani Saffery
Jaclyn Marr
Jenny Oguss
Jesse Martinez
John Olson
Justin Moss
Karen Sorano
Katie Pojorlie
Kristin Weidemann
Kylie Welsh
Lacey Bouchard
Lauren Steiner
Lori Wyre
Luis Cueva
Marc Fraley
Maria Jose Nunez Bonequi
Michael Parlacoski
Micky Jordan
Nicholas Fairman
Oscar Merritt
Ricky Johnson
Serrone Rose
Sharla Fossen
Stefanos Dardanos
Tara Fletcher-Gibbs
Tyne Bradley
Zachari Haselow
To learn more, visit the Student Gallery page. Our thanks to all faculty members who nominated student work to the gallery, and to our Academic Coordinator Lauren Edmundson and Creative Director Patricio Sarzosa for curation and production.
Please continue to celebrate excellence and creativity!!!

Sessions Staff is a restless soul who loves to share Campus News stories with current and prospective students.