Spring 2022 Student Gallery Update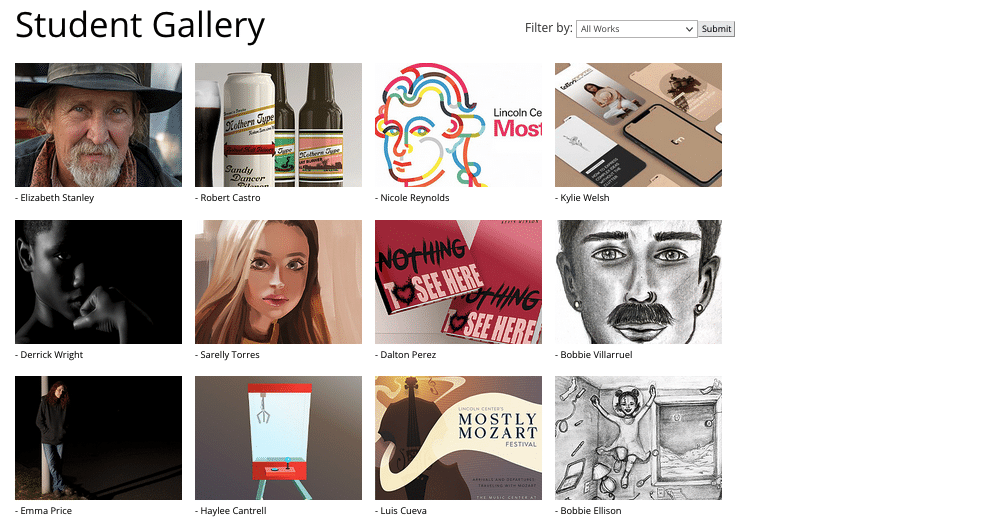 Who's talented? Our students, that's who! And how do we know? By feasting our eyes on our student gallery, updated each term with stellar art, design, photography, and illustration work nominated by Sessions College faculty.
And so with much ado, here is the Spring 2022 Student Gallery updated with creative work from our Winter 2022 term.
It's always inspiring and fun to see such breadth of excellent work in art, design, digital media, and photography.
Below are some of the outstanding students whose work was selected. Congrats to you, and keep up the great work!
Abby James
Angelique Shipley
Bobbie Ellison
Bobbie Villarruel
Brandon Bailey
Bryan Agner
Collette Schaf
Dalton Perez
Derrick Wright
Destinie Cox
Diedra Aschenbeck
Elizabeth Stanley
Emma Price
Haley Stoufer
Haylee Cantrell
Iliana Franco
Jason Smith
Jessica Thomas
John Olson
Kylie Welsh
Lance Whitford
Luis Cueva
Marissa Sasscer
Michael Trevino
Monica Rashed
Nicholas Fairman
Nicole Reynolds
Robert Castro
Robert Hull
Samantha Nelson
Sarelly Torres
Thomas Wilson
To learn more, visit the Student Gallery page. Our thanks to all faculty members who nominated student work to the gallery, and to our academic staff and Creative Director Patricio Sarzosa for curation and production.
Please continue to celebrate excellence and creativity!!!

Sessions Staff is a restless soul who loves to share Campus News stories with current and prospective students.