Advanced Certificate Programs
Advanced Certificate Programs
Looking to build a deep and broad portfolio of creative work? Professional Certificate graduates can enter the Advanced Certificate program and customize an advanced program choosing from a range of specialized concentrations.
Build on the foundation you established in the Professional Certificate with challenging hands-on projects help you hone your work in print design, brand identity, Web design, or other creative areas. It's the perfect program for adult learners with diverse interests.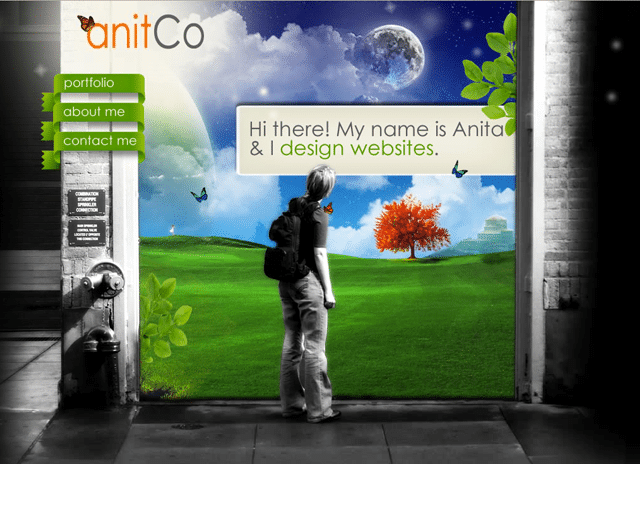 Student work by Anita Riedner, Web Design Advanced Certificate
Build Your Own Program with Advanced Concentrations
NEXT CLASS STARTS:
JAN 1ST
Build Design Skills That Employers Want
Complete Your Program in 6 Months
Program Outline
Once you've completed the Professional Certificate, choose from the available concentrations below or create your own custom concentrations.
Program graduates earn an Advanced Certificate with concentrations listed: "Graphic Design Advanced Certificate with concentrations in Digital Photography and Web Design."
Program Courses
Choose from a range of different concentrations as you build your advanced Certificate program. Concentrations are 180 hours of intensive coursework (typically three or four courses) that enable you to explore a specific field of design or visual arts in depth. Whether you want to learn the ins and outs of advanced web design, produce and edit videos, or master digital photography, there's a concentration for you. Or create your own!
Design Business
Boost your business with design projects geared to branding, marketing, and advertising.
4225 Advanced Logo Design
4213 Web Portfolio Design
4050 Marketing Design (Or 5580 Internet Marketing)
4303 Design Business
Graphic Design
Develop practical graphic design skills with projects for Adobe Illustrator and InDesign.
4226 Illustrator Basics
4228 InDesign Basics
4013 Graphic Design I
Web Design
Learn to hand-code HTML, CSS, and JavaScript and utilize the Bootstrap Framework.
5229 HTML And CSS Essentials
5303 Bootstrap Using Dreamweaver I
7110 JavaScript for Designers I
Print Design
Explore a range of advanced graphic packaging and layout design projects.

4301 Print Production
4302 Advanced Typography (Or 4335 Advanced Graphic Design)
4305 Advanced Packaging Design
Brand Identity
Make your mark in a series of logo and identity design projects.
4225 Advanced Logo Design
4016 Advertising Design
4014 Branding And Identity
Advanced Software
Advance your Adobe CC software skills in Photoshop, Illustrator, and InDesign.

4240 Photoshop Advanced (Or 7015 Digital Photography With Lightroom)
4227 Illustrator Advanced
4232 Indesign Advanced
Digital Photography
Unleash your inner shutterbug with our suite of photography classes.
7002 Digital Photography I (Or 7004 Digital Photography II)
4242 Color Correction
7015 Digital Photography With Lightroom
Fine Arts
Paint your world with classic life drawing, figure drawing, and oil painting classes.
4501 Drawing I (Or 4800 History Of Art)
4502 Figure Drawing
4700 Painting I
Advanced Web Design
Take your Web coding skills to the next level, with CSS, JavaScript, Web fonts, and more.

5304 Bootstrap Using Dreamweaver II
7116 Javascript for Designers II
5415 Advanced CSS Layouts
5216 Web Typography
Illustration
Push your traditional and digital illustration skills to a higher level.
4501 Drawing I (or 4502 Figure Drawing)
4227 Illustrator Advanced
4222 Digital Illustration Advanced
Digital Video
Learn professional level skills for shooting, editing, and producing videos.

8040 Digital Video Production
6225 Digital Video Editing I
6010 After Effects I
Program Objectives
In the program, students learn how the following skills:
If our available concentrations don't quite fit your learning goals, build a concentration from our list of available vocational certificate courses. To earn a Freelance concentration, you must complete 180 hours of vocational course study, typically three or four courses.
The Freelance concentration is a great option for students who wish to customize their certificate programs with specific course selections. Work with your Admissions Advisor and select from available courses to build your Freelance concentration.
I feel that the overall quality, composition, and complexity of my work have improved immensely. I feel more comfortable taking risks and exploring different design approaches with the skills and knowledge I've acquired.
Erin Stenzel, Marketing Design Advanced Certificate
Career Information
Advanced certificate program graduates are prepared for wide range of positions and roles in graphic design, web design, digital media, and other creative visual arts fields. Visit our Career Center to explore job descriptions of the types of roles for which design program graduates are equipped.
Take advantage of our award-winning programs. They're accredited, affordable, and delivered 100% online.
Enrolling online is easy and convenient.

Apply
Complete our free application form online.

Chat
Ask us about payment options and customizing your program.

Register
Confirm your payment and register online.
Upon completing the Professional Certificate program, students can enter the Advanced Certificate program, adding one or more concentrations.
Open Admissions. The Advanced Certificate is open admissions, with classes starting each month. To apply for the program, simply complete our free, no-obligation application and select your program options. Applicants are expected to have graduated high school.
Three Months Per Concentration. Classes start at the beginning of each month. The program can be completed in six months studying on a part time schedule. If you need more time to complete, there is a painless extension policy for an additional 12 months.
To take this program, you'll need the following:
Mac or Windows computer with an Internet connection.
Software and supplies depend on your choice of concentration(s). (Check course syllabus pages or ask an Advisor for assistance.)
Computer must meet software manufacturer requirements.
Student discount on Adobe Creative Cloud software is available to enrolled students.
This program is available in 6 or 9 month tracks. Choose the track that best fits your available time.  
| | Program Length | Avge. Time/Week |
| --- | --- | --- |
| 6 Month Program | 360 hours | 15 hours/week |
| 9 Month Program | 360 hours | 10 hours/week |
Sessions College programs are flexible and affordable. There are no textbooks required; tuition costs include all digital materials.
Advanced Certificate
Tuition
$999 per concentration
Registration Fee
$200
Program Extensions
$30/month
* Promotional tuition in effect until Dec 1st, 2016.
Enrollment in any certificate program requires a $200 registration fee (non-refundable five days after beginning of Orientation class or submission of first assignment). All tuition and fees must be paid on time, including those paid by third parties.

Highlights
Comparing programs? Browse some other degree or certificate programs you might like: