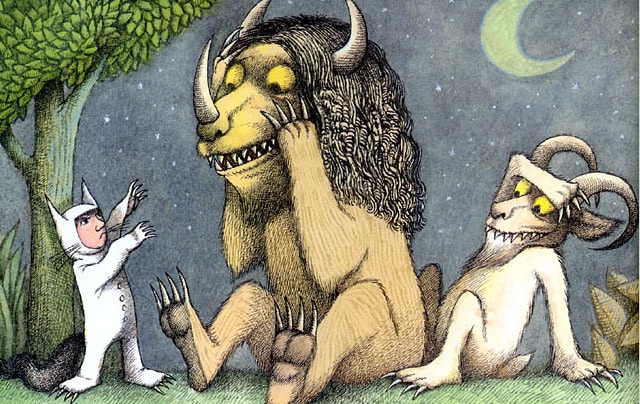 RIP Maurice Sendak, may we all venture forth to find our own Wild Things and have our own Wild Rumpuses.. thank you for paving the way of adventurers.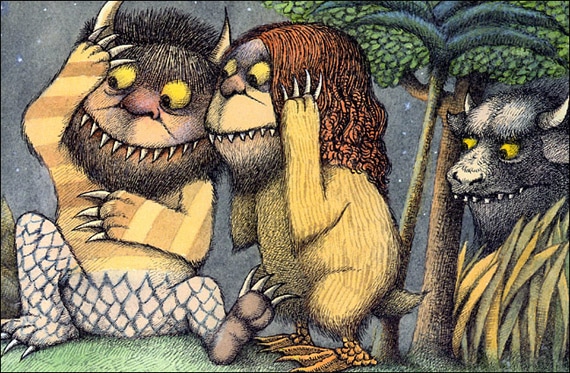 Life has hard parts, and life has scary parts, even when you're a kid. Maybe it's because you're a kid that the big scary parts are even bigger and scarier. Adults may gloss over kids' fears; it's too easy to forget, from our lofty, older, adult standpoint, just how large a toy truck looms in a kids' life. But the hard things are still hard in kids' lives; they're just on a different scale than adult lives. Kids also wind through difficult passages of life just to come out the other side, in their own warm beds, better for the experience.
Maurice Sendak understood that experience. He understood how a difficult experience can change the very edges and fabric of your day to show a completely different side of yourself, your surroundings, and your companions. He also understood what it's like when it's over, and what it's like to come home (literally, or metaphorically). Because of this understanding, Sendak's books are not illustrations featuring well-behaved children with their well-kept pets.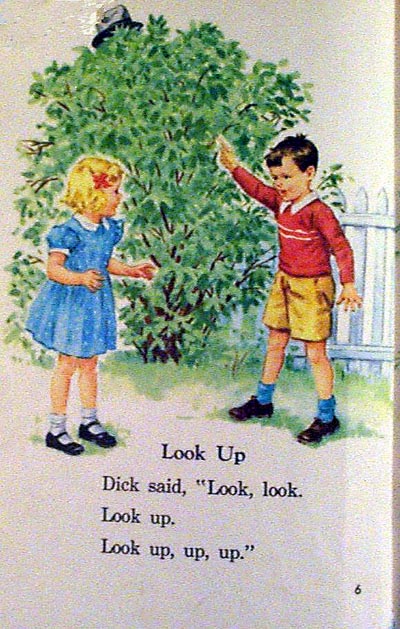 Dick and Jane, the sunny, well-behaved heroes of the self-titled childhood reader series
In many children's books, trouble is an anomaly that doesn't last for long, and stories end with morals to preach. The children in Sendak's books are not the typical children's book stars. They are petulant and selfish, not at all the cheery-faced heros and heroines that dot most of the books aimed at children in the early 1960s. Put plainly, the kids of Sendak's tales more closely resemble actual children, with all the messiness and emotion that goes with it.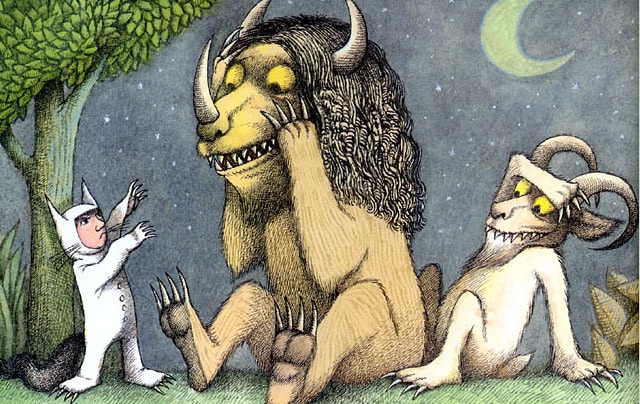 Sendak passed away this week, at age 83. Where the Wild Things Are received the Caldecott Medal, the Most Distinguished Picture Book for Children, in 1963
Max, of Where the Wild Things Are, was sent to bed without supper. Angry, he flies off to where the Wild Things are. He stares down the yellow-eyed Things and becomes King; to lead the Wild Rumpus. But before he's swept into the crazy world of the unknown for too long, he goes home to a warm bed and hot supper.
This tale of the ebbing and flowing of anger, of experiencing adventure and fear, is one we're all familiar with on different scales. How far do we push our own comfort zone before retreating back to our own warm beds and hot suppers? How long do we dance with the Wild Rumpus? Because, after all, we can't stay down the rabbit hole too long; we get out of the Wild Rumpus and return. We don't belong "out there," we belong at home. The concept of a Wild Rumpus and leaving the stability of home is terrifying to adults, more so than to children. To kids, stability is (at least it should be) as invisible as air and easier to challenge.
The flight to a Rumpus is precisely what's necessary. The understanding that one can fly off to the grandest exploration of soul and spirit, yet still come home to warmth, hot food, and a caring home is a great gift. It's also an invitation to recognize that what you have isn't so bad after all.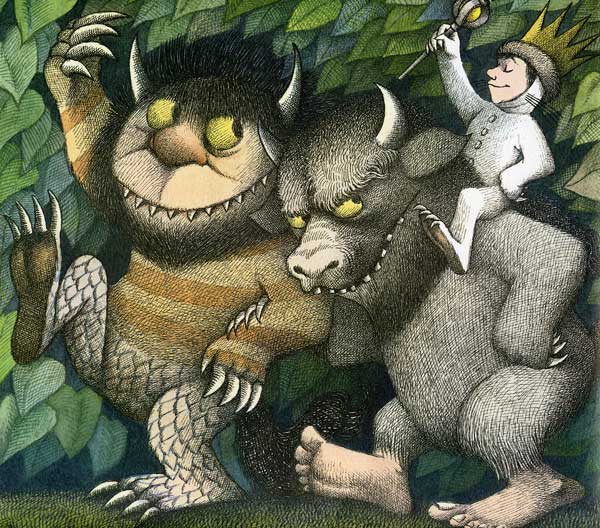 Joining the Wild Things in the Rumpus is an accomplishment and release for young Max
Librarians and critics came down harshly on Sendak's Where the Wild Things Are, thinking the subject too dark for young kids. As it turned out, young kids were entranced by the book; an invitation for a Wild Rumpus was just what they wanted.
What can we learn from from Sendak? Trust in our audience. Trust in our own experience. Push boundaries. Work with the hard parts, don't sugar-coat. Test the edges of your comfort zone.
Dive deep. Go adventure. Eat it up.
Take on the wild rumpus, with the knowledge that home is not far away.

Clara LaFrance is a freelance graphic designer when she is not pursuing her dreams as a circus teacher and performer. Clara has an M.F.A. in graphic design from Boston University.