Do you know how to get the best out of your digital images? As every art director knows, even the best photographs (on the best of days) can be plagued by problems such as color casts, unnatural tones, dull highlights, murky shadows, or low contrast. In this online color correction course, you'll learn systematic techniques for every aspect of Photoshop color management using Photoshop. Working with a Photoshop guru, you'll learn how to identify classic color scenarios and use both comprehensive and quick-and-dirty methods for correcting them.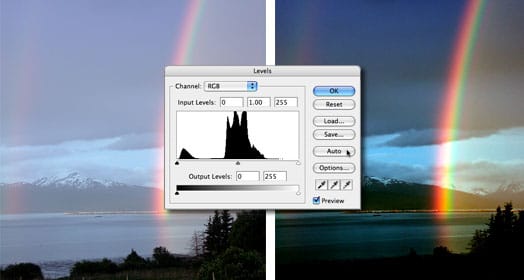 100% online
Project-based
Instructor-led
Credit-bearing: 3 Credits
Classes start January, April, and August
Instructor(s)
The course is taught by the following instructor(s):
Course developed by: Taz Tally
Take this course as a standalone or as part of the following program(s):
Color Fundamentals

We will begin the course by building a conceptual foundation for color correction. You'll explore what color correction is and learn why it's an important part of the digital imaging workflow. You'll learn how RGB and CMYK images are constructed by pixels and color channels and displayed on your computer or other output devices, and gain an introduction to main correction terms to know.

Measuring and Calibrating Color

This week's class equips you with a scientific approach to evaluation using Eyedropper tool and the Info panel. You'll learn how to correct grayscale and color images using expert calibration curves that you've created yourself, and explore how linearization and neutralization are achieved.

Color Image Evaluation

Now it's time for the nitty-gritty of colors-identifying diffuse and specular highlights, color casts, midtones, and shadows. Photoshop Levels histograms are explored in detail to help you evaluate these key image components. With professional evaluation techniques, you'll know where your images need to be corrected and how to proceed.

Correcting Color Accurately

This week, we will cover procedures for color correction, ranging from the most efficient to the most exacting. For quick-fix scenarios, you'll learn how to correct images beautifully with just a little work using Levels. For high-profile or critical scenarios, you'll learn a systematic approach to management of colors that removes the guesswork. You'll also explore some of the more subjective areas of correction—how to make skin tone look "right" and when color casts might be used for effect.

Color Correction Workflow

By this week's session, you've learned a range of essential techniques for correcting your photos with great accuracy. Here you'll learn to put them all together into a useful and efficient workflow, from measuring your values to adjusting the details. You'll learn to use adjustment layers to accomplish your corrections in an editable, non-destructive manner.

Finishing Up Your Color Images

Correction of colors isn't the final step in producing your images. Once your images are corrected, you still have many important production steps to carry out. In the final lecture, you'll learn how to sharpen your final images, convert them to CMYK for printing, and preview and proof your print images on-screen.
by Antoine Lucas
What Are The Course Projects?
Color correction projects include evaluation of images, use of curves and adjustment layers, strategies for different classic color correction scenarios.
What Software or Supplies Do I Need?
Computer with Internet connection.
Adobe Photoshop CC.
Basic experience in Adobe Photoshop.
Digital camera and color printer recommended not required.
What Will I Learn?
Students in this course can expect to learn to:
Explain the purpose of color correction and master the vocabulary and concepts associated with this subject.
Explain how RGB and CMYK images are handled by the computer and Photoshop, and how to configure Photoshop to present color properly and consistently.
Configure and use Photoshop's Eyedropper tool and Info panel to measure color effectively.
Use target swatches to create calibration curves that accurately correct image colors.
Apply saved calibration curves to accurately linearize grayscale images and neutralize color images.
Identify specular highlights, diffuse highlights, midtones, shadows, and color casts in an image using measurement tools.
Perform adjustments using Curves and Levels based on the identified problems in images.
Learn specific considerations for correcting skin tone and allowing certain color casts to remain in images.
Learn the appropriate uses and settings for EPS and TIF file output and how to proof and convert images for printing.
Demonstrate professional-quality techniques and decision-making on a wide range of images.
Classes start January, April, and August
3 Credit Course
Project-Based: Exercises, Discussions, and Critiques
| Course Tuition and Fees | |
| --- | --- |
| Tuition | $510/credit |
| Registration Fee* | $200 |
| Total Course Price | $1730 |
Registration fees are nonrefundable after 5 days from enrollment. All tuition includes a digital materials fee for course content.
Course Registration Form
To register for this course, use the form below to enter your information and desired start date. An Admissions Advisor will contact you to arrange payment and provide you with an Enrollment Agreement.
Frequently Asked Questions (FAQ)
What Are The Courses Like?
Our courses are project-based. In each course you'll enjoy a series of lectures, projects, discussions, and critiques designed to stretch your creative skills, earning college credit for your completed course.
How Much Time Do I Need?
Classes start January, April, and August, and this course can be completed in a 15-week term. College credit from this course can be applied to a range of degree and certificate level programs at Sessions College.
Who Are The Instructors?
Our courses are developed and taught by our faculty of professional artists, designers, and photographers. This means that you'll learn in-demand skills, get feedback on your work, and build a portfolio of creative work.
Is Sessions College accredited?