Now it's time to "dig deeper" and enhance your illustration skills and creative voice by exploring advanced illustration concepts including a focus on visualization, dramatic, reflective, and atmospheric lighting, convincingly and creatively representing objects and/or the human figure in space, and develop environments in linear perspective. Building upon your technical and conceptual skills you will also delve into developing imagery based upon your own imagination.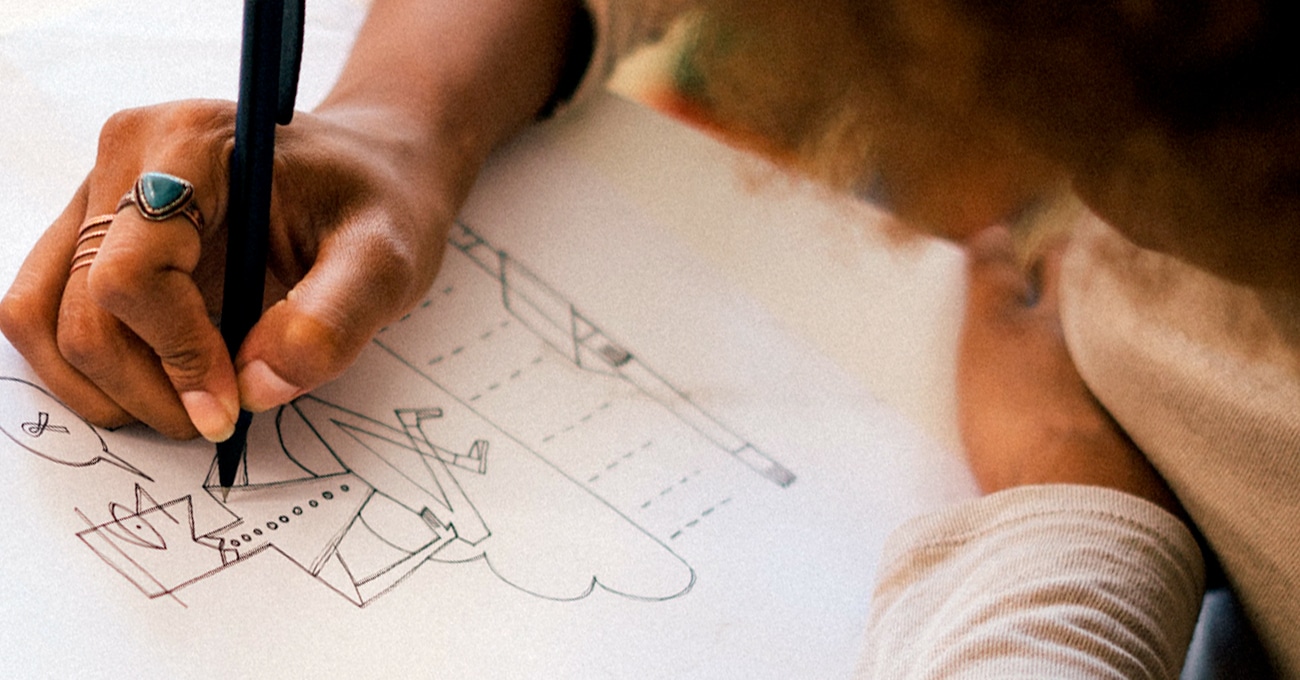 Choose one of three multi-faceted illustration projects
100% online
Project-based
Instructor-led
Credit-bearing: 3 Credits
Classes start January, April, and August
Instructor(s)
The course is taught by the following instructor(s):
Course developed by: Kevin Hedgpeth and Jeff Del Nero
Take this course as a standalone or as part of the following program(s):
Drawing—Observing and Imagining

We will explore ways to draw from the imagination while embracing reality, examining the importance of combining creativity with thorough research.

Cultural Resources

Research into culture can provide a context and a "lens" through which we view artistic possibilities. We'll examine how cultural styles and symbols can bring aesthetic value to illustration concepts.

Perspective and the Figure

Everything takes up three-dimensional space in the world around us. We will review the application of the rules of linear perspective to imaginative drawing, and the importance of confirming "visual reality" in drawing and painting.

Visual Impact

Illustrating is storytelling and we want our point-of-view to pack a punch. We will investigate how figure poses, lighting, drama, and color can be used as effective tools to conjure compelling compositions.
What Are The Course Projects?
For this class, students will have the choice of three different clients/projects, selecting the one most consistent with their portfolio goals and skills. After they have completed their initial research, students will complete the project in six stages: Concept, Research, and Production Plan; Character, Scene, and Lighting Sketches; Point-of-View Sketches; Color Keys and Typography Samples; Color Comps; and Final Creative Work.
What Software or Supplies Do I Need?
Computer with Internet connection.
Adobe Photoshop and Illustrator CC (InDesign optional).
Drawing and art supplies may be required depending on your choice of project.
What Will I Learn?
Students in this course can expect to learn to:
Explore and research advanced illustration concepts related to visualization, dramatic, reflective, and atmospheric lighting, convincingly and creatively representing objects and/or the human figure in space, and develop environments in linear perspective.
Enhance technical and conceptual skills while developing imagery based upon imagination.
Examine, gather, analyze, synthesize, and professionally present research and produce creative work in alignment with the course content, assignment criteria, and presentation guidelines.
Actively participate in class discussions/meetings, constructively assess the work of your peers, and enhance your creative work based upon feedback.
Demonstrate effective and efficient use of your digital and traditional drawing, painting, and other image making skills to create quality portfolio ready pieces.
Effectively conceptualize, create, finalize, and present a multiple illustrations (digital and/or traditional) based upon research, with consideration of course concepts and creative brief criteria.
Apply and demonstrate technically proficient digital illustration/image making skills utilizing appropriate software such as Adobe Illustrator and Photoshop.
Classes start January, April, and August
3 Credit Course
Project-Based: Exercises, Discussions, and Critiques
| Course Tuition and Fees | |
| --- | --- |
| Tuition | $510/credit |
| Registration Fee* | $200 |
| Total Course Price | $1730 |
Registration fees are nonrefundable after 5 days from enrollment. All tuition includes a digital materials fee for course content.
Course Registration Form
To register for this course, use the form below to enter your information and desired start date. An Admissions Advisor will contact you to arrange payment and provide you with an Enrollment Agreement.
Frequently Asked Questions (FAQ)
What Are The Courses Like?
Our courses are project-based. In each course you'll enjoy a series of lectures, projects, discussions, and critiques designed to stretch your creative skills, earning college credit for your completed course.
How Much Time Do I Need?
Classes start January, April, and August, and this course can be completed in a 15-week term. College credit from this course can be applied to a range of degree and certificate level programs at Sessions College.
Who Are The Instructors?
Our courses are developed and taught by our faculty of professional artists, designers, and photographers. This means that you'll learn in-demand skills, get feedback on your work, and build a portfolio of creative work.
Is Sessions College accredited?