Online Packaging Design Course
Packaging Design
What makes a product stand out on a crowded shelf? What makes it attract the eye—excite, inform, and appeal, motivating customers to buy? In this online packaging design course, you'll learn the art and craft of package design, studying with a seasoned pro. Working from detailed briefs, you'll design packages for a wide variety of projects, clients, and customers. Key course concepts will include seeing and designing in three dimensions, mass vs. prestige design, and new product launches. Portfolio projects range from pizza store boxes to champagne and fragrance cartons.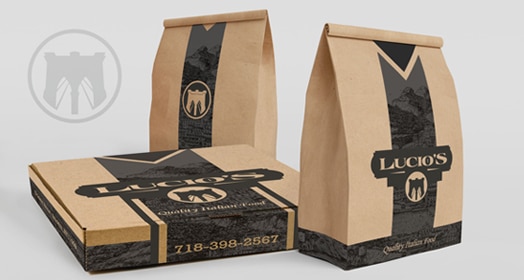 Creativity in packaging design by student Joella Frahm.
Hone your skills on high-end packaging design projects
Instructor-Led Course
Feedback from design professionals
Creative Projects
Stretch your skills, grow your portfolio
Learn at Your Own Pace
Self-paced and scheduled programs available
Course Outline
1 - Seeing in 3D
Package design requires you to see and design in a whole new way—in three dimensions. In this lesson, you'll learn about foundation types of 3D packaging and important design principles for create effective packages, including product type, composition, visibility, consistency, shape, and audience. Store presentation concepts such as placement and counter animation are addressed. You will also be introduced to the production of 3D designs: printing, labeling, and the creation of mechanicals.
Project - Pizza box
2 - Mass vs. Prestige
Target audiences are many and diverse, but a basic level, all product packaging is targeted for either mass or prestige audiences. Lesson Two explores the design, budgetary, and production choices of designing for mass or prestige audiences. Case studies from beauty and cosmetics industry illustrate how packaging designs communicate value or value-for-money, and exclusivity or accessibility. You'll take a field trip to identify some mass and prestige packaging as well as study counter animation.
Project - Mass design
3 - Tangible Visual Marketing
Lesson Three discusses the role of target markets in creating packaging designs. You'll look at how demographics are collected and how to use and go beyond marketing data to target your package designs. Examples and case studies explore how very specific marketing briefs can translate into design choices.
Project - CD package
4 - Playful Design
A whimsical, fun, or simply unexpected design can attract consumers to your product package and make a memorable statement. In this lesson, you will learn how and when to infuse your package designs with playful, lively visuals. Case studies will open your eyes to some of the most fun packaging around.
Project - Toy packaging
5 - Branding Product Lines
Most products don't just stand alone. Typically, a package design is part of an entire product line which has an established brand and a visual style all of its own. This lesson examines how product lines are branded, expanded, and kept consistent. You will study which components are variable so that each product in the line is unique.
Project - Champagne carton
6 - Launching a New Product Design
There is no greater thrill than seeing your package design creation available to the masses. But before your designs hit the shelves, you must pitch your hard work to the client. Lesson Six wraps up the course with a look at making powerful presentations, and the revisions you can expect to make along the way to a packaging design project. An industry case study explores an entire new product design from concept to launch. For your final project, you will design, present, and "launch" a perfume box and bottle design.
Project - Cosmetic packaging
Course Outcomes
Students in this course can expect to learn to:
Identify the key elements of a packaging composition including placement, product, and audience.
Design a pizza box and carry-out bag in a single ink color.
Identify the production, design, and budgetary differences between mass and prestige packaging designs.
Create flat and 3D versions of a prestige carton, and present a sample counter animation.
Develop an understanding of the ways in which marketing research, target audiences, and user profiles affect the packaging design process.
Design a CD cover and disc according to audience and project brief information.
Develop an understanding of how playful packaging design is created through typography, balance, color, and other attributes.
Design a playful packaging design for a toy carton.
Understand and discuss how a product line is developed, updated, and expanded.
Create two designs for a premium champagne carton working from a client brief.
Develop an understanding of methods for presenting packaging designs to a client and launching a new design.
Create a carton and bottle design for the launch of a new fragrance.
Course Registration
Interested in this course? Scheduled and self-paced enrollment options are available. Ask Admissions about taking this course as part of a degree or certificate program.
Course Level
Classes start
Registration Fee
Tuition
Degree course
3 credits, 15 weeks
Jan, Apr, Aug
$200
$510/credit
Vocational course
60 clock hours, 3 months access
Enroll today, start tomorrow
$50
$949
* Registration fees are nonrefundable after 5 days from enrollment. All tuition includes a digital materials fee for updates to course or program content.
Software and Supplies
To take this course you'll need:
Computer with Internet connection.
Adobe Photoshop and Illustrator.
Basic experience in the above software.
Course developed by Laura Schwamb
Enrolling online is easy and convenient.

Chat with our knowledgeable admissions staff to select course and program options.

Complete your registration entirely online.
Did you know? You can take this course as part of an award-winning certificate or degree program.