Online Time-Based Media Course
Time-Based Media
This creative online time-based media course explores storytelling and allows students to integrate 2D animation, 3D animation, motion graphics, and video in an advanced After Effects environment. You will emerge with both a solid grasp of movie making techniques and a varied portfolio including a commercial, movie credit sequence, a dramatic short story, a visual illustration of a complex idea, a movie trailer, and an abstract tone poem. The course will explore useful techniques for research, scripting, and storyboarding with reference to film, television, and Web-based movies.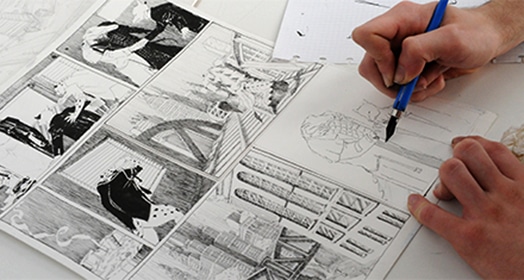 Advanced projects in digital media and movie making
Instructor-Led Course
Feedback from design professionals
Creative Projects
Stretch your skills, grow your portfolio
Learn at Your Own Pace
Self-paced and scheduled programs available
Course Outline
1 - Timing and Narrative Theory
What is time-based media, and what does it mean to you? You'll begin your course with an investigation of the difference between objectively measured time and time as it is experienced and represented in our media. We'll explore fundamental concepts for obtaining and retaining viewer attention and look at how it is implemented in such narrative devices as the three-act story and the movie trailer.
2 - Reference, Inspiration, and the Concept
In a world full of original creation and endless variety, how do we differentiate ourselves from the pack? First by understanding where we are in the pack: identifying our skills, cataloging our references and inspirations, and thinking hard about our concepts. This lesson will focus on how to infuse projects with conceptual depth, emotion, and inspiration, working within constraints.
3 - Visual Development and Planning
When you have big digital media projects ahead of you, you need to make sure that you aren't getting bogged down in the details of the work too early on. In this lesson we'll look at how iterative design workflows can help the creative process. We'll talk about how to translate scripts into a visual lexicon and address strategies for visual development.
4 - Organizing Assets and Testing Pipelines
With a little bit of research, a well-organized suite of assets, and a throughly tested production pipeline, you can have a clear vision of how to synchronize your best ideas with your most practical solutions. That's what we're going to explore in this lecture, as we share experiences planning, shooting, and editing a music video for an iconic indie label.
5 - Scene Setup and Execution
How far would you go to get a shot right? Or, to put it another way, how right does a shot have to be—the visuals, the sounds, the movement—to tell a story? In this lesson we will explore strategies for roughing out compositions and setting up cameras in both live action and animation. The use of primitives, color, key poses and silhouettes as well as sound editing will be discussed.
6 - Editing and Working with Clients
In our final lecture, we're going to discuss the editing process (including how it blends into the critique and client communication process), but we're not really going to talk much about where to click in your non-linear editor of choice. Instead, we're going to focus on how you can edit your way to the best story possible.
Course Outcomes
Students in this course can expect to learn to:
Apply conventions and development strategies for the following digital media genres: movie trailers, public service announcements, music videos, commercials, and short films.
Develop an understanding of fundamental concepts for obtaining and retaining viewer attention.
Apply the three-act story structure as a basic narrative device.
Use conceptual thinking to solve artistic problems.
Evoke feeling within narrative contexts using visual lexicons.
Collect and organize inspirational sources with a reference library.
Apply linear and iterative workflows to large creative projects.
Use visual development strategies to translate written concepts into visual narratives.
Develop an understanding of pipeline and R&D workflow strategies.
Participate and collaborate in online digital media communities.
Apply advanced techniques for timing, pacing, rhythm, and leading the viewer in digital media compositions.
Develop an understanding of previsualization and revisualization techniques for project management.
Course Registration
Interested in this course? Scheduled enrollment options are available. Ask Admissions about taking this course as part of a degree program.
Course Level
Classes start
Registration Fee
Tuition
Degree course
3-credit course, 15 week

Jan, Apr, Aug
$200
$510/credit
* Registration fees are nonrefundable after 5 days from enrollment. All tuition includes a digital materials fee for updates to course or program content.

Software and Supplies
To take this course you'll need:
Computer with Internet connection (broadband recommended).
Adobe Photoshop, Premiere, After Effects, and Animate CC.
Autodesk Maya (optional)
Digital drawing tablet (such as a Wacom tablet) recommended.
Access to a digital video camera and ability to connect it to a computer to capture footage.
Basic experience in the above software and digital media skills.
Course developed by Chris Ward
Enrolling online is easy and convenient.

Chat with our knowledgeable admissions staff to select course and program options.

Complete your registration entirely online.
Did you know? You can take this course as part of an award-winning certificate or degree program.