FOR IMMEDIATE RELEASE
SESSIONS COLLEGE PROPRIETARY COURSEWARE ACCELERATES INCLUSION OF INDUSTRY TRENDS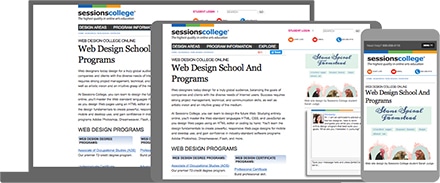 (Tempe AZ - March 7, 2016)
Responsive design has been reigning supreme over the last few years. However, there are very few degree programs that offer industry standard training. Designers at all levels who specialize in mobile and responsive design are in-demand. As mobile devices gain popularity, skills in creating content for computers and all other devices are sought after.
Due to Sessions College's proprietary courseware, its Web design curriculum gives students exactly what they need to strive in this growing field. The program offers the ability to learn and practice real-world responsive design experience while earning a Web design degree or a diploma upon completion. From the introductory coding such as: HTML5, CSS3, JavaScript, PHP and WordPress to industry-standard software courses, the students are equipped to produce and develop strong and effective designs. Even the students' final "Capstone Project" tasks, Sessions College students are required to create a site that is equally well designed on desktop and mobile devices.
"Sessions College has been delivering Web design programs for more than 15 years. Web design is always changing, and it's essential that college programs keep pace." says Sessions College President Gordon Drummond. "We're excited to make a whole new set of Web design projects available for our students this summer."
In line with its mission and focus, Sessions ensures that it maintains its lead for being ahead of the trend for portable digital education materials and continues to have no dependency on external sources for content, technology, learning tools and processes.
Sessions College proprietary courseware has four distinct benefits for its students:
1. A forward-thinking method. The courseware keeps immediate pace with advancements in design technology. Courses are reviewed every 30 days to ensure all information reflects today's software updates and design trends. Schools that rely on traditional books or externally sourced digital materials do not offer that advantage.
2. Robust materials defined by the experts. The content of the courseware is defined and written by experts currently working in the design field. Subject Matter Experts are recruited for their knowledge of the industry and excellence in creating and teaching design.
3. One-of-a-kind engaging courseware. The courseware is developed specifically for online delivery and to optimize an asynchronous learning model. The curriculum is specially developed to engage all types of learners: visual, auditory, and kinesthetic.
4. Accessible materials. All of these materials are downloadable, can be printed, and are totally portable. Use of laptops, tablets, or smartphones makes materials accessible at all times.
To learn more about Sessions College's programs, mission, and online learning developments, talk to us directly at admissions@sessions.edu.
About Sessions College
Sessions College offers accredited visual arts online degree and certificate programs as well as individual courses. Its mission is to prepare art and design professionals for successful careers by providing the highest quality of online design education. Students gain a thorough training in the technical, creative, and critical-thinking skills that are required for a fast-changing industry.
Back to The Newsroom