FOR IMMEDIATE RELEASE
SESSIONS COLLEGE ONLY DESIGN COLLEGE RANKED IN TOP 10 MOST AFFORDABLE COLLEGES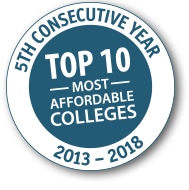 (Tempe AZ - July 15, 2016)
For the third consecutive year, Sessions College has been ranked by the U.S. Department of Education as among the most affordable colleges in its category for tuition and net price. In addition, Sessions College was the only art and design school so recognized, including all other school categories tracked by College Affordability and Transparency Center (CATC) Lists.
In addition, for the second time in three years, Sessions College was named by GD USA magazine as one of the top design schools in the United States. The GD USA listing is a distinct honor, as their annual list ranges such from traditional, storied programs as RISD, SVA, and Pratt Institute to newer online programs such as the Sessions College Associate of Occupational Studies (AOS) program.
"Sessions College prides itself on representing the best of the for profit school mission and business model," stated Doris Granatowski, CEO. "We clearly represent an affordable, high quality educational choice for those pursuing an exciting career in the demanding art and design industry."
The U.S. Department of Education's Office of Post Secondary Education (OPE) released this year's College Affordability and Transparency Center (CATC) Lists in June. The College Affordability and Transparency Center lists colleges showing the highest and lowest tuition in each category (4-year college, 2-year college, public, private, for-profit, and so on). The 2016 lists are based on data collected during the 2014-15 IPEDS data collection cycle. The site aims to provide information for students, parents, and policymakers about college costs at America's colleges and universities.
For more information on the College Affordability and Transparency Center, click here.
About Sessions College
Sessions College offers accredited visual arts online degree and certificate programs as well as individual courses. Its mission is to prepare art and design professionals for successful careers by providing the highest quality of online design education. Students gain a thorough training in the technical, creative, and critical-thinking skills that are required for a fast-changing industry.
Media Contact
Mhelanie Hernandez
Director of Admissions & Marketing
mhelanie@sessions.edu
480.212.1704 x157
Back to The Newsroom