Sessions College Recognized for Affordability for Fourth Consecutive Year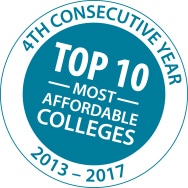 Tempe AZ - September 12, 2017
Which colleges are continuing to support the push towards affordability in higher education? For the fourth consecutive year, Sessions College has been listed by the U.S. Department of Education as among the most affordable colleges in its category for lowest tuition.
The College Affordability and Transparency Center (CATC) was established in 2011 by the U.S. Department of Education to "provide information for students, parents, and policymakers about college costs at America's colleges and universities." The website lists top and bottom performing colleges in tuition and net price.
For the fourth year in a row, CATC ranked Sessions College in the top 10 for-profit, 2 year colleges for lowest tuition per academic year. Providing an affordable tuition is the primary way in which an institution can make programs more accessible and lower the chance of student debt.
"We're always excited to earn this recognition. It's our mission to provide affordable, high quality programs options for students pursuing art and design careers," comments Sessions College CEO Doris Granatowski.
Offering academically rigorous programs, Sessions flagship Associate of Occupational Studies degree programs achieved a a 2016 graduation rate a full 20 points higher than the national average graduation rate, which includes classroom and online programs.
In addition, Sessions Associate Degree graduates reported a high rate of employment success. Through third party employment verification, 86% of Sessions College Associate Degree graduates reported being employed after graduation, with over 73% of them employed in a creative field.
"We firmly believe maintaining affordable tuition levels for our academically challenging and industry-proven programs is the right formula for our students' success," says Granatowski. "We are truly focused on providing value in our programs and a return on investment when students graduate."
About Sessions College
Sessions College is an online school of visual arts offering degree and certificate programs in Graphic Design, Web Design, Illustration, Photography, and more. Our online Fine Arts Certificate offers an excellent training in drawing and painting. To find out more, visit Admissions.
Back to The Newsroom