Sessions College President Elected to DEAC Board of Directors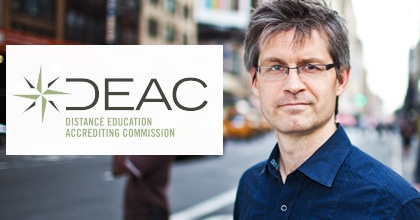 May 4th, 2017 - Tempe, Arizona
On April 27th, Sessions College President Gordon Drummond was elected to the Distance Education Accrediting Commission (DEAC) Board of Directors. The appointment by member vote took place at the 91st Annual DEAC Conference in San Antonio, Texas.
The Distance Education Accrediting Commission (DEAC) is a private, non-profit organization that operates as an accreditor of institutions that primarily offer distance education. Founded in 1926, the DEAC holds recognition by the U.S. Department of Education and the Council for Higher Education Accreditation.
A fully online school of visual arts, Sessions College for Professional Design (sessions.edu) has been accredited by DEAC since 2001, and by the Middle States Commission on Secondary Schools since 2006.
Mr Drummond's appointment to a DEAC Board role continues his long track record of leadership in accreditation. Since 2007, Drummond has been fortunate to serve on the Middle States Commission on Secondary Schools, where he was Commission Chair from 2013 to 2015 and served on the MSA Board of Trustees.
"Accreditation provides both quality assurance and a structure for school improvement," comments President Drummond. "It's a force for good in our education system. I'm honored and excited to play a role in an organization that leads the way in distance and online education."
Accreditation is a process by which schools are regularly evaluated by teams of experienced educators to make sure they meet the highest educational and business standards. Accrediting organizations work with Federal and State agencies to provide not just consumer protection but also process through which schools can evolve and improve over time.
"Accountability to students and the public is important to every facet of higher education as the challenges facing accreditation increase," said DEAC Executive Director, Dr. Leah Matthews. We are deeply appreciative that Mr. Drummond is joining the DEAC Board of Directors to support our work in addressing the critical issues that lie ahead."
About Sessions College
Sessions College offers accredited arts online degree and certificate programs as well as individual courses. Its mission is to prepare art and design professionals for successful careers by providing the highest quality of online design education. Students gain a thorough training in the technical, creative, and critical-thinking skills that are required for a fast-changing industry.
Back to The Newsroom