Outstanding Graduate Awards 2023
Megan Lewis-Reed is a newspaper designer who enrolled in the program to add Illustrator and Photoshop to her skills. Though she had a strong background in InDesign, she had only dabbled a little in other Creative Suite programs. Says Megan: "Gaining an education in marketing principles and marketing design opens up access to more career options in the future." Outside of Sessions her interests include reading, birding with her wife, walking her dog, meditation, and, most recently, learning archery.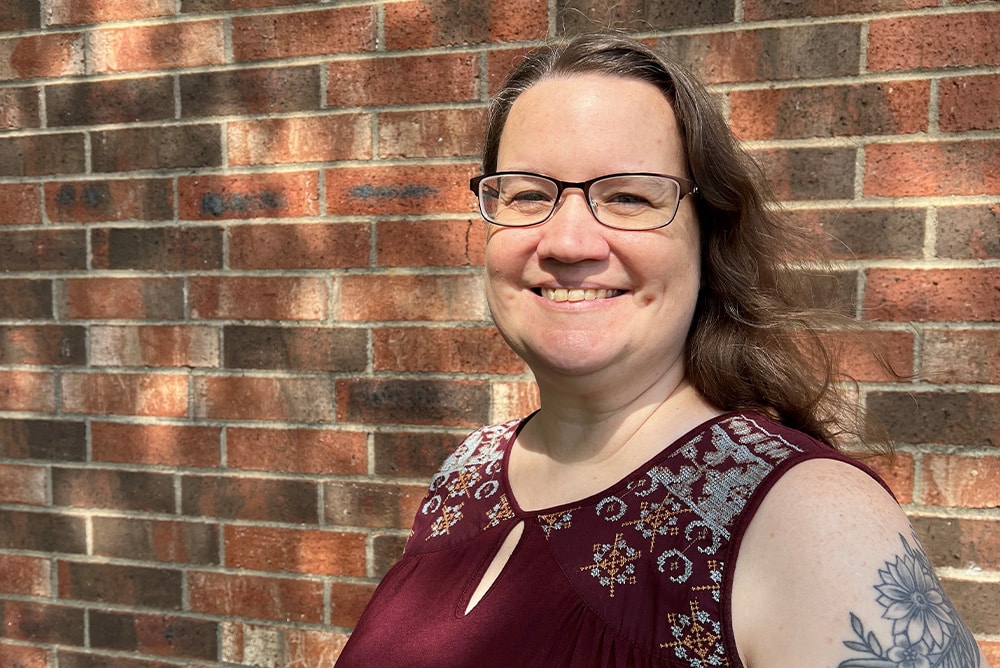 According to Megan…
Areas of strength: Laying out projects in Adobe InDesign is my strength as an experienced newspaper page designer. I'm also a professional copy editor. 
Benefits of studying online: As a neurodiverse person, learning online through Sessions offered many things that could be considered educational accommodations that were built right into the learning model as the norm. I benefited from written lessons I could look back on at any time, written feedback on projects, the ability to ask questions in writing via email, video tutorials I could replay, being able to study at home and work on familiar computer equipment, regular emails from my adviser to keep me on track for completing the program in time and being able to work on my lessons on my own schedule. All of these things were very important to my being able to succeed.
Best thing about Sessions College: The best things about Sessions College were being able to study online and receive feedback on my projects from professionals in the fields of study. I was able to complete my Marketing Design studies at Sessions College thanks to being awarded a grant through the Reimagine Arkansas Workforce Project.
What classes or instructors made a difference? My favorite classes were Photoshop, Illustrator, and Marketing Design. I appreciated all my instructors and their helpful feedback, including Andrew Shalat, Boris Margolin, Piper Nilsson, Michael Hamm, and Kristen Becker.
Creative and/or  professional goals after graduation: My goals are to continue to build my skills and put them to work in a professional setting. The skills and computer programs I learned benefit me in my current job as a newspaper page designer and also offer me the possibility of branching out into marketing design and/or graphic design positions in the future.
"Megan's newspaper background has served her well as she stood out in my class for her strong ideas for creating graphic designs and layouts."